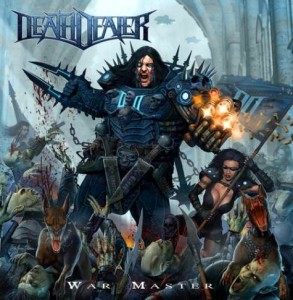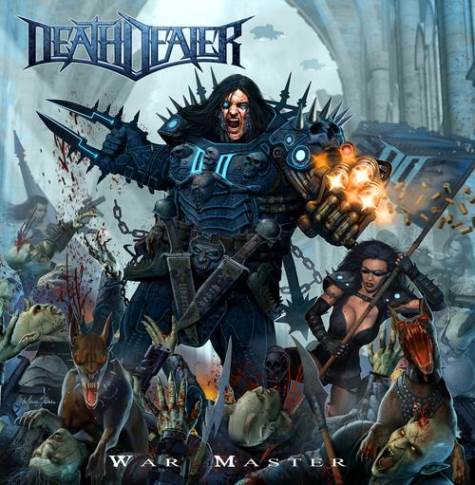 From the opening seconds of putting on 'Warmaster', this assault and onslaught of Metal has me intrigued, intrigued meaning excited and eager to hear what this new band is all about. This opening track, aptly named after the band that plays it 'Death Dealer', is fast, furious and to me takes shades of every metal band that paved the way for this sound, those being Iron Maiden, Judas Priest and well you get the gist… the double guitars within this band consisting of Metal legend Ross The Boss from Manowar and Australian Stu Marshall really work well against each other and you can hear the two distinct styles here and that's what makes it work so well.
Vocally, what can I say, Sean Peck has a set of pipes that would make any church organ jealous, man this cat can sing! The higher styled metal vocals are reminiscent of Halford which is not a bad thing in my book, but the control Peck has is unmistakable, as he easily drops from the higher register to a lower at times such as on 'Never To Kneel' where the balance of his instrument is shown and proof that he is the right man to front this new band.
The title track has me tired just listening to the drums courtesy of Rhino as he double kicks his way through it constantly, but his band mates give him a rest on the next track 'Children of Flames' is I guess what we could call a power ballad and as much as I loved my metal frantic, I love it even more when it gets slowed down (hey, shut up, I grew up in the 80's) so I dug this one. No time to dwell on that though as I extinguish my lighter for a set of air drums and 'Curse of the Heretic' and as it gets all epic on us mid song, I love what they did here as it then builds back up to a solo and leads us into 'Hammer Down' which riff wise is killer and hits a groove that works throughout the song as well as some bitchin' guitar work as it plays out a few solos including a harmony solo which fills it out.
The longest track on the album 'The Devils Mile' sounds to me like one of the best songs that Judas Priest never wrote and musically is close to, if not my favourite track on the album so far. There's just something that feels like it gels with this band, and it shows. 'Liberty or Death' is another that showcases the stellar guitar work of both Ross and Stu, and now with only a couple of tracks to go, one being a song that made me think of Game of Thrones (PS: is everyone watching this season? It's insane!!) sorry, I digress… 'Heads Spikes Walls' lyrically is as you'd expect from the title and is about as intense as it can be while maintaining a classic metal soundtrack with a small bass solo, I shit you not, Mike Davis, it's your time to shine. The album closes with 'Wraiths on the Wind' and I couldn't have picked a better way for 'Warmaster' to finish, big riff, big vocals and big solo, just big…
Overall, I really enjoyed this album and it honestly took me back to the first time I heard Maiden and Priest, I remember thinking 'holy shit, this is amazing' and I got that same feeling when I heard this, whether that was the reminiscent sound or whether it just sounded like nothing else that's around at the moment, either way, it rocked and made it very hard to type as I was holding one arm in the air rockin' the horns the whole time…
Check out our chat with Ross The Boss from Death Dealer HERE
Essential Information
From: USA
For fans of: Metal / Power Metal
Release date: 14 June 2013
Record label: Independent
Website: http://www.deathdealer.co
Track listing:
Death Dealer
Never To Kneel
Warmaster
Children Of Flames
Curse Of The Heretic
Hammer Down
The Devils Mile
Liberty Or Death
Heads Spikes Walls
Wraiths On The Wind