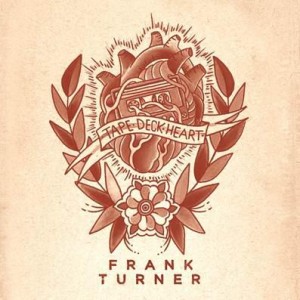 Frank Turner in the last few years has grown in popularity to become one of England's hottest artists and has become renowned for not only his amazing song writing but also for his amazing live performances that are now captivating fans worldwide. With this, his newest album Tape Deck Heart, Frank has moved away from his usual 'England' based content to deliver what is a more mature, well arranged and so very well produced album.
From the opener 'Recovery' the scene is set and there's no way this album will even think about looking back. These songs are so well structured and played by the Sleeping Souls and I'm so happily bopping away to these songs. The 'traditional' folk rock sound is somewhat given a back seat to more of a 'commercial' acoustic driven rock album and I'm loving it. Don't get me wrong, I love what Frank has done before this, but seeing this evolution is a perfect progression for such a talented artist.
'Losing Days' is so good that it made me want to get tattoo, not due to boredom though that's for sure. 'The Way I Tend To Be' gives the mandolin a workout in a lyrically clever track and on that, what Frank has the amazing ability to do is tell stories, through 'Good & Gone' where he proclaims his 'love' for a number of things, and 'Tell Tale Signs' which is as good as it gets in my opinion as I felt like I was part of his story, to me, that's good work.
'Four Simple Words' was the first taste of the album we had and has been a part of his live set since its emergence. Starting slow, this builds into a frantic almost punk rock beast and you can see just why it's now a staple in his live set. 'Polaroid Picture' is bloody awesome, retaining the storyteller aspect I mentioned before but also hits a groove that is outstanding and is my favourite on the album. More people should write songs like this.
A song like 'Anymore' is simply heart breaking and needed nothing more than the vocals and guitar given here and a song lyrically that is just so vulnerable and personal. Frank isn't one to shy away from honesty that's for sure. With only a couple of songs to go, I've enjoyed this album immensely and almost don't want it to end. Although it must come to an end and does that with 'Broken Piano' a song Frank described to me as arguably the song on the record he was proudest of and it's a great way to close it off with its driving marching style drums and underlying guitars and leaves you wanting more, wanting to know what comes next and to realise that it's over and your only solution being to start the album again which is what I've just done…
There will come a time when everyone knows who Frank Turner is, well what I mean is, there should as he's such a talent and deserves the kudos, and now with Tape Deck Heart I think he's well on the way with this, his finest effort to date. So trust me, get on board now so you can be cool now before everyone else joins in.
Check out our chat with Frank Turner here
Essential Information
From: Winchester, England
For fans of: Folk Punk Rock
Release date: 22 April 2013
Produced by: Rich Costey
Record label: Xtra Mile Recordings / Interscope Records / Epitaph Records
Website: http://www.frank-turner.com
Track listing:
Recovery
Losing Days
The Way I Tend To Be
Plain Sailing Weather
Good & Gone
Tell Tale Signs
Four Simple Words
Polaroid Picture
The Fisher King Blues
Anymore
Oh Brother
Broken Piano