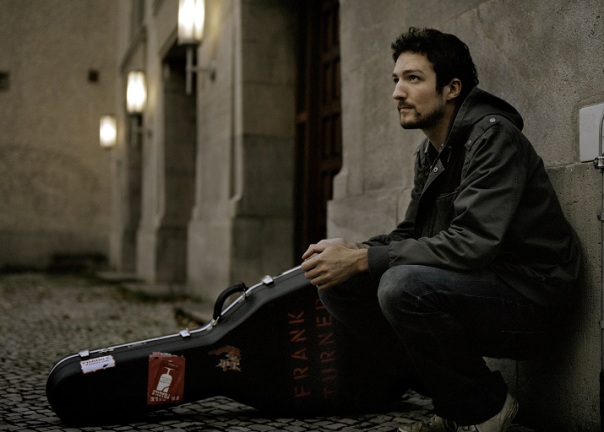 "I wanted to make a record that sort of was a little bit more ambitious sonically, a big kind of guiding record for me was Weezer's 'Pinkerton' which has always been one of my favourite records, but I was really pushing for that sort of vibe this time around."
After hitting the studio for the best part of 2012, recording his forthcoming new album, 'Tape Deck Heart'. Frank Turner, whose highlight of 2012 when we spoke with him last was performing at the London  Olympic Games Opening Ceremony celebrations in front of a worldwide audience, which is not a bad gig if you ask us. He's taken folk punk to a new level and with this new album, his fifth, here's hoping it'll take him even further.
We caught up with Frank once again, this time to discuss his forthcoming album 'Tape Deck Heart' which is due this April and some great insight into it and some songs on it, as well as his forthcoming Bluesfest and Dropkick Murphys shows here in Australia. Oh and tattoos again…
When we talked last September, you had twenty five tracks written for the new album, how hard was the process of narrowing to what we'll get to hear in April?
Agonising is probably the right word for it, well from twenty five down to twenty, from twenty down to twelve was agonising. The deluxe edition of the album actually has eighteen tracks on it so we're getting most of the stuff out there, but at the end of the day you have to be hard hearted when it comes done to it but the only problem is that every song has some meaning for me, but we got there in the end but the last couple of cuts were the hardest of all and had a couple of sleepless nights trying to figure out whether or not I was completely losing my mind by making the decisions I was making. I think it sounds good in the end.
So, getting in to the spirit of the song titles can you give us 'Four Simple Words' to describe the album?
*laughs* let me think… romantic, nostalgic, folk, rock… that was a difficult one.
But seriously, can you give us an idea of what we can expect from 'Tape Deck Heart' due out in April?
Basically it's not a radical stylistic departure of anything I've done before or anything like that, I think it's kind of a little bit, it feels to me musically it's a little bit bigger. I wanted to make a record that sort of was a little bit more ambitious sonically, a big kind of guiding record for me was Weezer's 'Pinkerton' which has always been one of my favourite records, but I was really pushing for that sort of vibe this time around. Lyrically, it's not about England I'm pleased to say, that chapter there is done *laughs*, I guess it's a breakup record, it's very sort of raw and personal album and I hope people like it.
The name itself, is there a meaning behind it you can share with us?
Anybody who's released any number of albums before is aware that in picking an album title you're condemning yourself to talk about it endlessly for the next two years, which is fine *laughs* this album is a little less calculated than previous one's I've done. It's a lyric from one of the songs on the record, and when I wrote it down for the first time it just really leaped off the pages, it just feels right; it has the right kind of vibe to it to sum up the collection of songs on the record. I'm not sure there's any deep calculated meaning behind it, I mean someone asked me the other day if it was a comment on changing technological trends within the music industry and I was like, not really, no *laughs* so it just has the right vibe to it and it just seems to wrap up the material on the album.
In putting this album together specifically, did you set out to do anything differently compared to your previous albums?
The main difference this time around was having the opportunity to work with Rich Costey the producer, I would've loved to have made more records with Rich but he doesn't come cheap, let's put it that way, thankfully the success of the previous records I've done gave me the opportunity to consider working with someone like Rich. Rich has made a lot of my favourite records and he's worked with a lot of my favourite bands, and in all things in life I'm a believer in you may as well give it a try, you never know kind of thing so I went for it and it was great, aside from the fact that he's one of the best producers in the world and he's worked in some of the best studios in the world, he pushed me really hard and pushed me out of some comfort zones and I don't think that the record would have been as good if we didn't work with him. That's not because he was writing songs for me or anything like that, but I think his main contribution was to not allow me to slack at any point and just really, really push me incredibly hard to do the best I could. I mean for example, there's one song on the record and he made me do 42 vocal takes for this one song and it was agonising and it nearly killed me but he kept saying I know you can do better than this, there's something you can do for this song that you've haven't done yet, and in the end we came up with a vocal take that was way better than the first one I did so I'm pleased that he did.
There are a couple of titles that intrigued me, are you able to give us a little story behind a couple of songs?
Polaroid Picture: Yes, that is a song that was inspired by lots of different things, mostly by there used to be this venue in central London called The Astoria which was a 2,000 pax venue, I used to go there say three times a week and saw every type of band imaginable there and it was a real sort of special place, then they closed it down. I played the last show there and in and around the last show did all these interviews about the passing of this great London venue, and at first I was kind of on board with the whole yes this is a tragic, sad day that we should commemorate, but as I did more interviews about it, I got to think about it and I just got a little more uncomfortable. For me, rock and roll is an theme or art form, it's not supposed to be about monuments and about museums, it's supposed to be about the moment and about a snapshot, a picture, a polaroid picture if you like, and it's supposed be about that if you were there, you were, if you weren't, you weren't and things move on and things change and just capture those good moments.
Broken Piano: Broken Piano is arguably the song on the record I'm proudest of, because it is a musical departure for me to a degree, it's a bit more progressive, don't get me wrong, but it has a bit more of a kind of, I have a case of constellation records, cranky records , Sugar Rios, it has that bit more of a kind of vibe to it. Also lyrically it's a song that kind of brings the whole album together, it's the last song on the record and a lot of the songs on the record are about breakups and mixed feelings about a breakup and mixed feelings about whether it was a good idea or a bad idea and essentially the song is about what you do not only what you do once you've been through the breakup but been through the gamut of emotions that come with it and hopefully a feeling of a sense of closure.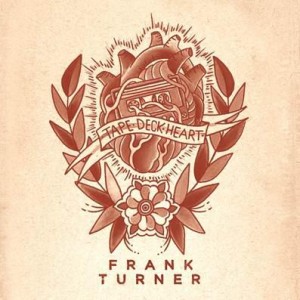 Now, your fans are known for getting many a Frank Turner tattoo, so how soon before the first 'Tape Deck Heart' tattoo appears?
There are already three of them… I know… I have to say I feel slightly weird about that as the record isn't even out yet and it's a bit like 'Come on guys, chill out…' so but yes I have been sent pictures of three so far. It is a compliment at the end of the day, it's flattering and I'll take it, plus I didn't draw the artwork myself so I can quite happily say that I think it looks fantastic without being up my own ass. It's a really, really nice design and the person who drew the front cover Heather Law is a tattooer herself, so it makes sense that people are going to get it tattooed , but it's just a little, maybe wait until you've heard it, what if you don't like it?
With Bluesfest is around the corner, have you started thinking about a set and what we'll get to hear while you're here?
I have started thinking about it, I haven't yet been told how long I've got to play for and that will be a major deciding factor in what we play. We will be, when I say we I mean that's me and The Sleeping Souls of course, we will be playing a few new songs here and there but at the same time my job when doing a show  is to entertain, particularly at a festival, I always feel the thing about festivals is that people see a million bands in the day and their attention span is not necessarily at its heights, so doing a seven minute new experimental song is perhaps not the best idea, so we will also be playing the hits.
You've toured with Dropkick Murphys before and now about to play some sideshows with these guys again are you looking forward to sharing the stage with these guys again?
Absolutely, we toured with them for the first time last year in the USA and I've just finished a tour with them the day before yesterday, the thing is this is going to sound like I say this all the time and I'm just being a suck up or whatever, but they're genuinely the coolest band to tour with that I've shared the road with and actually on this last European run I actually ended up singing for them at a couple of shows because Al was sick, so I feel very kindred spirit with the Dropkick's they're a great bunch of guys, and a fantastic live band and I'm really, really excited about sharing some more road with them.
You told me that your show is always a party, but how big a party are these shows going to be?
They're going to be a large party. Particularly if Mr James Lynch the guitarist in The Dropkicks has any say in the matter *laughs* he and I are somewhat of a terrible two and if you put me and James and a bottle of whisky in the same room then frightening things start happening, so I think it'll be a good time.
So in closing, what does the rest of 2013 have in store for you?
The fact that we're putting out a new record necessitates an awful lot of touring and promo work and that sort of thing, not that I'm in any way complaining, what I'm saying is that I'm proud of the record, I'm excited and I hope people like it as much as I do. I'm hoping to get a couple of bits and bobs in there, I have this side project going called Mongol Horde, we did a handful of shows and a handful of demos last year and I hope one of my aims for this year is to try and get a Mongol Horde album recorded. The problem is that it's not first priority, as and when I can find a gap in my schedule is when we'll get a record done and stuff like that, which is really fun because it's totally different from the solo material I do and it's really kind of fun and cathartic to make that kind of music.
Essential Information
From: Winchester, England
Band members: Frank Turner – (Live band: The Sleeping Souls. Nigel Powell, Ben Lloyd, Tarrant Anderson, Matt Nasir)
Website: www.frank-turner.com
Forthcoming release: Tape Deck Heart (April 22nd, 2013)
Check out our chat with Frank from 2012 HERE
Catch Frank Turner in Australia for Bluesfest and with Dropkick Murphys on the following dates
Sat 30th March – Bluesfest, Byron Bay
www.bluesfest.com.au
Sun 31st March – Panthers, Newcastle Lic AA
www.moshtix.com.au 1300 GET TIX
Mon 1st April – Big Top Luna Park, Sydney Lic AA
www.oztix.com.au 1300 843 443, www.ticketek.com.au 132 849, www.bigtopsydney.com.au
Tue 2nd April – Festival Hall, Melbourne Lic AA
www.ticketmaster.com.au 136 100
Wed 3rd April – Thebarton Theatre, Adelaide Lic AA
www.venuetix.com.au 08 8225 8888