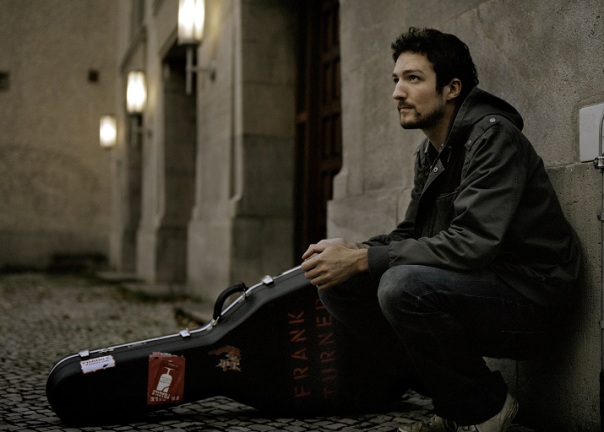 "It's supposed to have a communal atmosphere, I'm not going to turn up and play music to a bunch of heads staring at me and then just have a disconnect, I just want everyone to be involved you know?  It's a party I want everyone to be a part of."
If you've never heard of Frank Turner, now's a perfect time to start, well you should've started earlier, but you can be forgiven for that by checking out his new release 'Last Minutes and Lost Evenings' which will give you a prefect introduction and catch up to the work of this amazing folk rock singer / songwriter / performer. Wowing audiences and listeners by the droves, it won't be long before Frank Turner is a household name and with his recent appearance at the opening ceremony of the London Olympics, he's well on the way…
We chatted to Frank Turner about his music, his live show, tattoos, his ever growing Australian fan base, and performance at the Olympics opening ceremony plus more…
You're about to release a nice little package of 'Last Minutes and Lost Evenings' what was the idea of releasing this album / DVD at this time?
Well basically the last record I did 'England Keep My Bones' has been more successful by some distance than the others and the guys at Epitaph decided that for people outside the UK that we should release a primer, like a cliff notes, you know what I mean?  So the idea for the record is like the headlines of the others, and hopefully people who are new to the party can buy that record and will be all set.
How did you go about choosing what would make it on to this release of essentials and rarities?
It was harder to do than I thought it was going to be, because of what people who listen to me like and what I like is not always the same list, but in the end it kind of just focusses like a set list and it all just came together.
So basically it's a live show but just the recorded versions?
Yeah right, totally, so that people who come to my shows have got 'England Keep My Bones' and want to know what other songs I'm going to be likely to play, here it is you know, here's the list.
Watching your DVD live at Wembley Arena, I had goose bumps looking at the crowd and how into it they were, I mean, how was that experience for you up on stage?
It was amazing, I mean the actual gig to be honest kind of went by in a flash because there was so much kind of build up to it, but it was great, it went really well and it was amazing there was 12,000 people there, you can't really argue with that kind of thing.
You are heading back to play Byron Bay Bluesfest next year, seems you can't stay away at the moment, how have Australian audiences grow and attach to you over your past few visits?
It's been great, I've been over three times and each time there's been more people coming to the shows and it took me a long time to get the same number of people to come and see me in the UK that came out on the last Australian run that I did, so it makes me feel very friendly towards Australia, you know what I mean?  It's been great, to be honest, the very first time I came out in 2010 with Chuck Ragan I was kind of expecting to be a complete unknown and the very first song that I played in Australia and the very first song I played in Brisbane, about half the crowd were singing along with the words and I was very pleasantly surprised by that and in fact I think I stopped and said "Who the fuck are you guys?  Where did you come from?" it was like I was on candid camera.
For those that may not have seen a Frank Turner show before down here, can you give us five words that would explain a Frank Turner show?
Five words… High, energy, participation, event… man… (laughs), I ran out of words.  I did it in four, how about that?  It's supposed to have a communal atmosphere, I'm not going to turn up and play music to a bunch of heads staring at me and then just have a disconnect, I just want everyone to be involved you know?  It's a party I want everyone to be a part of.
I did notice on the Wembley DVD in the last song the whole crowd sat down and then jumped up during the song, that must be crazy to be a part of something like that?
Yeah, that whole sitting down, jumping up thing was started by the Germans. We were at a German festival and they all sat down, I didn't know what they were doing, I honestly thought they were actually staging a protest because they didn't like it and I got quite depressed and then I realised they were actually doing a coordinated dance move without being instructed to do so.  So that says everything you need to know about the Germans.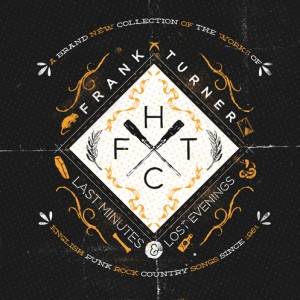 You've managed to take folk music and rock and punk the shit out of it, how did you come up with what essentially would become the Frank Turner sound?
Well I think the thing about it was that it wasn't contrived, you know what I mean?  I didn't sit down and try and figure out what it'd sound like, it's just what happens when I sit down and try and write good songs.  I listen to a lot of punk music, I listen to a lot of rock and roll, I listen to a lot of folk music and country music as well and somewhere in the kind of cement grinder in the middle of it all out comes what I do.
What do you think it is about your music that people relate to?
Again, that's kind of the million dollar question.  If I could narrow that down and write a guide book on the subject then I would and I'd make millions (laughs), but to be honest I try and not be analytical about what I do for a living because it kind of isn't broken you know what I mean?  I worry if I picked it apart it might kind of lost something in the process.
When you look back over the last couple of years, was there a moment when things clicked and you sat back and said 'Holy shit, how did this happen?'
Yeah, I have that kind of thought several times a week to be honest with you. I spent years playing to nobody and being like most kids who were in to rock and roll, dreaming about being successful and being able to tour around the world and play with different people and get to record records and that sort of thing.  That's what I now do for a living, which is my normal day to do, and about 50% of the time I'm used to it, its normal and its fine, then the other half of the time I spend pinching myself and going 'Fucking Hell."  I don't particularly remember particularly selling myself to the devil, but I might have done when I was drunk.
Being signed to a label like Epitaph, what does that mean for you?
It's a fantastic thing to be a part of, and this is in no way to downgrade what they do now as I still think they're an amazing label, but when I was a teenage I'd go out to record stores and buy stuff that had Epitaph written on it, even if I had no idea who the band was, because that was the label that put out all the bands that I love.  So to be on the label and it was a personal singing by Brett as well, it was an amazing thing to be a part of.
Have you met anyone who's come out as a fan that you've been surprised by as you wouldn't have expected they'd be?
Yeah, I'm now about to colossally name drop, so forgive me for this, but it was your question (laughs).  I recently got asked to play at the opening ceremony of the Olympic Games because Danny Boyle is a fan and he was organising the opening ceremony and we basically got the phone call saying Danny Boyle wants to have a meeting and we went "What?  What the fuck?" and we, being me and my manager went and had a meeting and he's just an uber fan, like a proper slightly scary stalker fan who kind of knows all my B-sides and all kinds of different versions and all this sort of thing and it was kind of "Um… OK…" so yeah, that was pretty weird.
How was playing the opening ceremony, was it just a surreal moment?
Yeah it was very odd, I mean it was obviously very good to do, and even my kind of callous, dead and blackened heart flickered for a moment when being asked to be a part of the Olympic Games opening ceremony.  As an actual gig it was very surreal to be playing on a fake hill to a fake field where there was real sheep and horses, so it was odd, but very good to a part of.
Did you get to meet Paul McCartney?
I did not get to meet Paul McCartney.  I did have a glass of champagne with Dizzee Rascal which was great as he had no idea who he was, I just ran up to him and said "Hey mate" and he went "Um, hello", then we had a glass of champagne together, looked awkward and walked off (laughs).
So, are you currently working on new material for an album?
Yes, I'm going to be in the studio next month making a new album which is scheduled for release actually comes around the time of Byron Bay Bluesfest.
Can we then expect to hear some new stuff when you're here?
Yeah definitely, we've got lots and lots, actually we've got way too much material, I'm in the middle of the agonizing process of whittling down as far as songs, we started with 25 and I've got to get down to 12, it's killing me, but yes, definitely there will be new stuff when I come down.
You could release a double album, make it a kick ass gatefold LP…
Ahhhh but that's the kiss of death, double albums are the kiss of death, only The Beatles pulled it off and since then bands have fallen in to the trap of thinking they could do it too.  Not even The Smashing Pumpkins could pull off a double album.
So could there be any chance of some side shows around Australia while you're here?
Yeah man, yeah, we are working on stuff, we're going to do sideshows I don't have the exact details worked out just yet.
You've also got your side project Mongol Horde in the works, can we expect to hear a release from you guys or is this just a bit of fun?
Well it's a bit of both, I want to record an album and put it out and do some more touring with it, but it's something that is definitely second tier priority.  It has to happen in down time from my day job of which there is not much…
Over the years you've supported and opened for bands like Greenday and The Gaslight Anthem, have you seen what you do and your fan base grow from these experiences?
Yeah definitely, opening for other bands has been the way I spread the word about what I do and I'm very grateful to the bands who take me out on the road, especially Gaslight, I spent pretty much an entire year out on the road with those guys.  They've been very good to me and my career.
I've noticed that a lot of your fans via your facebook and website have Frank Turner tattoos, how do you feel when people do that?
Well initially I was kind of a little taken back by it and I didn't really know what to think about it, I mean I've got a bunch of band tattoos on me, but I think the thing that kind of I find it difficult to be comfortable with, I don't want to sit around going "Yes! People think the same way about my music as I do Black Flag" or whatever. That statement still blows me away and I don't want to be blasé about that kind of thing but I'm in to tattoos and I'm in to tattoo culture and I like collecting and celebrating that and glad that people get what I do.
Out of interest, what was the tatt you got on the Wembley show DVD in between the encore?
I just got the date of the show, as I have a tattoo already that says Wembley already and the date of when I played at the stadium with Greenday, so I decided to get the date of the Wembley Arena show added to it.
Lastly, do you have a closing message for your Australian fans?
I'm coming back soon and come and say hi when you're at a show and we'll hang out.
Essential Information
From: Winchester, England
Band members: Frank Turner – (Live band: The Sleeping Souls. Nigel Powell, Ben Lloyd, Tarrant Anderson, Matt Nasir)
Website: www.frank-turner.com
Latest release: Last Minutes and Lost Evenings (October 5 – Epitaph Records)