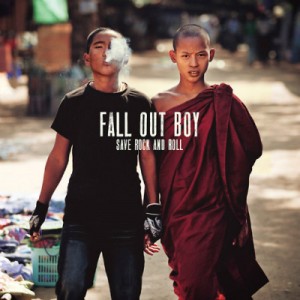 Thanks to our friends at Univeral Music Australia, we have five copies of the highly anticipated new from Fall Out Boy awesomely titled 'Save Rock and Roll' to give away to five of our lucky readers.  You should have heard the newest single 'My Songs Know What You Did In The Dark (Light Em Up)', but if you want to hear what else they've come up with on this sure to be killer release, well you can by simply sending us an email and being one of our lucky winners.
To win one of five copies, simply send us an email to mtrbwy@maytherockbewithyou.com with the subject line of 'I WANT TO SAVE ROCK AND ROLL' and include your name and address and answer this simple question… Who produced the new Fall Out Boy album? (hint, the answer may be mentioned  in our review of Fall Out Boy's Sydney concert HERE)
Entries open:  Friday 12th April 2013
Entries close:  Friday 19th April 2013
Entry is open world wide!
So Thnks fr th entrs