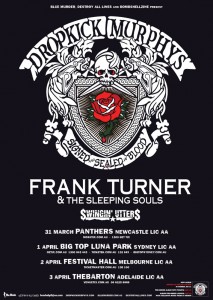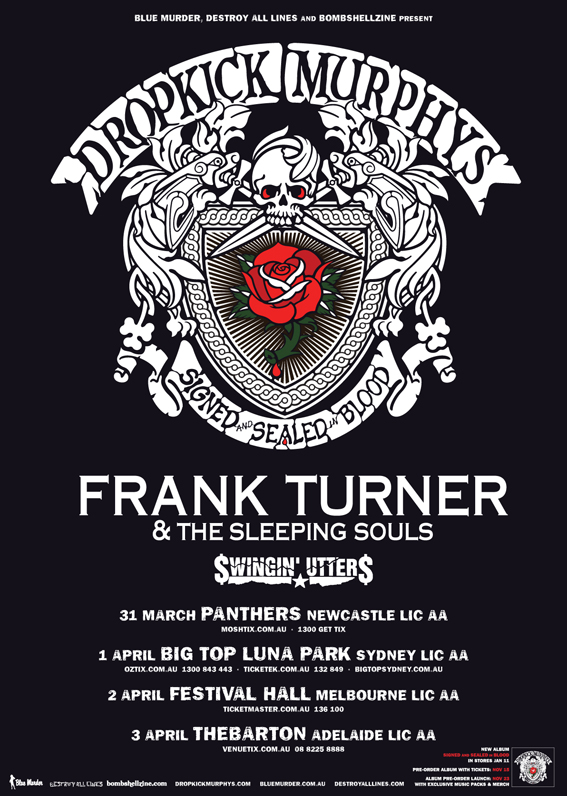 Easter Monday, and with yet another Bluesfest sideshow hitting Sydney. This time it's an all-out party with the likes of The Dropkick Murphy's, Frank Turner and the Sleeping Souls and the Swingin' Utters. I've made it here in time to catch The Swingin' Utters, as has the moderate crowd, so let's see how they go!
Immediately the band inflict their short sharp punk goodness upon us with some songs not really any longer than two minutes long, with these they deliver the goods nicely and are setting up a great night as I notice more and more start to head in to check these guys out. With a front man who looks like he's read the 'How to dance like Peter Garrett' instructional book he stomps across the stage, waving his arms and I'd say he's studied the book quite well. It's entertaining to watch that's for sure. These little punk numbers are the perfect opener for the night for me and as the applause gets louder after each song I think many agree with me, now for good measure is a Supertramp cover of 'Take The Long Way Home' which of course sounds nothing like the original ha ha. I did enjoy their 78 song set tonight ha ha, with a couple of sound issues early on that got fixed, this set of punk rock goodness was just what the Doctor ordered. 
Frank Turner and his band The Sleeping Souls have over the last few years in Australia have built a nice little following in the time, and after only seeing live footage of his I know I for one am excited for my first Frank Turner live concert experience, so much so that I've already bought my t shirt and I'm ready to go. As Frank takes the stage solo with an acoustic and a 'Hey Sydney how are you going?' to start the song 'If I Ever Stray' and is joined by The Sleeping Souls to rock this opener out. I must say, there's a lot of Frank Turner love here tonight which is great. This awesome blend of folk and rock is pretty amazing to hear live as it really takes on a new life in this environment. 'Paddy Sang The Blues' got some love and 'Reasons Not To Be An Idiot' has Frank shuffling across the stage and his band loving what they do.
Through song after song of this easy to listen to happy style of music with many crowd clap alongs, it's time for a new one 'Recovery' is just that and a nice taste of what's to come for the new album. 'Wessex Boy ' has everyone singing as we get a drinking song in celebration of Easter Monday and 'The Real Damage' is perfect. 'Four Simple Words' is up and another from the new album and with its 'I want to dance' chorus at Frank's request has many dancing as this lovely song started off quiet before exploding into a frenzy. I can't wait for 'Tape Deck Heart' that's for sure. 'I Still Believe' was amazing and the perfect way to end that set. If you haven't heard of Frank Turner yet. Well…?
I have a feeling it may get rowdy in here tonight so as I've moved to the back of the venue I prepare for the Dropkick Murphys and a set of just the balls out rock they play. I've never seen them before so this should be a lot of fun! Lights out and even as the intro music is playing the chant of 'let's go dropkicks' can be heard and the audience is obviously ready…
'The Boys Are Back' is the perfect way to start the set and it's on. Oh they have Bagpipes. Sweet. Now if the pace of that one is anything to go by then I have a feeling I'll be worn out in no time and I'm only watching! Yep it's still up, and this is awesome, and this mix of traditional and modern sound that the Dropkicks has is so impressive. 'Johnny, I Hardly Knew Ya' was just played and the place Just went bananas. 'Going Out In Style' is frantic it's like a thrash metal song with fucking bagpipes and man, I can only say how insane these songs are so many times, but it's true. There's no ballads there's no slowing down and why should there be? These seven guys are all as important as each other in this band as they rock through their parts with ease. The sound here at The Big Top is great in here tonight and that makes the experience even more enjoyable. 
As lead vocals are traded off throughout the set between Ken and Al, the same level of energy is kept up actually it hasn't dropped at all so far. 'Fields of Athenry' was killer, but as the bagpipes start off what I'm thinking will be a lovely little track, the band explodes in and actually surprised me. 'Your Spirit's Alive' wow. This is a monster. It was fast, frenzied and fucking awesome.  All these songs are perfectly written for the live environment and that's evident here tonight. As the band called Bruce Springsteen to the stage, yes, they called but of course he wasn't here ha ha. "But he's in the country, right?" the cheers went from a roar to an awww… Very well played though ha ha. 
'Jimmy Collins' Wake' a song about Boston bops its way along. Ok so I lied before here's somewhat of a ballad in 'Forever' with its great crowd participation and acoustic driven melody, this was cool. No sooner was that done it got loud again and that's fine by all of us. 'The Irish Rover' kicked ass as pretty much everything else has and none more so than 'see you on the other side' which was a favourite. 'Rose Tattoo' from their latest album keeps that traditional sound going and is so well received. Followed by 'Captain Kelly's Kitchen' which is great with its tooralorra lie… 
Frank Turner joins the band on stage for 'I'm Shipping Up To Boston' and the crowd gets to take the whole song and they know every word. That was cool to see and the first time they've done that in Australia and I'm sure not the last. With that they leave the stage. The 'let's go Dropkicks' chant returns…
As does the band. 'Barroom Hero' rocks what's left of the place to the ground. Leaving is with 'End of the Night' as girl after girl climbs on stage to be a part of the song and it's a no guy's allowed song ha ha. Oh but the next one is with 'Skinhead on the MBTA' as there are now close to 100 fans up there and they are loving it. Oh sweet they've just busted into 'Dirty Deeds' by AC/DC! Nice!! And a perfect way to round up the set, with the closer 'Citizen C.I.A' they bid us farewell and as the fans leave the stage also it is evident that they and everyone else here has had a fucking good night!
What a night!  I loved them apples…
Check out our chat with Ken Casey of Dropkick Murphys HERE
Check out our chat with Frank Turner HERE
Essential Information
Venue: The Big Top – Luna Park, Sydney
Date: April 1, 2013
Website: http://www.dropkickmurphys.com/  & www.frank-turner.com & www.swinginutters.com
Dropkick Murphys Setlist
The Boys Are Back
Burn
Johnny, I Hardly Knew Ya
Going Out In Style
10 Years of Service
A Few Good Men
Fields of Athenry
Your Spirit's Alive
Prisoner's Song
My Hero
Out On The Town
Jimmy Collins' Wake
Pipebomb on Landsowne
The Battle Rages On
Forever  (By request as tribute to deceased fan)
The Irish Rover
Out of Our Heads
God Willing
Rose Tattoo
Captain Kelly's Kitchen
I'm Shipping Up to Boston
Barroom Hero
End of the Night
Skinhead on the MBTA
Dirty Deeds Done Dirt Cheap
Citizen C.I.A.