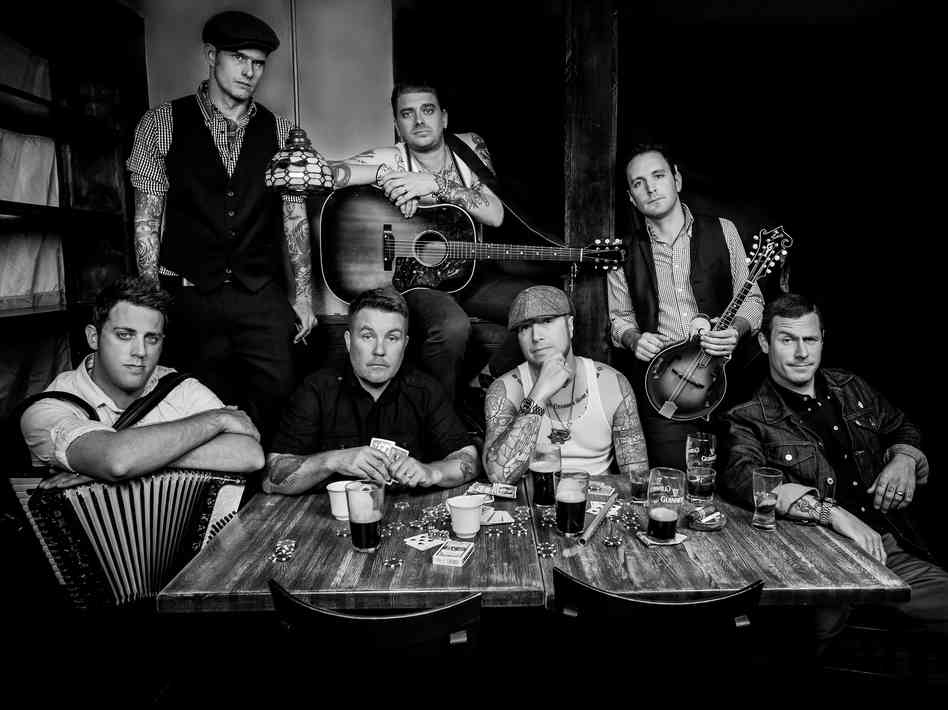 "As a matter of fact I think the secret to our success is never looking to new, modern music because we're never trying to change with the times or even from an engineering, sound standpoint, say well all the current albums sound like this. I think we want to sound as old and out dated as possible, that usually means you're doing it right in our opinion you know?"
From Press Release: Dropkick Murphys new album SIGNED and SEALED in BLOOD, is out now and is said to resemble the 'last 30 seconds of a Stanley Cup hockey game: frenetic and dangerous', is the band's eighth-full length effort and sees the seven-piece totally on top of their game as songwriters and performers. Australia is already familiar with their raucous live presence; a stage swarming with sweat and swagger. Dropkicks have an enviable reputation for delivering a live show that can satisfy fans of any age and predilection.
We spoke to Ken of Dropkick Murphys about their newest album as well as their forthcoming tour of Australia for Bluesfest as well as some sideshows with Frank Turner which are destined to be more fun than Luna park, oh wait, the Sydney show is at Luna Park… these will be shows not to miss!
You released your newest album earlier this year, for those that may not have heard it yet what's the best way you personally can describe the album?
Oh Christ, the pressure, it's just straight forward, sing along kind of fun you know, maybe smash a few things with a smile of your face. It's so hard to describe the band with such a bastard son of so many different styles of music, it's difficult, but I think this album captures the raw energy that maybe the earlier albums used to have but maybe with a little refined song writing skills that we've picked up over seventeen years, slowly but surely.
'Signed and Sealed in Blood' seems to be somewhat or a morbid title, is there a specific meaning behind it you can share with us?
Well, that line is from a song 'Rose Tattoo' and the play on that was in terms of the title was our commitment to how important it is to be in the band and to keep giving the people who support the band what they expect from us you know?  Then the kind of reverse playback on that is that the people who tattooed the logo on them, the artwork, their dedication to us, it was kind of like the mutual respect and dedication from the band to the fans and the fans to the band you know.
So I'm gathering that Rose Tattoo is obviously not a song about Angry Anderson?
No but you know what, believe it or not years ago on one of our trips down to Sydney, Rose Tattoo was actually cool enough to play with us and that was cool and actually quite the honour and we've since become friends with some of those guys and it was quite a big deal. So no it isn't about the band or Angry, but in a way it's a back handed compliment you know.
What was the inspiration behind the songs on the album this time around?
No, as a matter of fact it was kind of a reaction to the fact that the last album being a concept album and a lot of thought and a lot of tie everything together. This one was just we had a bunch of great songs and we can't wait to get in the studio, so it was more just a reflection on life and some influences from our upbringing and stories from our life had a lot to do with just adulthood you know what I mean and the changes in our lives, it's nice to be able to document what goes on around you in a song that will far outlive all of us you know?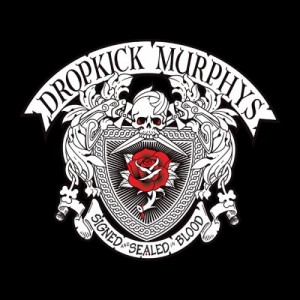 Musically the Dropkick Murphys take the best part of so many genres and I must say that I was bopping along to the album big time, do you still look to anyone for inspiration when writing music?
I mean I think that we have our own sound; I hear bands say they buy CD's and say I listen to this, and I've never been like that, I think my inspirations come engrained in me from years of me growing up listening to music you know what I mean?  I don't think we look to newer modern music, as a matter of fact I think the secret to our success is never looking to new, modern music because we're never trying to change with the times or even from an engineering, sound standpoint, say well all the current albums sound like this. I think we want to sound as old and out dated as possible, that usually means you're doing it right in our opinion you know?
You're heading here as a part of the epic Bluesfest lineup, can you explain a Dropkick Murphys show to someone who may not have seen you before?
It would be like as if Robert Plant, Paul Simon and Iggy Pop all just had a child together *laughs* no, I don't know, they're just three I know that are playing on the thing. I think if Paul Simon took a bunch of acid and did some coke and got hammered and played an electric guitar maybe, I don't know. I don't think in that line up people will know what to expect from us, but I think that kind of roots element that's in there and that traditional instrumentation, even if it's a fast, loud song, people can hear through it, that there's some kind of raw sincerity there, even if it's during one of our fastest more angry songs.
You're also heading out and doing some sideshows with Frank Turner who we spoke to last week, he speaks highly of you guys, is the feeling mutual?
So mutual, we've spent a lot of time together on the road and just amazing guys, one of our favourite people to tour with, him and his whole band, and its been nice to watch him get the notoriety he deserves and start to be more and more popular everywhere he goes and I can't think of a better band to tour with and a better guy to tour with. Also, the other band that's on the bill, The Swingin' Utters from San Francisco are some of our oldest friends in rock and roll, as a matter of fact I'd go as far to say that I would not have started a band if it had not been for them, I was thoroughly disenfranchised with punk rock back in the early 90's, I never thought it would be what I grew up with again… then along comes at the time in the 90's a modern band that was encompassing everything I liked about music, lyrically, had the old Brit punk sound, it was just real, raw and their first few records inspired me to pick up an instrument in the first place and some of Dropkick Murphys first ever shows was supporting The Swingin' Utters. Now here we are all these years later getting to be in Australia with them and Frank Turner, it's kind of like our dream tour really.
So we can expect these shows to be an all-out party?
Absolutely, and get there early  and I think you'll probably see a lot of different musicians from all the bands getting up and playing on stage with the other bands and it should be fun like that.
You have been to Australia a number of times, how do the Aussie crowds compare to those around the world?
It's funny, for a band like us, we're very fortunate that there's not like peaks and valleys, like you go to one place that might have radio success and another doesn't, we have such a kind of loyal, brass roots fan base that really the shows are all great wherever we go, but what I love about Australian audiences is they kind of get us on a different level. Like we'll come outside and people will want to talk about the meanings of the songs and the lyrics and we always used to joke and say that we come from Boston and kids in parts of the world like Sydney for example would know more about the Boston hardcore that we grew up listening to than most people in Boston did *laughs* I just feel that they really care about their music. If people want to come and just like Dropkick Murphys because it's catchy and want to jump around a little bit, that's fine too, but when people kind of get it on another level, like being into it for what it's about from a lyrical standpoint and all that, that makes it that much more heartening for us to be there and I always find that Australia, I like that.
You're the longest serving member of the band, at seventeen years in the band, can you give us your career highlight so far?
Oh my God, ironically I always say most of my highlights don't involve being on stage with Dropkick Murphys. We're big sports fans and being in the band has kind of lead to us being involved with our local teams and when they won the first championship in baseball in 86 years, as a result of being in the band I got to be on the field in St Louis when we won and be out celebrating on the field with the players.  When we just won a couple of years ago in hockey, I got to be up with the team in Vancouver and carrying the Stanley Cup around on the ice *laughs* I always come back and say that those are my two best experiences with the band and it didn't even involve being on stage, so I guess it's the perks of being in the band you know…
Looking back what has been the biggest evolution you've seen personally?
I don't know I'd say there was an evolution because it's always just been kind of slow, steady growth another step up the rung on the ladder and I think that's why we've had longevity as I don't think there was a transformation or huge breakthrough perse. I guess an evolution would be in the last two records, working with a producer for the first time we were comfortable with by the name of Ted Hutt who is more of a psychologist than a producer in convincing all these self-loathing, guilty Catholics who don't even know how to pat themselves on the back and communicate. He's say you know you guys are great songwriters and I think you deserve this and sometimes the underdog tag we get almost goes to extreme on us and inhibits our confidence to write, but I think working with him has shown us what we can achieve, always achieve more and become a better band, better players and better songwriters.
How much did The Departed help you along the way?
It didn't change in major cities but it helped us to be able to go to smaller town America, you know what I mean? To be able to go and play for the first time in Fargo North Dakota and have a thousand people there, and it's been good. The thing about that movie is that it was so kind of hand in hand with the bands image, not that we're criminals, but a kind of rough movie about Boston and the band that's like that. The new fans that came in were all people saying 'How did I never hear about you?' As opposed to if we were in some love story and all of a sudden we had women coming to us for date nights you know what I mean? It wasn't really a dynamic in the audience; it was just a nice boost.
What does the remainder of 2013 have in store for the band?
Oh man, we're booked right through the end, we've got all kinds of touring all over the world and we've very excited about it.
Essential Information
From: Boston, MA, USA
Band members: Al Barr, Tim Brennan, Ken Casey, Jeff DaRosa, Matt Kelly, James Lynch, Scruffy Wallace
Website: www.dropkickmurphys.com
Current release: Signed and Sealed in Blood (out now)
Catch Dropkick Murphys in Australia for Bluesfest and with Frank Turner and Swingin' Utters on the following dates
Sat 30th March – Bluesfest, Byron Bay
www.bluesfest.com.au
Sun 31st March – Panthers, Newcastle Lic AA
www.moshtix.com.au 1300 GET TIX
Mon 1st April – Big Top Luna Park, Sydney Lic AA
www.oztix.com.au 1300 843 443, www.ticketek.com.au 132 849, www.bigtopsydney.com.au
Tue 2nd April – Festival Hall, Melbourne Lic AA
www.ticketmaster.com.au 136 100
Wed 3rd April – Thebarton Theatre, Adelaide Lic AA
www.venuetix.com.au 08 8225 8888