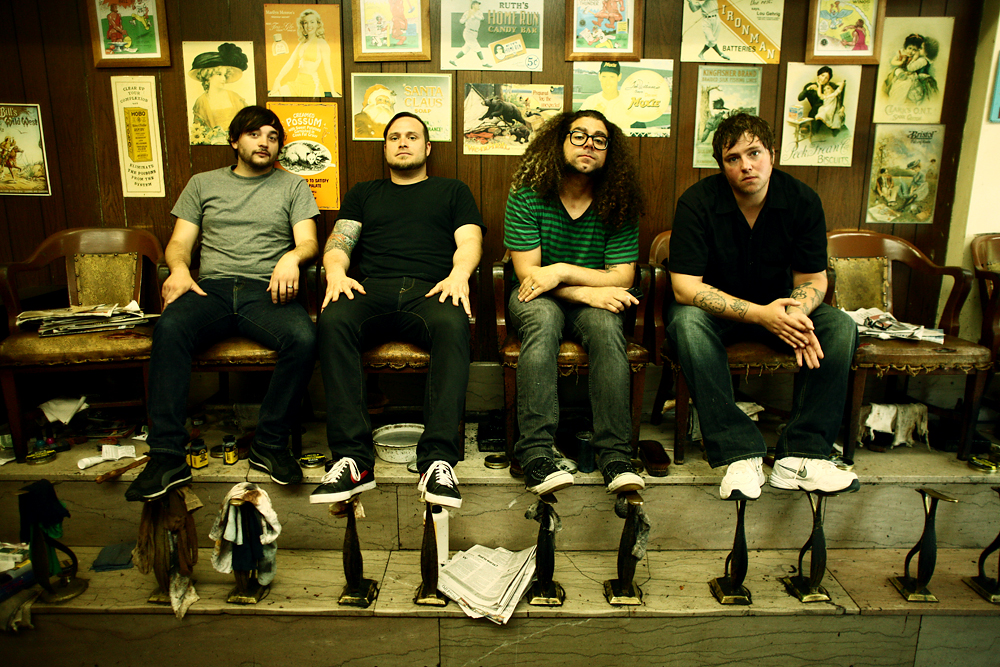 "I consider Coheed to be a rolling ball in a way, and every album has rolled through and collected the parts of that album, the experimenting and this and that and then we just rolled into what Afterman is. I think if I had to choose a record that represents that band, and I know most musicians would say this, and most fans would say that our newest represents us the best, but I honestly do feel that way…"
From Press Release: It would be hard to find a band with grander artistic scope than COHEED AND CAMBRIA. They continue to remain a unique beast, impossible to classify and are simply this generation's greatest musical storytellers. Following five groundbreaking albums, the New York foursome are back and in no less dramatic fashion than is to be expected. The Afterman: Ascension and The Afterman: Descension is an ambitious double concept album that is being unleashed in two separate full-length volumes.
We spoke to Coheed and Cambria guitarist Travis Stever about The Afterman series, Australia and it's fans as well as comics and movies…
The Afterman:  Ascension has been out since October and now Descension came out in February, can you give us some insight into the concept of this double album and what those that haven't heard it yet can expect from Descension?
From Descension you can expect a continuation right where Ascension left off, whereas basically Sirius Amory was in space basically being bombarded by these spirits or entities taking his body over, so he's basically going through what they did in their lives as they try and redeem themselves through his body and his life, and he's doing everything possible to get back home to his wife, not knowing how long he's been gone, not knowing and basically being warned by his mother ship that his body is beginning to fail on him and eventually he does come back to his wife and to society. It's about how he's accepted for what he has physically found, which is something nobody has ever found before; he discovered the beyond if you will, and how life has gone on without him. It deals with a lot of actual things that we as people actually deal with, which is the questioning of the unknown and if we were asked to be able to know what the unknown is, can we handle it and can other people handle knowing it to too?  Also with love and loss, it deals with a lot, there's quite a few things that happen once he returns home, obviously some real shitty things, his wife dies, so I mean there's a lot of tragedy and loss that's dealt with on this side of the record, but overall it's a continuation of where he left off and I can't really say more than that as then I'd give everything away I guess. I already gave away the main part of it that his wife dies, I probably wasn't supposed to do that, but hey…
I do love that your albums do have this kind of story and feel to them rather than just songs about normal day to day things…
Yeah man, a lot of it lyrically Claudio definitely comes from a real life standpoint like dealing with things in his own life and in our lives too, a lot of things have had to do with the band, stuff like that. Basically as opposed to living and breathing in the song with his heart on his sleeve he likes to put a twist to it and add the story. I have to admit, Afterman is my favourite story that the band has, although it's still part of the Coheed and Cambria Methos, it's definitely my favourite spin on everything and my favourite part of it.
With a planned double album, what was the idea behind splitting the releases over a few months rather than release them simultaneously?
Well as I just said before, it's very much a 'to be continued'. If you remember when you were a kid and you watched a drama show, or science fiction show or even like a fuckin' sitcom, whatever, if it had a to be continued and it was something you were interested in, you know damn well you were going to tune in next week. So it was a little bit like that, we wanted to leave a sonic cliff hanger in a way and just deal with it sonically and what you're going to get here is a continuation of the story and right now you can really digest what point you're starting with, so people can really get used to the story, at least the beginnings of it and they'll be really able to dive in to what happens you know?
When you went in to make these records, was there an approach or a conscious decision to do things differently compared to your previous records?
No, it really was just letting a lot of the songs have their way, let them kind of lead the way. Especially for Claudio, writing in the moments, letting life dictate what's going to happen with the songs on Ascension, and that sort of this happened musically, we're all very open to suggestions with each other when it comes to adding the little bells and whistles, especially for me guitar wise. That's in a way how much fun it was too, it starts with this something that maybe Claudio has already, or maybe something that Claudio and I had worked on together if he likes the riff I had, but whatever it be, if that backbone is there, then that canvas is open for everyone to start throwing things at, and I know especially Claudio knows experimenting  with melodies vocally, and guitar wise too, for both of us, but especially vocally, but sometimes lyrics can be kind of driven I think for him, actually I'm sure for him, with a melody he created and the he figures out the perfect lyric that goes with that that the song is going to be about, so it differs but it always comes down to the song dictating what's going to happen.
'Ascension' also saw the return of Josh on drums, how did having him back in the band assist with what became the end result of the album?
That's a big part of it too sonically, this backbone that he creates for these songs, any other drummer it would be a completely different song, but here comes Josh, the person who basically you could call it the groove that Coheed was built on, and he brings that back to these songs and I think that's something that made Afterman stand out if you will from albums prior. I consider Coheed to be a rolling ball in a way, and every album has rolled through and collected the parts of that album, the experimenting and this and that and then we just rolled into what Afterman is. I think if I had to choose a record that represents that band, and I know most musicians would say this, and most fans would say that our newest represents us the best, but I honestly do feel that way, because if Coheed is a rolling ball then this album is the sum of all the parts that we have gained throughout all these years and that's what Josh coming back especially brought to us, the ability to bring that element back in. Honestly I know the band couldn't be more proud and I can't wait for everyone to hear it.
Of course you are headed back to Australia for some shows in April, what can we expect production wise and set wise at these shows?
I think that some of the newer songs that some people have been wishing to hear live, one that I've really enjoyed playing is a song called 'Vic The Butcher' I don't want to give away too many other songs but that was from the album 'Ascension' and a lot of people have been wishing for us to play it live and we've been doing it at rehearsal and it's just so much fun, I could just see it being a really great band and crowd interaction song, and I'm hoping for a lot of that because we're playing a lot of songs, even from the past that would be great for us feeding off each other. I think the thing that Coheed is really always good at is feeding off the crowd and the crowd vice versa you know, so I can just see the set list we're creating being really for that.
What I have seen is that you were doing a cover of Gotye's 'Somebody That I Used To Know' he's a hometown boy, any chance of throwing that back in the set?
No you know what, we hadn't even thought of it as we haven't been playing it anymore lately, but you never know, that might be something real fun. We were really enjoying it when we were doing it, a lot of people were covering it but we put our own spin on it and I really liked how we did it. So, hopefully.
Playing your own headlining shows this time around, you're Australian fan base is very devoted, without comparing, but how do Aussie fans stand up to those around the world?
Australia the UK and America and there are other certain places in Europe that are very kind to us, Germany has some great shows, but when it comes down to it, Australia, though it's the longest goddam flight possible is so close to home in a way and the fans are just like, it's almost playing a show in New York, playing a show in Sydney, obviously you'd always wish that more people come out, but you know what I'm saying, you want to sell tickets, you want people to come out and have a good time at the show. Even if it's only a few hundred people that come out to the show in Sydney, those people reactions is just as good as playing here at home, it's just the way it is. They're dedicated and they're into it and like I said, we feed off the crowd, I remember one of our favourite shows we ever played and it's so funny that it was one of my favourite shows because I felt so shitty, but I had this 103 fever and the flu and we played in Sydney but I had such a good time because the crowd was awesome, then of course I went back to the hotel room and felt like I was going to die. At least playing the show was this amazing landmark kind of experience for me and the whole band, so that's what I remember about Sydney and Australia, and the last time were there we did Soundwave and we played all these places in Australia I've never got to see and people were so welcoming and had so much fun.  I can only wish we were going to be there longer, especially with how long the fuckin' flight is, you just wish that you can stay there longer and prolong the inevitable of having to take it back *laughs*. I can't wait to go there and I know the rest of the band can't either.
One of my best friends has his forearm tattooed with the Coheed symbols, and to me it seems that your fans are extremely devoted, what do you think it is about what you do that attracts this kind of love?
You know I think that the band has a lot of depth, between the story and even the density that we put into the music, and then on top of that, we love our fans, we love being able to treat them right in every way possible. Whether it be keeping them involved in every way when we're in the studio , we give it our all, and I'm not trying to toot our own horn here, but I'd like to think that's a reflection in how the fans follow us. I think there's that whole mystery to the band too, the mystique that comes with the story, knowing that part of it is reality and part of it is the fiction, that the fiction basically comes from the real and I think that kind of intrigues people and in some ways I hope that never changes, as having people intrigued like that makes them want to become more involved.
It looks like a movie being made about the Amory Wars, do you know what involvement you may have or when this is slated to begin?
Well the only thing that's happened so far is that they've signed on with a production company, with Leverage, which is a he deal, but other than that there's not much more known yet, I'm sure there will be a lot of other details coming up, but you know they'll be working on it. The biggest news was signing on with Leverage, but as for the band and they're inclusion I mean obviously the biggest part would be that it's based on the story that's been huge, the lyrical theme for the whole bands career, but as for the soundtrack and all that stuff, all those details have not been worked out yet, that's for the future.
The comic book aspect has been a great part of defining the band, do you feel that by doing something out of the norm that it has helped the band reach a wider audience that may not have known who you were previously?
I think so, and I found that people that don't really care about the comic or the story when they first listen to the band and when they get in to the band and they start to really like the band then they kind of get into it. So it's been an avenue in both ways, the music has spoken for itself but I think people have just gotten involved as they think 'wow what is this comic thing?' and then they get into the music, so I think it's been a two way street you know?
Aside from Coheed, you're also in Davenport Cabinet and just released your newest album 'Our Machine' is there something about being in Davenport Cabinet that allows you to do things you are unable to do in Coheed?
I think that it absolutely does to the sense that I can just do that at any time, it's basically musical therapy for me, and on this album I had my cousin get involved and it's almost like a family kind of thing, things that we had been through since we were younger, we were able to put that to song almost, you know… and for me even songs that I've had in the past few years that I have been working on when with time off from tour, sometimes even on tour, there'd be a guitar riff that's more of an acoustic, and there's just been songs that I don't foresee Claudio thinking this is a guitar part for Coheed but I love it enough that I want to do something with is, so that would be used for Davenport you know, I mean there's even Davenport Cabinet songs that I didn't think were worthy for Davenport Cabinet, so you know, what I've grown into is thinking about things more and when it comes to music, wanting them to be worthy of peoples ears hearing it, if you know what I mean? So a lot of what Davenport is, is musical therapy for me that I think is worth other people hearing *laughs* that's the best way to describe it, you know.
Thanks for your time today Travis and good luck with the flight…
Right on, brother.
Read our review of The Afterman- Ascension HERE
Read our review of The Afterman- Descension HERE
Essential Information
From: New York, USA
Band members: Claudio Sanchez – vocals, guitar, Travis Stever – guitar, Josh Eppard– drums, Zach Cooper – Bass
Website:  http://www.coheedandcambria.com
Latest release: The Afterman – Descension (out now)
Catch Coheed and Cambria on tour in Australia this April:
FRIDAY 19 APRIL – BRISBANE, THE TIVOLI – 18+
www.ticketek.com.au
SATURDAY 20 APRIL – SYDNEY, THE METRO – Lic A/A
www.ticketek.com.au
SUNDAY 21 APRIL – MELBOURNE, THE PALACE – 18+
www.oztix.com.au and www.ticketek.com.au