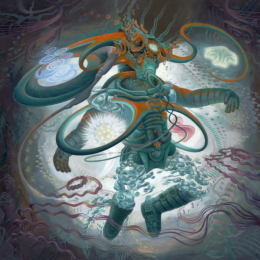 In 25 words or less:  "This album sees the band at perhaps their most musically accessible."
Coheed and Cambria are one of those bands that I've just never gotten into, more so to do with the "concept album" attachment to each of their releases, rather than necessarily not finding anything to like in a musical sense, although in saying that, 3 minute rock songs are generally what I can be found listening to most days of the week!  On their 6th album, The Afterman: Ascension, the band have embarked on a double concept album, with the follow up The Afterman: Descension to be released in February 2013.  The concept behind these albums I shall refrain from trying to explain, but essentially, it all seemingly ties into The Armory Wars, which has encompassed all of the bands previous releases.  As with all Coheed albums, this one comes with much more than just a shiny disc, there's the artwork, the lyrics, the video clip, a deluxe version with a hard cover coffee table book…and of course the soon to be released Part 2.
This album sees the band at perhaps their most musically accessible.  Whilst the strong prog rock and experimental sounds of the past are here in spades, there's definitely much here to be enjoyed in just a pure song sense for those like myself, who may attempt to digest this album in the absence of the concept.  Key Entity Extration 1: Domino The Destitute certainly typifies the elaborate, expansive and complex style of song arrangements for which Coheed are renowned.  The Afterman totally backs away the guitars and is a dreamy, atmospheric 3 minute dose of futuristic pop.  Mothers Of Men with it's simplistic, but addictive guitar riff is a slab of straight ahead hard rock, whilst all I have to say about Goodnight, Fair Lady is that Claudio Sanchez must have been listening to a hell of a lot of Thin Lizzy the day he wrote this track, even the vocal delivery has Phil Lynott stamped all over it.  The triple play of Key Entity Extraction II, III and IV, traverses through styles of menacing industrial metal, some My Chemical Romance styled anthemic rock, plenty of scorching guitar work, pounding rhythms from returned drummer Josh Eppard and new bass player Zach Cooper, before ending all souful, soothing and jazzy.
If like me, you haven't yet jumped onto the Coheed and Cambria spaceship with any of their past releases, then I don't think this album is going to offer anything that hasn't convinced you previously.  But for the Coheed fans out there, I'm sure this album and all of it's accompaniments are being devoured with as much vigour as past releases?
Essential Information
For fans of: Coheed And Cambria
Release Date: October 12th, 2012
Producer: Coheed and Cambria with Michael Birnbaum and Chris Bittner
Record label: Everything Evil Records/V2 Music Ltd
Website: www.coheedandcambria.com
Track listing:
1.             The Hollow
2.             Key Entity Extraction I: Domino The Destitute
3.             The Afterman
4.             Mothers Of Men
5.             Goodnight, Fair Lady
6.             Key Entity Extraction II: Holly Wood The Cracked
7.             Key Entity Extraction III: Vic The Butcher
8.             Key Entity Extraction IV: Evagria The Faithful
9.             Subtraction