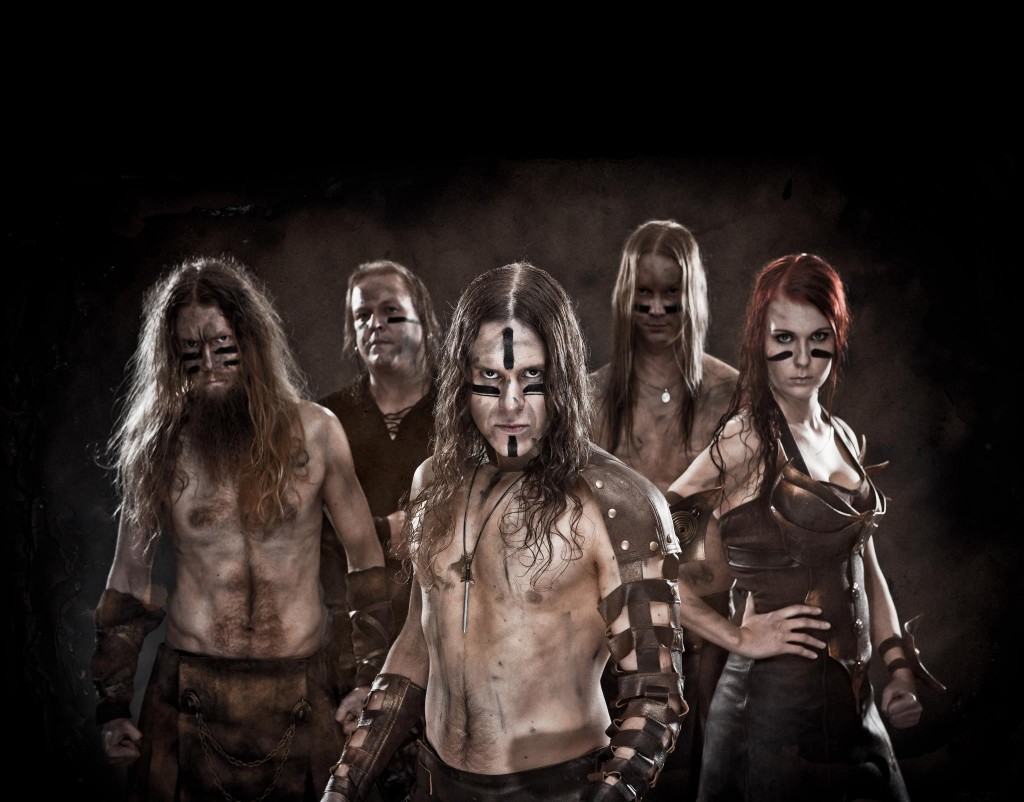 There's certainly been a strong influx of metal bands hitting Australian shores in recent months and continuing that trend in a matter of weeks will be Finnish folk/viking metallers Ensiferum.  Having toured Australia back in 2010 supporting Sonata Artica, this run of dates will see the band on their own headline tour, in support of their most recent album Unsung Heroes.  If you've never seen the band perform live before, then check out the video below for In My Sword I Trust for a hint at what you might expect as Ensiferum rip their way through Australia.
We chatted to Petri Lindroos in the lead up to the tour…
Well Petri, you are returning to Australia for a tour in a few weeks – it's summer and I can assure you right now that the only thing that will be cold is the beer!
(Laughs), that's what we were hoping to hear!  It's been about three years ago since we were last there.  We had a very nice time over there and very much looking forward to coming back again.
As you travel the world to far away places such as Australia, what do you find to be your typical crowd coming to an Ensiferum show?
Well I'm not sure what exactly is the typical crowd as I think it really depends upon where you play, what day it is you play.  A Tuesday night show for example can be very different to a Saturday night show.  But it's hard to say, because sometimes you might have a show with a smaller crowd stick in your memory far more than a bigger, larger show.  I remember there was a show we did in Texas, USA and we had about 40 people at the show and they all looked Mexican to me, I think they must have come across the border to see the show.  It was quite a big place and it was obvious from the stage that everyone was having a really good time – even the bartenders were having their own moshpit behind the bar, that was pretty cool and a show that always sticks in my mind.  Not our biggest show, but definitely a memorable moment!
Ok, so for those yet to experience Ensiferum performing live, what can they expect?
We are going to be playing some kick ass shows over there, there's no question about that.  We have a longer setlist this time around in Australia given we are playing our own shows, so hopefully we can fulfil everyone's eternal question about the setlist…which we hope will please everyone.
Your latest album Unsung Heroes has been out for a while now, how many songs have you now built into your setlist?
Well we've got In My Sword I Trust, Burning Leaves, Retribution Shall Be Mine, Unsung Heroes and I think maybe one more…
On Unsung Heroes, you certainly took your sound into an even more 'cinematic' and 'epic' direction – how have you found these songs to play live?
We haven't had any bad reaction from the crowds.  The new songs just seem to work as great as the old ones.
Any chance of playing a cover of Gypsy Kings Bamboleo out here?
We've been hearing that request quite a lot lately (laughs).  Yes we did this death metal version of it and we also did it in detuned tuning which is not our standard tuning and unfortunately we won't have the opportunity to get those guitars with us to Australia.  At this point I really think we need to skip that one and I really don't have any clue what the lyrics are to that one (laughs).
Recording for Unsung Heroes obviously would have taken place over a year ago, what are some of your most immediate memories when you think back to the recording sessions?
It was actually exactly one year ago today when we were in the studio, it was February 13th.  I remember it was cold and snowing, just like now.  We had a great time in the studio, everything went pretty good, even a major electrical outage two weeks into recording didn't cause any issues.
What about the follow up album, has any work for that begun yet?
Actually we have some leftover material from Unsung Heroes, which was actually done quite some time ago, given the process of writing new material can be quite slow.  But yes we do have some material to start with for the next album, so each time we have some spare time we will be working on some songs and hopefully we will get to hit the studio again a little bit sooner than in 3 years time.
As a band who's been playing Viking/Folk metal for a while now – what do you have to say about its rise in popularity, with seemingly an increase in the bands playing that style and festivals such as PaganFest seemingly growing stronger each year?
Yes you could say so, definitely.  I think even thinking back when we did the first PaganFest in 2008, we did a tour in Europe and USA also.  Since then it's been growing really, really strong and there's certainly a lot of Festivals now for the Pagan/Viking/Folk metal style and hopefully it will keep going strong for a lot more years.
So what's on for the rest of the year?
Well I'm going to fly back into Finland at the beginning of March and stay there for about a week and work on some new material before we head over there to Australia.  Then we head back home for a bit, then the Paganfest USA tour will start and then it's almost time for festival season here in Europe, so hopefully we will have some shows during that time and then hopefully we will also have some new material we've written by the end of the year, there's 2013…
Check out our review of Unsung Heroes right here…
Essential Information
From: Helsinki, Finland
Band members:
Petri Lindroos – Vocals/Guitar
Markus Toivonen – Guitar/Vocals
Sami Hinkka – Bass/Vocals
Janne Parviainen – Drums
Emmi Silvennoinen – Keyboards/Backing vocals
Website: www.ensiferum.com
Tour dates:
Fri, March 15 @ The Hi Fi – Sydney
Sat, March 16 @ The Espy – Melbourne
Sun, March 17 @ Coniston Lane – Brisbane