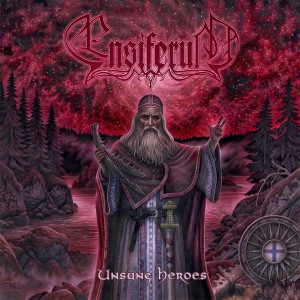 For those of you into your folk, viking, battle, pirate metal, I am sure Finnish five-piece "heroic metallers" Ensiferum are a band in which you are well familiar?  I mean how could you possibly miss them, with their overtly visual image and rousing anthems.  3 years since the release of previous album From Afar the band return with new album Unsung Heroes.  On this now their fifth album, Ensiferum have well and truly taken themselves into a venturesome new frontier of soundscapes that I guess they've previously flirted with on past albums.
The majestic orchestration of Symbols opens up in a true movie soundtrack fashion, before In My Sword I Trust delivers a classic battle anthem with a euphoric chorus, frantic guitars and a video clip to match (see below).  Whilst the crushing and frenetic moments of past albums may be fewer and far between on Unsung Heroes, the title track certainly won't disappoint those seeking the more menacing side of the band.  Acoustic folk guitars herald the arrival of Burning Leaves which is a truly epic track and features some killer lead guitar work.  Taking things to one of the album extremes, Celestial Bond complete with just a female lead vocal and acoustic guitar is actually a rather enchanting song .  In stark contrast, with lyrics such as "leniency is for the weak, I'd rather die than show you mercy, slaughter is yet to come…", there's no doubting that the frenetic storm that is the brutal Retribution Shall Be Mine is the song meant for a scene full of slaying on the killing fields.  No such album would be complete without a track clocking into double digits and we have the 16 minute Passion, Proof, Power which literally has everything you could possibly imagine – I seriously mean everything,  and yes given you asked, that does include wobbly, farts and Volk-Man, Ady and Fuchs from Die Apokalyptischen Reiter and nayyyying horses!
Unsung Heroes is not an album that's been created for digestion in true ADD fashion –that is listening to a track here and a track there and out of it's intended sequence.  If you aren't prepared to listen to it from the opening second to the final second in the order created, then you can't truly comprehend both musically and lyrically what Ensiferum have endeavoured to create with Unsung Heroes.  When it comes to enjoying this genre of music for me, I really rely upon the visual elements to complement the listening experience.  In isolation Unsung Heroes is a rather sprawling collection of songs, but in combination with visual elements and no doubt at a live show, you better believe that my warpaint, armour, sword and battle-axe will be well and truly at the ready!
Essential Information
For fans of: Cinematic battle anthems
Release date: August 31, 2012
Producer: Hiili Hiilesmaa
Record label: Spinefarm Records
Website: www.Ensiferum.com
Track listing
Symbols
In My Sword I Trust
Unsung Heroes
Burning Leaves
Celestial Bon
Retribution Shall Be Mine
Star Queen (Celestial Bond Part II)
Pohjola
Last Breath
Passion, Proof, Power