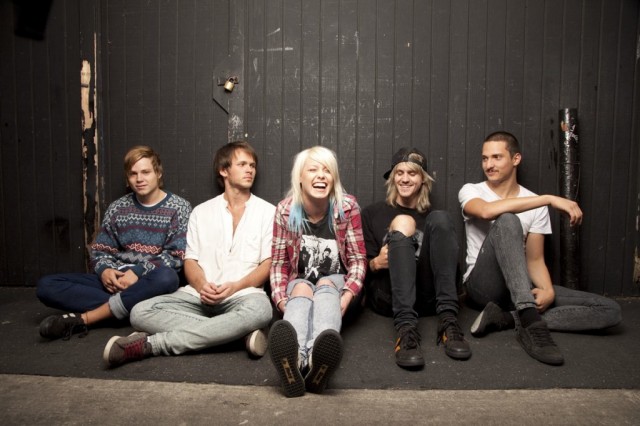 "We don't get big heads about anything, I mean being Aussies it's our humour to cut each other down, so we really appreciate it and we're hugely grateful for everything and for everyone's support worldwide but I think we've got a really high bar set for ourselves so we're always working towards something."
From Press Release: After coming back off a massive 2012, playing an excess of 250 shows around the world (Australia, New Zealand, North America, Canada, United Kingdom, Ireland, Japan, Germany, France, Netherlands, Belgium, Indonesia, Singapore, Philippines), Tonight Alive are back with a new single 'Breakdown' Feat. Benji Madden from Good Charlotte.  In the UK, the band have been flagged by Kerrang! Magazine as the band most likely to break this year, taking out 'Best New Band' in the 2013 Kerrang! Magazine readers poll and were this year part of the 2013 Kerrang! Tour. Vocalist Jenna McDougall has fast become the poster girl for Kerrang! In the UK and a voice for female rock fans everywhere.
We chatted to Jenna from Tonight Alive today about their worldwide premiere of new single and video for 'Breakdown', as well as the growth of the band and what we can expect from this coming year…
Firstly, welcome home!
*laughs* Thanks, it's good to be here. It's been on and off, the year's gotten off to a good start and we've been away for a little bit but it's good to be home.
You're back with a new single called 'Breakdown' is there a story behind the song you can share with us?
Yeah, well we wrote the song with Benji Madden and that was a massive opportunity for us because Good Charlotte have been one of my favourite bands since I was like thirteen, so for me to meet him and  write a song with him and collaborate was amazing and I guess we tried a few ideas and we ended up writing about long distance relationships, which we can all relate to, having been in touring bands and things, it's all about love complications.
How did you get involved with Benji Madden on the track?
He was in town and the opportunity arose, so there was no way I would say no to that.
Tell us a little about the video for the song that will be going up tonight as a worldwide release…
Well we shot it in Sydney and it's got a lot of fans involved which was really cool, it's the first time we've ever had extras in our videos, so that was a lot of fun, it was sort of a rooftop party and Benji comes and saves the day.
Did he bring any KFC along?
*laughs* No, not that time *laughs*
2012 was an absolute monster for you, what was a standout moment from last year for you?
There were a lot, but we played the Warped tour in America, and that was a massive thing for us because when we started that was the pinnacle pop punk touring festival and it seemed like if you could do Warped Tour you could do anything. We got that offer and it was a dream come true really in a literal sense, so it was amazing for us.
Plus a few Kerrang! awards and  nominations, I mean that's pretty cool…
Yeah we did, it's amazing, things were really rolling last year so hopefully we can keep it going this year.
The band has been received accolades all over the shop and you personally have been making some big impressions, how have you been coping with all the praise?
We don't get big heads about anything, I mean being Aussies it's our humour to cut each other down, so we really appreciate it and we're hugely grateful for everything and for everyone's support worldwide but I think we've got a really high bar set for ourselves so we're always working towards something. We're never going to be at a point where we're like 'ok we did it and we've done it and that's it and I'm happy with that' we'll always be happy but we'll always be working towards something else as well.
Is it anything like you would've ever expected?
No *laughs* I didn't know what to expect, I try to think back to when I was sixteen and what did I imagine this to be like? I can't put it in words, it's amazing, it's hard work that's for sure but it's very rewarding in a sense I could never have imagined.
Now last time you spoke to us in 2011, your album was being released the next day…
Oh my God…
I know, so how has it been for you since then, did it just take off and go from there?
It definitely was the start of an upwards climb I guess, I don't think anything's been a big explosion with us, when people hear of us they think 'New band that came out of nowhere and they're doing really well' but we didn't come out of nowhere because we started in 2008 and I think from the start we always made it our first priority and we're willing to drop everything else for it, so I think in that way that's why I think maybe it moved a little bit faster, but it's all been a step by step kind of process. Last year was definitely the time we thought oh wow this is getting busy and full on, and it's going well. So yeah I guess last year was sort an eye opener.
Being still young too it must be kind of surreal?
It is, but at the same time it's made us grow up kind of faster and miss all that little bit of our lives, in a good way, it's good to have that sense of stability that has made us learn and all that kind of thing, but we're still having fun, we're still kids *laughs*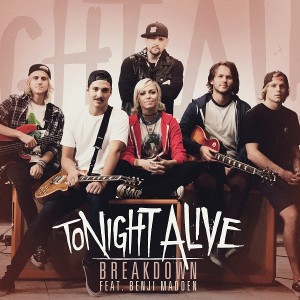 So am I right in saying that 'Breakdown' isn't going to be part of the new album?
No it's not, it was actually written just after mid last year so it's kind of been around for a while and we've been listening to the album for a while and it's quite a different sound. It still could fit in, but it was done a little while ago so it doesn't entirely represent the next stage of Tonight Alive, it's a little bit more of a pop sound than what you're going to hear on the album.
What are we going to hear on the next album and when can we expect it?
Definitely after mid this year, I can't give too much more away than that, but it's heavy and it's dark and it's really cool because we've had a lot of time to work on our skills and become better songwriters and we've just been exposed to a lot more in the past year than we were previously, I mean we were in high school when we wrote some of the songs that were on our last record. The song writing and the skills and musicianship has come a long way and we've been able to channel it in to a darker rock tone and I really like that.
Me too by the sounds of it already…
Yeah thank you *laughs*
In terms of writing, after having so long away and seeing probably, well, everything… is that what's inspiring the songs for the new album?
Yeah surely, it's just been the next phase of our growing up, it's just facing the challenges and the feelings we've never experienced before and not really knowing how to handle them, everything is a new experience in the past few years and you can't really prepare yourself for what touring fulltime does to you as a person and as a musician, so yeah, the new album will be our reaction to the next phase of our growing up really.
So you're not so scared of anything anymore?
Exactly, no *laughs*
After all your experiences recently do you feel you'll be able to do a lot more this time around that you wouldn't have been able to do for your debut?
Yeah definitely, I think even on a personal level what you're emotionally and mentally capable of let alone what you're physically capable of as a performer and an artist and things like that, it's changed a lot to be on the road and play a set in front of people every day that don't know you and you're trying to get them to understand what you're doing and there was a lot of hard work in that time and I think it made us realise a lot of things and just like anyone it's a big learning curve and we've picked up a lot on the way.
Obviously in the past there were comparisons between you guys and that other band that I won't mention, something you can't get past, but it seems now that there isn't so much comparing rather than each being their own band which is great, how does it feel to be able to get past that and be your own band not referred to as a 'clone' or 'copy' which is far from the truth?
Yeah it's a very positive thing to move past that. It was really frustrating at first but I guess the worst time was in the first couple of years when we were first starting out and we were really sort of fresh, and Paramore are a huge band so it's like the first thing you think of when you're female fronted rock or alternative rock or punk or whatever. So I think we always knew we were going to be able to break away from that and because we never set out to sound like anyone else or replicate anyone else's career, we've always been confident that the breakaway was going to happen; it was just a matter of time. Even when you listen to any other band, you're like this reminds me of this so it wasn't something that we let phase us too much. I think the next album will take that to the next level and let us step away, really.
You're back in Australia for a few shows this May, what can we expect at these shows?
Oh man, I was going to say massive and I mean massive in the sort of emotional sense as we won't have played Australia for a year. In 2011 we toured Australia seven times, so we've missed playing home shows a lot, even though things are going really well overseas and we can see the same progression in our crowds as we did in Australia, there's nothing like playing in front of long-time fans. Just making our country proud is what we're trying to do, so it's going to be amazing to come back home and I think there's going be a lot of raw energy and atmosphere at those shows.
Any chance of some new stuff thrown in?
Yes, absolutely. I'm excited about that.
Then can we expect to see you again maybe later in the year, maybe for I don't know… a big festival, say around December?
*laughs* Sounds very likely and sounds like you know what you're talking about *laughs*.  Yeah I've only had one conversation about it, but that's going to be massive to bring what's happening to Australia and I think Australia's been really deprived of that. I mean Soundwave is an incredible festival , but this is going to be a little bit different and something Australia hasn't had for a while and we're very excited to be a part of it.
What does the remainder of the year have in store for you?
After the Australian shows we'll be heading over to the UK for a festival and also some headline shows there and then off to Warped Tour, then shortly after Warped Tour we're hoping to release the album, but you'll have a few more singles before that and then coming home to launch the album in Australia and do a big tour here and then a bit more International touring before Christmas, so it's another big one.
Gee, why don't you do a little bit more, it doesn't sound like you're doing anything?
*laughs* Yeah, we're not busy at all *laughs*
Thanks for your time Jenna, good luck with the single and hopefully we'll all enjoy it tonight.
Thank you, I hope you do.
Essential Information
From: Sydney, Australia
Band members:  Jenna McDougall – Vocals, Jake Hardy – Guitar, Whakaio – Guitar / Vocals, Cam Adler- Bass, Matt Best- Drums
Website:  http://www.tonightaliveofficial.com
Latest release: Breakdown (feat. Benji Madden) single – available March 15th
Catch Tonight Alive on tour in Australia this May
Thurs 16th May
The Factory, Sydney (ALL AGES)
Sat 18th May
Ding Dong Lounge, Melbourne (18+)
Sun 19th May
Ding Dong Lounge, Melbourne (U18)