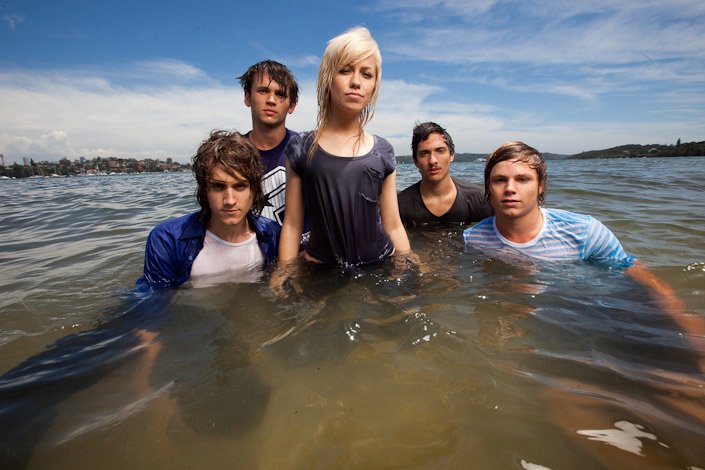 "Putting ourselves out there and touring and releasing music, it's a big thing to do and people are so easy to reject things.  But I guess if you ask yourself that question, then you can overcome that once you get there.  It's amazing to do, instead of sitting at home and not wanting to put yourself out there and do what you love to do.  Which is the main thing we wanted to get across to our fans and kids, go for your dreams like we are and what's the worst that can happen?"
2011 sure has been a massive year for lovers of the pop punk genre in general and right now slap bang in October there is no better example than New Found Glory and Blink 182 dropping brand spanking new albums.  Then on October 14th, Australian pop punksters Tonight Alive will be unveiling their debut full length album, What Are You So Scared Of? 
In existence since around 2008, the last 12 months have certainly been big for the Sydney siders with tours supporting Anberlin and Simple Plan, not to mention above all, recording their debut album in Los Angeles with big name producer Mark Trombino (Blink 182, Jimmy Eat World).  An album, which has already produced the singles and video clips for the tracks Starlight, Let It Land and Breaking and Entering. 
For those out there who haven't yet heard of Tonight Alive, then believe me, it won't take long for the bands infectious energy and songs to gradually infiltrate you too.  May The Rock Be With You sat down with singer Jenna McDougall and guitarist Whakaio (Whak) at Sony headquarters in Melbourne to discuss the experience of recording What Are You So Scared Of? in L.A, touring with the likes of Anberlin and Simple Plan and their upcoming national tour!
So first things first, you just finished the Simple Plan tour last night, how was that whole tour experience?
Jenna – Yeah that was all awesome.  I think the best part for me, to find out that through a fans eyes, which is me, that they were the same people they were when they first started.  As far as a fan can tell, they were just super genuine and friendly and there was no arrogance about them, which is always really refreshing with such big bands.  It was such a big opportunity for us as a band, and as fans of the band also to have that experience.
You have done a few support slots now, have you gradually come to be comfortable with knowing that the majority of the crowd are probably not there to see you and you are standing in between them and Anberlin or Simple Plan?
Whak – It's definitely been a big learning curve, especially when we first started doing supports and nobody really knew us.  It was hard, but it's what you've got to do and we would much rather work like that, than just rely on the Internet to get our name out there.
Jenna – That's what it's all about, it's about getting out there and bringing the music out to the kids as they are the ones that make this work and are behind it.
Whak – Doing the hard yards to get where you are, it just makes it so much more rewarding.  When you finally get there, its like, we've earnt this, we've been doing it for three years or so now.  It's so rewarding to be able to play some of these venues on our album tour as we have played some of these so many times when nobody has known us and now it's all going up for us.  The Metro in Sydney for me is going to be a bit of a turning point, ever since we started we've been like, god, what would it be like to headline this place and now we are finally doing it!
Your new album What Are You So Scared Of is out Oct 14th, so how are you feeling right now, it's that awkward waiting moment where the album has been finished for months, singles have been released, you are no doubt playing new songs in your set and here you are doing press interviews…but the album is still not out yet!
Jenna – It's been a long time coming!  We wrote it so long ago and recorded it about a year ago.  It's nuts how fast time flies.
Whak – I think because we are doing stuff every day, it's kind of all a bit surreal and we don't necessarily take time to realize what we are doing.  I am certainly both excited and nervous, but I would probably say nervous outweighs excited!  I hope that people like the album and appreciate it for what it is.  That's my main concern, not even necessarily for people to like it, just for people to appreciate the music and the songs as songs.
Whilst pop/punk so to speak has always been around, it seems that now is a pretty good time to be releasing an album with interest probably as strong as it's been, at least that's my observation anyways!
Whak – When we first started, hardcore was massive in our scene in Sydney and we were kind of the only band really doing this kind of music.  I guess now we've honed our skills and our song writing and this kind of music has had a rise in popularity now and it's worked in our favour.  Especially with American bands like The Wonder Years, pop punk is really on the up again.  It's great, all this music that we love to listening to is coming back, finally!
So what's the story with the international release, is that next week too?
Whak – Well in North America we are starting on an indie label over there which we felt was important to start from the start over there, like we have done here.  They are going to be releasing our EP first and then release the record next year, so is New Zealand and UK will be early next year.
How does song writing in the band usually work, is it one or 2 of you or are you all involved?
Jenna – It's mostly Whak and I that come up with the core of the songs.  Recently, the way we've been writing is acoustically and jamming and capturing whatever comes from that.  Cam our bassist also puts his magic on top of the songs as well, he's really good at making the songs flow.
Whak – We write using a midi program, so we can play everything back, so that makes it really easy to send songs and ideas between ourselves.  So we do that and then we work out the vocals acoustically, well that's how we've been doing it lately anyway.  The whole song is pretty much done before we go to band practice, so everyone knows their parts and can then practice it.  It's not like we stand there in the room working out songs, we couldn't do that, everyone is loud and competitive haha, so it doesn't work for us anyway.
You headed to L.A and worked with Mark Trombino for this album.  Did you go over there with all your songs pretty much completed, or did you do some writing in L.A as well?
Jenna – We had cut down the list from about 30 down to 15 or so and there were just a few songs we weren't sure if they would make it or not.  We did a little bit of pre-production over there and just fiddled with some melodies and a bit of song structure.
Whak – There weren't really songs that Mark totally ripped apart or anything, they are pretty much recorded as we wrote them, just with the production finish of course!
I guess it would have been a very interesting experience for you guys given Mark's background of producing some killer albums and balancing how much trust you place in Mark versus staying true to your convictions!
Whak – We pretty much had the same goal and outcome in our mind that he did, but we were a bit green going into the studio given it was obviously our first full length record.  But he definitely pushed us heaps and probably on different directions than we were going.
Jenna – We sort of had agreed that he knew what was best and he knew what worked and didn't work so we trusted him.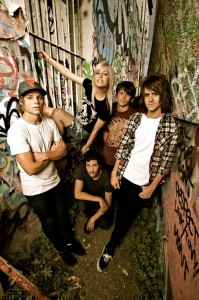 How about the actual experience of recording in L.A and being away from Australia for a few months, was that a big learning experience for you?
Jenna – Yes totally, it was a great experience for us as we all still live at home except for Kyle.  To be independent and set up in a house together, it was such an adventure and we learnt so much as a band and as people.  To be away from home and also in a studio for 10 hours a day, it was a huge learning experience.
Whak – It was difficult and sometimes I would just come home and not want to talk to anyone!  I would have just been playing guitar for like 12 hours straight and I would be like just leave me alone please haha!  But it's definitely all worth it when I listen to the album now, I'm just so happy with it.
You have also been out on the road touring in the USA as well, how did you find that experience seeing the USA in a van and from the stage?
Whak – Well it definitely taught us how to tour and how to be a band with each other.  Being in a van every day and learning how to deal with each other, and also how to be in stage.
Jenna – And how to sleep like sardines next to each other every night in the van!
Did you notice a significant difference in the crowds over there?
Whak – Everyone over there just seems to be so music orientated and they just love music.  The crowd was there from the start, that's one of the big things we noticed, they were there to watch every single band, not just rock up to watch the last band which is what happens a lot here in Australia.  The crowds were great and the fact they love music so much is definitely what I noticed most about the USA.
Whether it is playing your own headline shows here in Australia, or supporting the likes of Anberlin or Simple Plan or over in the USA, what have you come to observe about your fan base, would you say it's pretty diverse?
Whak – Well, we have a strong over 18's following which is something we really made sure we did when we first started playing, we did a lot of over 18's shows.
Jenna – Yes, we really put ourselves out there and they were really tough at first.
Whak – But now it's great, the over 18's shows are kind of doing better than the under 18's shows.
Importantly, you are about to head out on your own headline tour in Australia, with one of your favourite bands in Rufio from the USA supporting you, that must be pretty surreal?
Jenna & Whak – Totally!
Whak – Rufio have been my favourite band for years and I learnt  guitar playing their songs.  And they're all back pretty much, three original members, but the bass player is different.  I can't wait, it's going to be awesome.
Onto something a little different now, you have recorded what, about 3 or 4 film clips already, is this something that you have grown to have fun doing as a band, or are they damn hard work to make?
Whak – It's super weird for me, to play for nobody and in front of a camera.  It's just a super weird thing.  I don't really enjoy doing them, but I guess they have got to be done!
Jenna – I had fun, especially with Starlight we recorded it in Jake's garage.  I left school and the boys all quit their jobs and we spent all summer rehearsing in that garage, so it's really nice to incorporate where we are from and where we live into our video clips.  That song has been the biggest example of that so far.
So tell me, how diverse are the musical influences within the band, I think I had read that you listen to a lot of very different stuff?
Jenna – Definitely very diverse, we go from one end of the spectrum to the other.  Like me for example, I love Frank Sinatra and Missy Higgins and Rage Against Machine.
Whak – My background is that I was classically trained.
Jenna – Our bass player loves Red Hot Chilli Peppers, that is his biggest influence. Then you can throw in bands like Parkway Drive and August Burns Red and Thrice.
You have also just done a cover of a Mumford & Sons song I see for a new compilation "Pop Goes Punk 4"
Jenna – That's right, we got given a list and it was a lot of artists like Kesha and Lady Gaga and none of them really suited us, but I really love that song.  That song really stood out to us.
Whak – Musically that song is really well structured and we just loved the melodies so much.  It was just so much fun to make that our own.
And What Are You So Scared Of? has a bunch of bonus tracks as well, you recorded the whole album acoustically haven't you?
Jenna – Yeah we recorded the whole album acoustically and they all appear as hidden tracks on the album.  We only recorded it in like a day, so we really rushed it, but we wanted to give some cool bonuses with the album.
Whak – We wanted it to be really raw, there's just like one guitar and one vocal.  We wanted it just to be the song and let them stand on their own, so hopefully people will like it.  Here's a funny story, I actually had all 4 wisdom teeth removed the day before and I had this icepack on my face during recording, so that wasn't a fun couple of days!
So you will forever have memories of wisdom teeth every time you hear those songs…
Whak – Haha I haven't listened to those tracks at all yet, I don't want to remember that!
With 2011 mapped out full of touring, what's on next year, no doubt more touring? Any festivals or things you can share just yet?
Jenna – We've pretty much got 2012 all pencilled it, but nothing we can really announce just yet.  Were looking to expand our territories next year and do the UK and head back to the USA and hopefully even Europe.  Then there is also Japan.  We were signed to Japan on an independent label for our EP and we never made it over there, not sure why?  So yes, it's looking very busy!
Whak – I can't wait to get over to Japan.  That is one place I really want to go to.
Jenna – Totally, that's my number 1.
So having spent the past 30 minutes or so chatting with you about the learning experiences and journey you have had so far as a band, there is certainly a strong message there for yourselves with your album title What Are You So Scared Of?
Jenna – Yes definitely.  The message is really carrying through into everything.  We didn't write it as a concept album, but the last song is a song called What Are You So Scared Of? and it started to become appropriate at the end of it as we realized that all the songs were about overcoming things, like this past year of touring and the growing up we had to do really quickly.
Whak – Putting ourselves out there and touring and releasing music, it's a big thing to do and people are so easy to reject things.  But I guess if you ask yourself that question, then you can overcome that once you get there.  It's amazing to do, instead of sitting at home and not wanting to put yourself out there and do what you love to do.  Which is the main thing we wanted to get across to our fans and kids, go for your dreams like we are and what's the worst that can happen?
Essential information
From: Sydney, Australia
Band members: Jenna McDougall – Vocals, Jake Hardy – Guitar, Whakaio – Guitar / Vocals, Cam Adler- Bass , Matt Best- Drums
Website: www.tonightaliveofficial.com
Latest release: What Are You So Scared Of? (October 14th 2011, Sony Music Australia)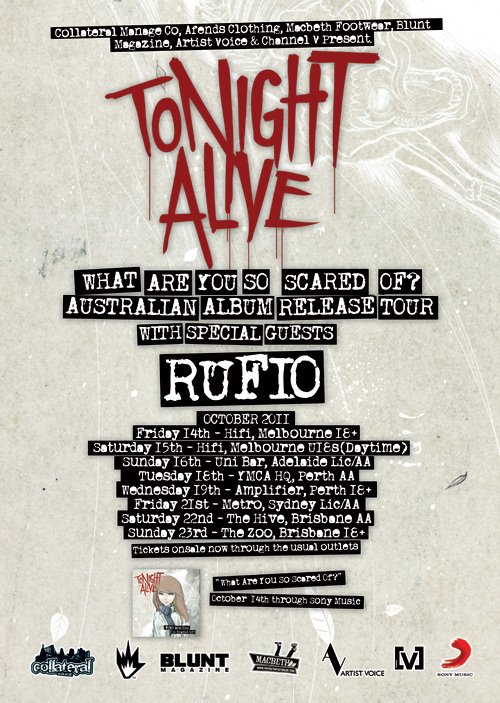 'What Are You So Scared Of?' Full Album Teaser by tonightalive