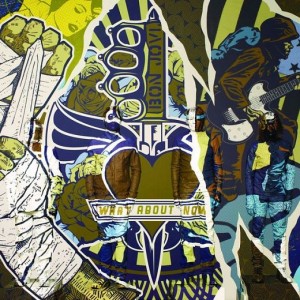 Ok, so everyone that knows me personally knows that I'm a huge Bon Jovi fan, have been for 25 plus years and I've seen it all. Been through the good times and bad times with the band and stuck with them every step of the way. Each album as they've 'grown' or 'evolved' with the day and ages sound to try and stay relevant and their use of the world and its surroundings as lyrical material has sometimes made it a little harder each time to enjoy what they create. In saying that though, everyone knows that they will never make another 'Slippery When Wet' or 'New Jersey' you'd even be hard pressed to get another 'These Days' so I take Bon Jovi for what they are now, still my all-time favourite band, but I can also be extremely honest because of it. So I haven't heard this album yet besides the single and the live versions of a few of the new tracks they've been playing, so I'm reviewing 'What About Now' on first listen. This will be interesting. Why am I doing it this way? Because I can…
So I've had some time to digest first single 'Because We Can' and yes it took me a couple of listens early on but look, I do like this song. The chorus makes me happy and I think it works. Sure the soldier has replaced the cowboy in Bon Jovi circa 2013, but my only wish for this song was more power in the guitar throughout the verse and choruses, the solo for me works in this song and didn't warrant a Sambora type shred, I have no issue with it. It's upbeat and optimistic and that's where I expect the album to head.
'I'm With You' is pretty cool, ahh its better now as Richie gets a solo in it. That makes me happy. This mid tempo rocker sits nicely in my opinion, and I do like a fade out ending too, that's a win for sure. The title track 'What About Now' now this is a great song, from the get go I love the feel of it, and one of the things I love about what makes this band work is when the vocals of Jon and Richie get to play together and in this track it's there and I love that, almost a Bon Jovi trademark right there. The groove this one hits to me sounds like a vintage Jovi song and musically it shines. That one will be hard to beat as a favourite. Oh what's this? 'Pictures of You' oh please get better, it's saved somewhat by the solo but I'm not feeling this one straight away to be honest, might need to sit with that one for a bit, not sure about that one at all.
'Amen' now I've heard this before in one of the bands live streams. Jon has been singing Leonard Cohen's 'Hallelujah' at gigs for the last number of years and I guess this is his 'Hallelujah' and I really wish the guys could write a big ballad again, the last few efforts have missed the mark in my opinion, it's a lovely song and as a fan I know I'm now doomed to hear it live, well, forever… as my favourites slowly get pushed from the set list… evolution, right? JBJ is hitting the notes here and well, while his voice isn't what it used to be becoming somewhat nasally at times but after thirty years of doing it, you wouldn't sound the same either. Shit, these big notes are actually helping me start to like the song, musically I do like the keys here, it's the last 45 seconds of the song won it for me.
Now I instantly loved 'That's What The Water Made Me' when I first heard it, even if the title confuses me, but this is a Bon Jovi rocker for the new age much like 'Love's The Only Rule' from The Circle was, and I for one love this track as somewhat over produced as it may sound, there's a lot going on here but this is where it's at for me. This one better stay in the live set, that's for sure. I'd say release it as a single, but in true Bon Jovi tradition they'll completely choose the wrong songs to release as singles and thus destroy the longevity of the album. Happens every time! Here's an idea… pizza parlour jury 2.0! (the die-hards will get that)
'What's Left of Me'… How do I type a confused face? Have I put 'Lost Highway' on? Let me check… Nope… Ok… well, I don't hate it and I think after the initial shock of some of these new songs they do kinda grow on you, I can see, well, hear what they're doing and it works but it won't be for everyone. This sounds like it could be a sequel to 'Work For The Working Man' same lyrical content as I look through the minimal album booklet, no lyrics, no thankyous but it does have the songwriters. It's a sad day when on a Bon Jovi album that Richie Sambora only gets to co-write five tracks, same number as Billy Falcon oh and producer John Shanks who's getting in on it? What's happening here? Where is the brilliance of the dynamic duo?  So, speaking of songwriting… 'Army of One' sees the hit making trio team up once again, yep, JBJ, Richie and Desmond Child, the team that brought you 'Livin' on a Prayer', 'You Give Love a Bad Name' and 'Bad Medicine' and you can definitely tell it's been over 25 years… This song is a standout on the album that's for sure but it again has that mainstream feel but I really like it. Musically the band shines here and Richie gets to let rip which is a relief. We'll never hear those three songs above written again and I don't expect to, but if songs like 'Army of One' are what we can continue to hear then I'm ok with that.
'Thick as Thieves' on the other hand, another ballad attempt and it kinda misses the mark with me sadly. Jon's vocals on this one… Hmm… Oh man, this one has lost me lyrically too… Maybe on the seventeenth listen through this one may register with me, until then… Not working for me… and I'll just fast forward to the guitar solo. 'Beautiful World' on the other hand, you've just started awesomely, oh shit ha ha ha Rob Thomas don't listen to this one, shhh you didn't hear anything. Look over there!! What's funny about this one is I love it, this track is awesome. This hits the mark for me, finally I'm tapping along again, the up tempo stuff is where it's at on this album. This actually just may be my favourite on the album actually, I'm stoked with that one.
'Room At The End Of The World' again sounds like an expected continuation of what was on 'The Circle' and was a great track, a standard mid tempo enjoyable song as we lead up to the end of the album, that end being a track called 'The Fighter' which to me envisions something like 'Eye of the Tiger', so this should be a great pump up song, no, it's an acoustic little ditty that sends Tico home for the night and leaves us with a pretty little song and I did smile when they said 'New Jersey' in it. I'm so sad, I know… I do miss my boys that were wild in the streets, hell, even the guys that had their love for sale, but I guess the band has grown up, they're all over 50 now remember? That's the end of the album…
So, I do often wonder what Tommy and Gina are up to… Guess they've moved on and we'll never know… Maybe one day they'll come back and check in with us, until then we'll just keep holding on to what we've got… which is a new Bon Jovi album, an album I did enjoy, sure there are tracks I'll skip as I do with many Jovi albums (yeah, I do, that's the honest fan in me) some of the ballads and mid tempos just didn't do it for me, they may get there but we'll see what happens over time. Will it stop me loving my all-time favourite band because of that? Never. Bon Jovi are an easy band to target for haters, I've dealt with the backlash of being a fan for years but it never gets to me. I LOVE that they're still making music, and that it's music I can enjoy, just on a different scale. So for me 'What About Now' is a good balance between 'Lost Highway' and 'The Circle' and I'm good with that. Well, most of it. "And for a moment everything is alright…"
Album has finished. Play. Repeat. Why? Oh you know already…
WIN a copy of 'What About Now' HERE

Essential Information
From: New Jersey, USA
For fans of: Bon Jovi
Release date: 8 March 2013
Record label: Universal Music
Website: http://www.bonjovi.com
Track listing:
Because We Can
I'm With You
What About Now
Pictures Of You
Amen
That's What The Water Made Me
What's Left Of Me
Army Of One
Thick As Thieves
Beautiful World
Room At The End Of The World
The Fighter