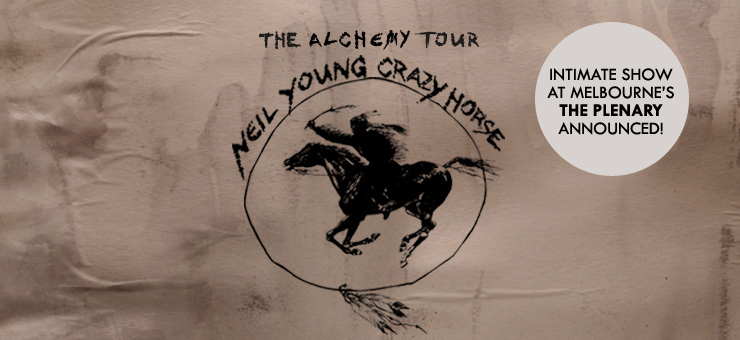 NEIL YOUNG and CRAZY HORSE PERFORMING INTIMATE SHOW AT THE PLENARY, MELBOURNE
The announcement that Neil Young and Crazy Horse would be gracing both Australia and New Zealand with their phenomenal live show left fans thrilled and quick to grab tickets to see the legendary performers in concert.
In addition to the arena and winery performances already announced on their tour, The Frontier Touring Company are delighted to announce a one off, up close and personal show at The Plenary in Melbourne on Wednesday 13 March. This performance promises to offer an altogether unique and intimate experience.
Five decades of songs interwoven with history's musical tapestry have cemented Young's status as both icon and revolutionary; expertly managing to fuse thought provoking lyric declarations with expert musical precision. This will be the kind of performance that legends are made of.
Billy Talbot, Ralph Molina and Frank 'Poncho' Sampedro are the incredible trio that make up Crazy Horse and are described by Neil Young as "a vehicle to cosmic areas that I am unable to traverse with others." As a team, Neil Young and Crazy Horse have garnered glowing reviews both for their recent album Psychedelic Pill (out now through Warner) and their global tour;
"Neil looked like a man possessed as he leaned forward, nailed one guitar solo after the next and screamed his famous line, "It's better to burn out than fade away" – Rolling Stone
"Best known for their epic, scorched-earth guitar jams yet their records always throw up beautiful and tender moments like 'For The Love of Man'. The song is another in the endless canon of love songs but this one takes a different tact, questioning the concept and institution of religion. It offers no answers, just elegiac questions and shows that for all his gruff railings at the world Young can also leave open-ended questions hanging gracefully in the air". – FasterLouder
The Plenary provides the kind of self contained intimacy that transforms performances, acting as the perfect accompaniment to the more grandiose arena shows and showcasing his timeless catalogue and innovative new works to a select few.
Seats for this unique opportunity are of course extremely limited, so be sure that you don't miss out.
NEIL YOUNG
NEW SHOW: Wednesday 13 March at The Plenary, Melbourne
Frontier Members pre-sale at www.frontiertouring.com/neilyoung Fri 15 Feb 12noon AEDT to Fri 15 Feb 6pm AEDT*
Or until pre-sale allocation is exhausted
General Public Onsale: 9am AEDT Mon 18 Feb
Sat 2 March               Perth Arena
Ticketek 132 849 I www.ticketek.com.au
Tues 5 March            Adelaide Entertainment Centre
Ticketek 132 849 I www.ticketek.com.au
Thurs 7 March           Brisbane Entertainment Centre
Ticketek 132 849 I www.ticketek.com.au
Sat 9 March               A Day On The Green, Bimbadgen Winery, Hunter Valley, NSW
Ticketmaster 136 100 I www.ticketmaster.com.au
Sun 10 March            Sydney Entertainment Centre
Ticketmaster 136 100 I www.ticketmaster.com.au
Wed 13 March           The Plenary, Melbourne                  NEW SHOW!
Ticketek 132 849 I www.ticketek.com.au
Fri 15 March              Rod Laver Arena, Melbourne
Ticketek 132 849 I www.ticketek.com.au
Sat 16 March             A Day On The Green, The Hill Winery, Surf Coast Geelong, VIC
Ticketmaster 136 100 I www.ticketmaster.com.au
Tues 19 March          TSB Arena, Wellington
Ticketek 0800 842 538 I www.ticketek.co.nz
Thurs 21 March         Vector Arena, Auckland
Ticketmaster 0800 111 999 I  www.ticketmaster.co.nz
www.neilyoung.com I www.twitter.com/neilyoung 
www.frontiertouring.com/neilyoung | www.facebook.com/frontiertouring | Twitter @frontiertouring