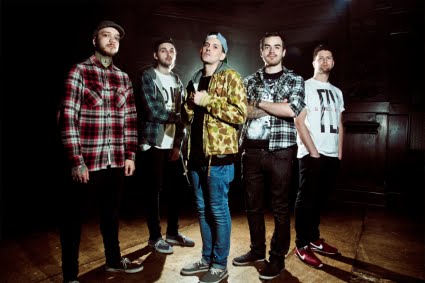 From Bio:  For years, the United Kingdom has provided the hardcore scene with quality acts including BRING ME THE HORIZON, GALLOWS, ARCHITECTS, and ASKING ALEXANDRIA to name a few. Following suit, five friends from South Wales formed a metal band, unaware of how quickly their talent would be discovered. It did not take long for their ruthless, cutthroat style to attract fans the world over, solidifying their after-school hobby as what it actually was CONTINENTS, UK's premiere hardcore band, set to blow our Yankee windows clear off their hinges.
We had a great chat to Continents frontman Phil Cross about the band their debut album and their live show.  They are most definitely a band to check out and well worthy of being one of our Best Things You've Never Heard.
Thanks for chatting with us Phil, now straight out, we loved the album but for those that haven't heard it, can you describe it in five words?
Hectic, chaotic, heavy probably the most heavy shit we've written, intense and five words, this difficult, usually I'm able to explain it *laughs* it's intense and heavy, it's chaotic and it's all over the place basically.  Anything you want is on there.
Who would you sight as your major influences?
Architects, The Ghost Inside most of the boys are in to and some of our volumes and counterparts.  My main influences are like Cold Conspiracy and stuff like that, I'm more like background hardcore roots but I don't get to express that as much you know? *laughs*
What I noticed is a much more metal element to the sound rather than traditional hardcore was this conscious or did your sound just develop this way?
No we never set out to be a hardcore band, we never set out to be a metal band, it's always been crossed as they say 'metalcore' but we play metal shows and people say that we're a hardcore band, we play hardcore shows and people say we're a metal band.  So just chuck us in the genre of metalcore I suppose, but there's a lot of different styles on there really.
Yeah and I enjoyed it, even at times somewhat of a Pantera type sound…
Yeah, there's another one of our influences, there's not much Pantera on there, or as much as I'd like to but next album…
Your debut has just been released, but the band has been around for a few years, did having this time before release help you to mould the band to what it is now?
2010 we started and we started out with a demo that we made 100 or 150 of them and just gave them out for free and basically that's what shaped us up at local shows as we gave them out before we started playing and then after that we basically recorded one track which is 'Trials' which set us up and got us recognised by Victory as before that we couldn't afford to record basically.  In the end we thought we may as well just do the band and enjoy playing live really, just travelling but we couldn't afford to take it where we wanted to and that gave us a back in and we had to write the album within three months to be honest.  We had a few tracks sorted but the person who had got us signed had told Victory we had a full album ready *laughs*and yeah… if we didn't have an album ready it didn't look good on our part so we did the whole thing in three months.
I was going to ask you about that, when you have a song like 'Trials' that has been around for some time, when you were putting the album together how did decide what old favourites would make the album or did you just use what you had because you had to?
No, it's not like that, there's still one song that I argue with the boys that I wanted on there and they wouldn't let me have it.  Basically 'Trials', 'Pegasus' and 'Truth and Lies', 'Truth and Lies' was originally called 'Shutter Island' and the reason we changed it from 'Shutter Island' is because we want the people that know about 'Shutter Island' give them a surprise as a lot of people only like the middle breakdown, that's the only reason that song went on is just because of the breakdown in the middle of the song.  Otherwise it wouldn't have gone on there because they just didn't want to waste that breakdown because it's just devastating, but the reason we changed it from 'Shutter Island' to 'Truth and Lies' is that we went back to the script writing to the film 'Shutter Island' and it was originally going to be called that is all, pretty boring story but…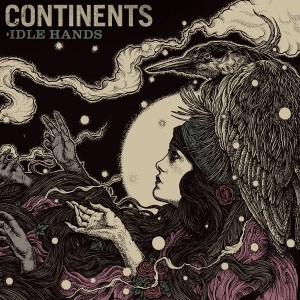 As for the remainder of the tracks, talk us through the writing process, was there anything that influenced them or were you so set by the time that you just wrote songs?
Yeah you could say that, partly no, but me and GAZ sat in a room and we were thinking what did we want from it, what type of fit because we only had so much time to write the album that we wanted to show everyone what we could do and what we can bring to the table and put everything in to the first album and show the different styles we can bring rather than being one band, cause sometimes there are so many brilliant bands but sometimes you go through the CD and you skip tracks as so many are just the same track 1 after track 2.  Not saying that's ours, but personally there are a few tracks I thought were different, like 'Exhale' is a completely different style to what a lot of the other stuff, there's some intense, proper metal, hardcore, we just went for down tempo stuff like in 'Loathe', there's a lot of that which is a whole different style there which is pretty doomy, a lot of people love that one especially live, a lot of people banging their heads to that.
Yeah and 'Exhale' was like a metal punk song…
Yeah it is, we wanted to basically put something where the lyrics to that are when we signed to Victory, we found out a few people were slagging us off I suppose, bit of a shame really, some mates told us that people were saying a few words behind our backs, and I wanted to let it all out with that one song, it's basically just telling people we'll never change and we're still the same people as we are now.
Bit of jealousy there do you think?
Yeah I think it is, I don't know why.  We're not arrogant and never have been, I don't know why, we just saw a chance and we took it, that's all it is. It sucks really…
So what is it that makes Continents stand out above all the other bands out there?
A lot of people say it's the live show as well, we're not like your average metal band and in your face and shouting at the crowd and that sort of thing.  We like to interact with the crowd as much as we can, I suppose you look at Parkway they're not a violent band they're the kind of band that have a laugh on stage as well, and that's the type of vibe that we bring, now and again you'll see me slip across and give one of our members a slap on the cheek now and again and then pretty different on stage, I've got a bit of a dance vibe going on with my moves, party popping and stuff.  Just people jumping in the crowds, you get people hanging from bars and rafters in the roofs, it's crazy.  I remember playing once and it was our biggest show to date and we were worried that no one was going to turn up to see us as one of the other bands was on and then the whole room was full, you couldn't even get in to the room to see us, I was like this is nuts.
Hopefully one day you can bring it down here…
I hope so, the sing-alongs, the high fives and stage dives.
So with the bands set, is it all your material or do you throw covers in as well?
No we haven't, we've spoken about it for a while but we never have.  I've always asked the boys if we can do like a Manson cover cause I'm a big Manson fan but they said if we ever do they want to do 'Fight Song' but I said no I want to do 'Beautiful People' but then again I just get pushed out I do… just like I wanted that song on the album and they wouldn't let me.
You should get first dibs, you're the singer…
Oh they're starting to take notice now after a few things I said on the last tour where I was right on a few things.
Plying with a number of bands, have you looked to any live performers to pick up any tips and used these for your own show?
Some of the bands I got out and watch out with the crowd, sometimes I suppose I do, it's sort of like teaching yourself how to be and not to be, you learn from mistakes, like when I used to be in other bands when I was younger I'd go in to the crowd and be singing up to people in their faces and try and get them involved, and that's all well and good but at the same time you're scaring people as well so I'd avoided that from now on.  I think its intimidating to people that come to watch you, I'd rather entertain than intimidate the people.
What big plans has the rest of 2013 got in store for the band?
We got loads of tours coming up now, nothing for Australia unfortunately at the moment to be honest that's a shame.  We've got the UK tour, a European tour coming up, another UK tour, a few big things in the pipeline but we're just waiting on confirmation to see if we got it, it's just a matter of playing the waiting game until we can announce if we got that.  A couple of nice festivals to be announced as well for over here and mainly just pumping the album as much as we can really.  We're going to be on the road nonstop, we've got tour diaries coming out soon, we had to cut down as we had seventy hours of footage from the last tour and we had to cut it all down unfortunately but we're going to find a way of using it all so we can show everybody that it's absolutely chaotic what we get up to, like we took a motorcycle into one night club…
Well hopefully we can help to get the word out and see what happens…
Yeah that would be brilliant if you can do that and help sort it out we'll come over, we're up for a laugh, that's what we do.
Essential Information
From: South Wales, UK
Sounds like: Metal / Hardcore
Band members: Phil Cross – Vocals, Darryl Sweet – Guitar, Tom Weaver – Guitar, Dom Turner – Bass Guitar, Duncan "Ken" Hamill – Drums
Website: http://www.continentsband.com
Latest release: Idle Hands (Out Now – Victory Records / Riot! Entertainment)