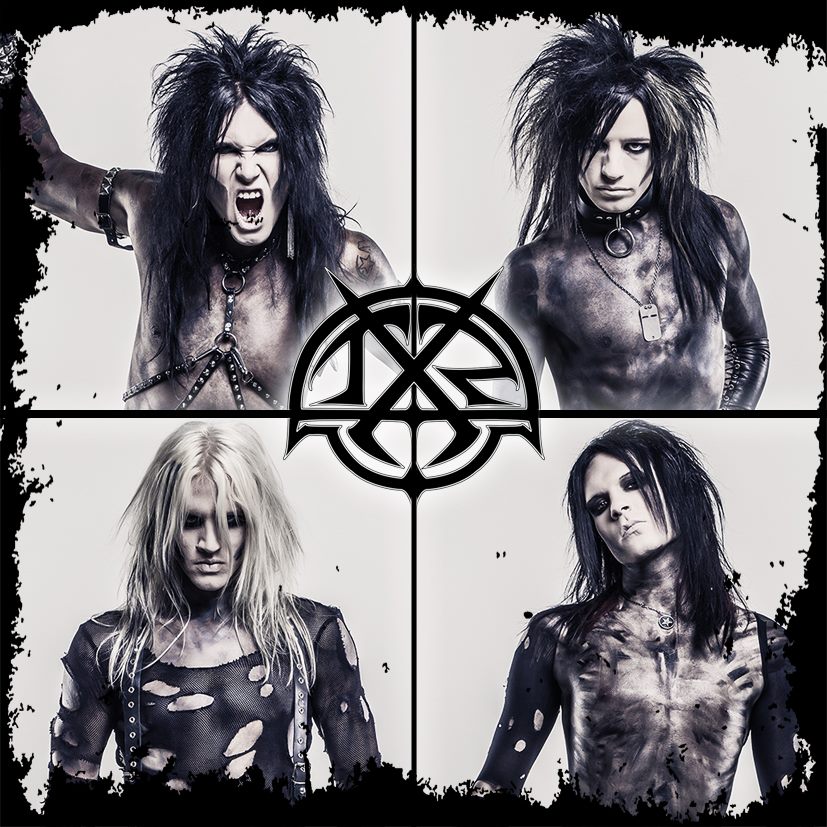 Having first heard a couple of teaser tracks (which don't appear on the EP) from Sweden's Toxic Rose way back in February 2012, their debut EP has certainly been one of most anticipated of 2012.  For the likes of myself who keep both eyes and ears tuned into the Swedish/Stockhkolm rock scene, then the Toxic Rose members would already be well familiar to you guitarist Tom (Gemini Five) and Andy (Lipstixx N' Bulletz). on vocals and Michael (Lipstixx N' Bulletz). on drums, along with Goran (Sexydeath).  Throw them all together and with Toxic Rose the guys deliver a mighty metallic and symphonic sound dominated by grandiose keys and bombastic backing vocals.
The video for lead single A Song For The Weak showcases the bands powerful visual image, as well as their ability to back that up with a song writing style that can equally bludgeon you around the head with some crushing riffs or slowly infect your ears with swirling melodies and arrangements.  Crashdiet's Martin Sweet (brother of drummer Michael) handles production and there's certainly some elements of early era Crashdiet in the bands song style, but the influences on Toxic Rose are the likes of Children Of Bodom, In Flames and WASP, which is certainly where that heavier and darker side of the band such as on songs like Black Bile comes from.
With some upcoming touring action with Crashdiet and Sister and a full length album on the horizon, 2013 shapes up as a big year for Toxic Rose and as always, you can say that you were one of the first to hear about them via May The Rock Be With You!
Check out our interview with Tom below to give you more of an introduction to Toxic Rose…
Let's start with the basics first, Toxic Rose are a brand new band to hit the worldwide metal scene.  Tell us what led to the creation of the band and the inspiration behind the band name Toxic Rose?
Well we all wanted the same thing, a modern bigger than life metal band. Like a 21th century Kiss!
The name TOXICROSE is like a yin & yang thing, it suits our music which has a lot of angerand aggression in it, but also mixed and matched with a lot of beautiful melodic melodies.
Whilst you are a new band, the members of Toxic Rose are no strangers to those who follow the Swedish rock/metal scene. Can you introduce each member of the band and give us a rock 'n' roll fact or myth about each?
Andy – Amazing singer with lungs of steel
Goran – Tight punchy bass player
Michael – Hard hitting kick-ass drummer
Tom – Guitar hero
You have your debut EP was released on December 7th, here's your chance to tell us everything we need to know about it…
This CD will blow your fuckin' mind!  Five killer tracks of the finest quality, amazing production & performance.  Go and get your copy now!  You won't be disappointed.
A Song For The Weak is your first single and video clip.  Tell us a bit more about this song, both in a lyrical and musical sense…
A bad ass catchy tune, one of my favorite TXR song.  A ball blasting video for the song has been released as well, directed by the talented Patric Ullaeus.
What are the key "ingredients" that define the Toxic Rose sound?
Strong vocal melodies, heavy aggressive guitars and atmospheric grand keyboards.
What and who do you feel are some of the biggest influences on the band, both musically, lyrically and visually, given you have such a strong visual image which is a key part of Toxic Rose?
Musically, In Flames, WASP, Children Of Bodom and a lot of other metal bands. About the visual part, a mixture of Kiss, Wasp & Immortal.
What kind of movie do you think your music would be best suited to and why?
Some big Hollywood production would be cool.
If you were a person in the crowd at one of your gigs, what five words would you walk away using to describe the performance you just witnessed?
Pure fucking mayhem on stage!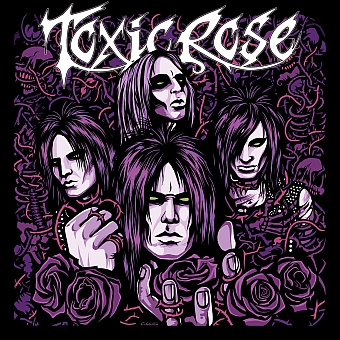 Can you personally remember the life defining moment whilst growing up that made you think I want to be a "rock star" and that was the path you wanted to take?
Oh yeah, well I was very young when I discovered KISS and since then I've never looked back.  I started to play guitar by the age of 10 and I never wanted to do anything else.  I come from a very small town and it sure wasn't easy growing up and being different, but I stood my ground and followed my hearts desire and the dreams I had and this is what made me the person I am today.
You hail from Stockholm, Sweden, how would you describe the live rock scene there at the moment, whilst there seems to be plenty of killer rock/metal bands in Sweden, are there the crowds coming along to support bands like Toxic Rose?
Sure we have a lot of rock bands playing al the time on the clubs all the time, but I don't think Stockholm is any different from any other cities in Sweden.  And yeah it is a good crowd in Sweden as well.
Toxic Rose has already attracted a bunch of fans from all over the world – even before your EP had been released, what touring plans do you have at this point in time?
We'll do a tour in Sweden & Norway along with CRASHDIET & SISTER in February and March, and then it's time for some shows in Finland.  We also have some festivals in the summer time and a tour all over Europe after that.
Here's a chance to gaze into your crystal ball, over the next 12 months, Toxic Rose will have:
1. Done a lot of touring
2. Met a lot of fans
3. Begun the recording of the full length album
Check out our review of the EP right here…
Essential Information
From: Stockholm, Sweden
Sounds like: A concoction of Gemini 5, Deathstars and Crashdiet, but far more bombastic and grandiose
Band members: Andy – Lead Vocals, Tom – Guitars, Goran – Bass, Michael – Drums
Website: www.toxicrose.org
Latest release: Toxic Rose EP (December 7, 2012, City Of Lights Records)