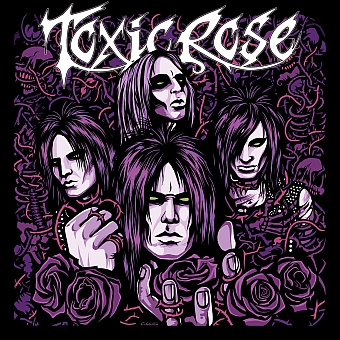 Having first heard a couple of teaser tracks (which don't appear on the EP) from Sweden's Toxic Rose way back in February 2012, their debut EP has certainly been one of most anticipated of 2012.  For the likes of myself who keep both eyes and ears tuned into the Swedish/Stockhkolm rock scene, then the Toxic Rose members would already be well familiar to you guitarist Tom (Gemini Five) and Andy (Lipstixx N' Bulletz). on vocals and Michael (Lipstixx N' Bulletz). on drums, along with Goran (Sexydeath).  Throw them all together and with Toxic Rose the guys deliver a mighty metallic and symphonic sound dominated by grandiose keys and bombastic backing vocals.
The video for lead single A Song For The Weak showcases the bands powerful visual image, as well as their ability to back that up with a song writing style that can equally bludgeon you around the head with some crushing riffs or slowly infect your ears with swirling melodies and arrangements.  Crashdiet's Martin Sweet (brother of drummer Michael) handles production and there's certainly some elements of early era Crashdiet in the bands song style, but the influences on Toxic Rose are the likes of Children Of Bodom, In Flames and WASP, which is certainly where that heavier and darker side of the band such as on songs like Black Bile comes from.
With some upcoming touring action with Crashdiet and Sister and a full length album on the horizon, 2013 shapes up as a big year for Toxic Rose and as always, you can say that you were one of the first to hear about them via May The Rock Be With You!
Check out our Toxic Rose interview right here…
Essential Information
For fans of: Crashdiet, Gemini 5, Deathstars and metallic, anthemic and symphonic metal!
Release date: 7 December 2012
Produced by: Martin Sweet
Record label: City Of Lights Records
Website: www.toxicrose.org
Track listing:
1. A Song For The Weak
2. Set Me Free
3. Follow Me
4. Black Bile
5. Fear Lingers On