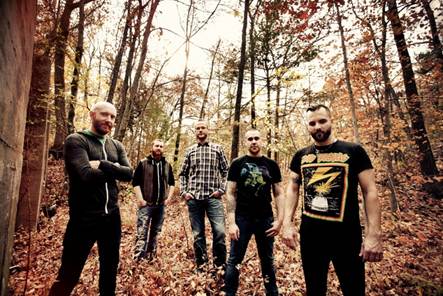 KILLSWITCH ENGAGE ANNOUNCE DISARM THE DESCENT AS TITLE OF NEW ALBUM OUT MARCH 29
 Grammy-nominated, Massachusetts-based hard rockers Killswitch Engage – singer Jesse Leach, guitarist Adam Dutkiewicz, bassist Mike D'Antonio, guitarist Joel Stroetzel and drummer Justin Foley have announced Disarm The Descent as the title of their upcoming sixth album.
 The 12-track record is due out March 29 on longtime label Roadrunner Records and is the follow up to 2009's self-titled release. Disarm The Descent is the band's first album with original singer Leach at the vocal helm since 2002's now classic, genre-defining Alive or Just Breathing. Leach returned to the band in January 2012 after a decade-long absence. 
The first single, In Due Time, will be made available digitally on February 8.
Disarm The Descent was selected by Alternative Press magazine for its "Most Anticipated Albums of 2013" issue and the band was profiled in Guitar World as one to watch in 2013. Clearly buzz from fans and the metal and hard rock community regarding new Killswitch Engage remains deafening.
"It is with a grateful spirit that we prepare for this record's release," Leach said. "From the music, to the lyrics, to the artwork, we are all proud of what we have accomplished. To me this is by far my best vocal performance, much thanks to Adam's guidance and faith in my abilities. I am very grateful to be where I am in life, back in an amazing band with a record we are all excited for the world to hear. Thanks to all the fans for their warm welcome back and their undying love for Killswitch Engage."
In between shows for their recent 10th anniversary tour for Alive Or Just Breathing across the US, the band put its nose to the grindstone to work on what would become Disarm The Descent, with Dutkiewicz producing. The time is upon us for the next chapter of Killswitch Engage, who were at the forefront of the New Wave of American Heavy Metal resurgence that defined the '00s and have remained vital into the new decade.
Disarm The Descent Track Listing:
"The Hell In Me"
"Beyond the Flames"
"New Awakening"
"In Due Time"
"A Tribute to the Fallen"
"The Turning Point"
"All That We Have"
"You Don't Bleed for Me"
"The Call"
"No End in Sight"
"Always"
"Time Will Not Remain"
The band will be touring Australia in February and March as part of the sold out Soundwave Festival.
Soundwave Tour Dates:
Saturday 23rd February – Brisbane SOLD OUT
Sunday 24th February – Sydney SOLD OUT
Friday 1st March – Melbourne SOLD OUT
Saturday 2nd March – Adelaide SOLD OUT
Monday 4th March – Perth SOLD OUT
http://www.facebook.com/killswitchengage
http://au.roadrunnerrecords.com/
http://www.facebook.com/roadrunneraustralia