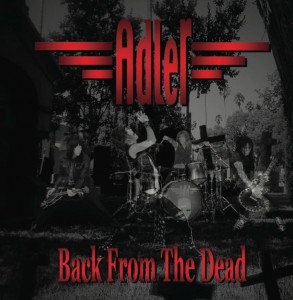 In 25 words or less: "One of 2012's greatest surprises packets which slays anything ever released by any of his former GNR cohorts."
One of the surprise rock albums released in recent months would have to undoubtedbly be Back From The Dead from Adler, featuring drummer Steven Adler, of course of Guns N Roses and Adlers Appetite fame.  Enlisting frontman Jacob Bunton (LYNAM, MARS ELECTRIC), guitarist Lonny Paul (ADLER'S APPETITE), and bassist Johnny Martin (CHELSEA SMILES) from start to finish the album is chock full of killer anthemic rock songs.  Produced by Jeff Pilson and mixed by Jay Ruston and featuring guest appearances from Slash and John 5, this is a mighty musical statement from Steven Adler and co., an album that on it's own merits should be hailed for the killer rock that abounds on this disc, rather than judged upon the past few decades of trials and tribulations endured by Adler.
Being heavily into frontman Jacob Bunton's past work with Lynam and Mars Electric, hearing his vocals and songwriting influence all over this album is a delight to my ears.  From ball tearing anthems such as lead single The One That You Hated and opening duo Back From The Dead and Own Worst Enemy, from the song titles alone, it doesn't take an Einstein to figure out that lyrically these songs are the musical portrayal of Adler's struggle with his addictions and demons.
Channeling the various musical influences of the four parts that make Adler, its not just all about full blown hard rock.  Your Diamonds is a real melodic treasure tucked away as Track 10 with a real Little River Band meets Journey kinda vibe.  The mid tempo Waterfall also delivers a real melodic twist or then there's a big blast of hammond organ in the down n dirty rock of Blown Away.  A big ballad, of course that's covered too, with piano, strings and a big guitar solo courtesy of Slash.
Throughout my life in general, I've always loved the underdog, those who have persevered through adversity.  In that context, I've taken great delight by the fact that in my opinion this Adler album slays anything ever released by any of his former GNR cohorts.  Adler sure is indeed back from the dead and any lover of killer anthemic hard rock needs to give this album the attention that it so rightfully deserves.
Check out our interview with guitarist Lonny Paul right here…
Essential Information
For fans of: Guns N Roses, anthemic hard rock.
Release date: 26 November 2012
Produced by: Jeff Pilson and mixed by Jay Ruston
Record label: New Ocean Media
Website: www.adlerrocks.com
Track listing:
1. Back From The Dead
2. Own Worst Enemy
3. Another Version Of The Truth
4. The One That You Hated
5. Good To Be Bad (featuring John 5)
6. Just Don't Ask (featuring Slash)
7. Blown Away
8. Waterfall
9. Habit
10. Your Diamonds
11.Dead Wrong