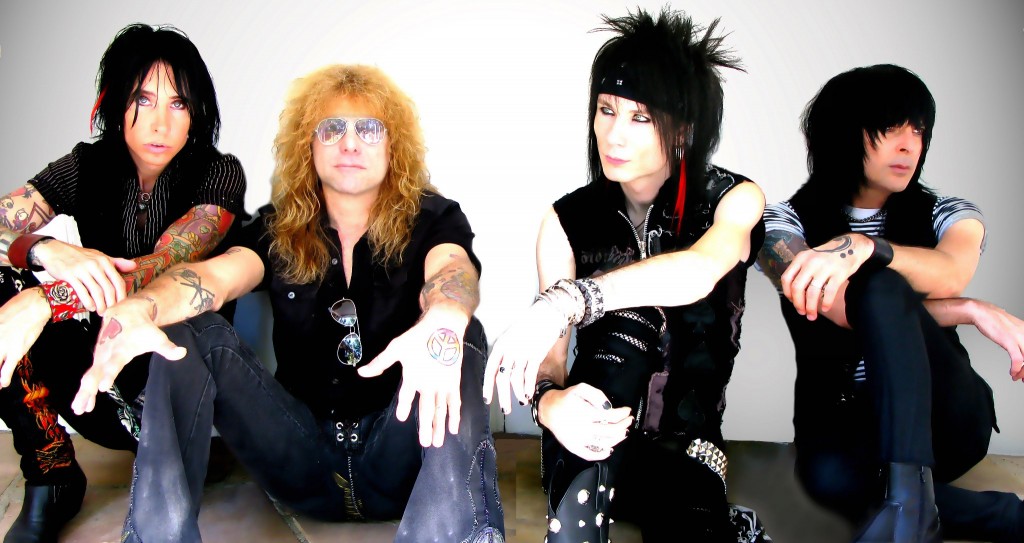 One of the surprise rock albums of 2012 would have to undoubtedbly be Back From The Dead from Adler, featuring of course drummer Steven Adler, of Guns N Roses and Adlers Appetite fame. Enlisting frontman Jacob Bunton (LYNAM, MARS ELECTRIC), guitarist Lonny Paul (ADLER'S APPETITE), and bassist Johnny Martin (CHELSEA SMILES), from start to finish the album is chock full of killer anthemic rock songs.  Produced by Jeff Pilson and mixed by Jay Ruston, and featuring guest appearances from Slash and John 5, this is a mighty musical statement from Steven Adler and co., an album that on it's own merits should be hailed for the killer rock that abounds on this disc.
Whilst Steven Adler was a late withdrawal from the scheduled conference call, we caught up with guitarist Lonny Paul to chat about Back From The Dead and what lies ahead as expected touring action!  Two shows in Japan during March with Duff McKagan's Loaded has just been announced, post the interview…
So I guess just firstly Lonny, from Adlers Appetite, we now have  a new band Adler – was it pretty much a case of Steven having the desire and fire to create new music, rather than keep playing GNR classics?
Well you know I was the last person to join Adlers Appetite, I joined last summer.  I was in the band for around two months and whilst out on the road, Steven and I became really close and he was complaining about playing these small clubs.  I told him, look the only way out is to completely redefine yourself as an individual artist and get away from just playing the Guns N Roses songs and looking back at the past, you need to look to the future.  So he obviously agreed with me as when we got back home he fired everybody except me (laughs) with the intent of starting a new band.  That's around when I went out to the Key Club for Jani Lanes memorial and ran into a friend Jay Ruston (who ended up mixing our record) and he introduced me to Jacob Bunton who short story, ended up as our singer.  So once Jacob was in the picture, we started recording the record with Jeff Pilson (Dokken, Foreigner, T&N) and the rest is history…  After the record was done, Johnny Martin, the bass player we have now came aboard.
Getting Jacob on board and you both getting stuck into writing and then recording an album, you guys must have pretty much clicked straight away, because the album is full of killer songs!
Absolutely!  In fact the very first day I picked Jacob up from the airport, he lives out in Alabama, that first day when he stayed at my place he grabbed an acoustic off of the wall and goes "look I've got this song I was working on last night" and he started playing the beginning of Hated.  But he goes, I don't have a chorus, which coincidentally enough, I had written a song too the night before,which had the chorus as you can hear on that song.  So instantly I knew, this is the guy…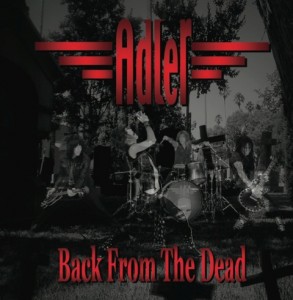 Going onto the new album, as far as the album title Back From The Dead, that's obviously pretty self explanatory in terms of its significance for Steven given his past struggles and addictions etc?
That's precisely how it went down.  We actually wrote the song first and we were thinking of the chorus line from that song and as soon as we decided on Back From The Dead as the title to that song, Steven loved it so much he said that's just perfect for the album title as well.
As mentioned before, you had a hand in writing a bunch of the songs, along with Jacob – so how does the writing generally take place for a typical Adler song, at what point does Steven get involved?
Well when we weren't actually writing together, Jacob and I would both send songs to Jeff (Pilson) and Steven for their approval.  I mean we wrote a lot of songs, but obviously Steven had to approve each one and even after we went into record them, both he and Jeff would have further ideas arrangements wise and tempo wise etc.  They were both great and obviously instrumental in developing all these songs.
The album has a great mix/slight variation of style throughout…with one of my favourite tracks being Your Diamonds, what can you tell me about that song?
Well I know it's a cliche' but we basically made the record we wanted to make.  With that particular song Your Diamond, I remember Steven calling up Jacob and saying I really want a song that sounds like a Journey song.  Literally overnight, Jacob turned in that song and it was barely changed, almost note for note that's how he wrote it!
Slash and John5 contributed their guitar talents to a couple of tracks – it must have been great for you to all these legendary guys, along with Jeff Pilson and Steven Adler sitting there in the studio….
You know all those guys you mentioned, including John5, I had posters of those guys on my wall. I was a huge Dokken fan, they were my very first concert ever, I saw them upon up for Dio.  So getting to work with Jeff and then having both Slash and John 5 appearing on tracks, it was incredible.
Did you choose the songs for those guys to do their guest thang on?
Well for both of those guys, we sent them the song we thought they would like.  We sent the song to Slash pretty much as soon as we had recorded it and said this is the song for you, and of course he was up for it.  As for John 5 we were trying to figure out what song would be best for him to play on and Good To Be Bad was a no brainer because it had that Marilyn Manson kind of swing thing and he was just perfect for that.
So you recorded the album live, which you can really tell and is a key part of the Adler sound, that raw rock energy….
Well back too the Your Diamonds song, Steven had only heard that for the first time on the morning of tracking that song.  He asked Jacob to write the song and that very next day, Jacob brought it to the studio and the first time Steven heard it was in the car on the way to the studio and he was pretty excited about.  Excited enough to play it to Jeff and pretty much that first track we then recorded is the one that you're hearing.  Jeff was very particular about capturing the "moment" as he put it.  He would get so excited and go "Stevens in the zone, Stevens in the zone" Jeff would get so excited and that made us all excited, it was quite magical.
A couple of weeks ago, you played your first show together and you also hit up the Kiss cruise, tell me how that went?
I think we were all so nervous and especially for me it was a little hard for me to play as I was so nervous those first couple of shows.  It wasn't until the third show where I actually could enjoy it and look around and just enjoy the moment.  After we got done with that third show, I was like "that was fucking fun, now I'm enjoying this".
So what's the plan as far as touring, have you got a whole bunch of touring planned/being planned or do we have to watch this space?
Well the short plan is that we want to your the world (laughs).  But the realistic plan is that our manager and agents are working through dates right now and I know more that I can really reveal and talk about right now.  But I know for sure we've got some dates in Japan which are already booked and I know there's talk of South America and Europe, so quite literally we hopefully will be doing a world tour!
Essential Information
From: USA
Band members:
Jacob Bunton – Vocals/Guitar
Lonny Paul – Guitar
Steven Adler – Drums
Johnny Martin – Bass
Website: www.adlerrocks.com
Latest release: Back From The Dead (26 November 2012)
Produced by Jeff Pilson & Adler, mixed by Jay Ruston
Back From The Dead track listing:
01. Back From The Dead
02. Own Worst Enemy
03. Another Version Of The Truth
04. The One That You Hated
05. Good To Be Bad (featuring John 5)
06. Just Don't Ask (featuring Slash)
07. Blown Away
08. Waterfall
09. Habit
10. Your Diamonds
11. Dead Wrong