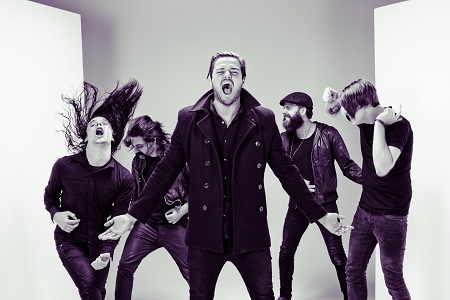 Tone Deaf & Street Press Australia in association with Homesurgery, Permanent Records & Select Music Present 'Persona Non Grata' tour!
---
Sydney boys, Strangers will deliver their fresh take on Aussie rock to the masses this summer on an extensive nine-date album tour that stretches from Newcastle to Bunbury.
 Produced by Tom Larkin (Shihad, The Getaway Plan, Calling All Cars), debut release 'Persona Non Grata' is laden with guitar-driven, rollicking riffs and makes a dynamic, confident debut.
"It brings the bad-arse, blue collar brawn in spades."- 
Zoo Magazine
2012 has been a landmark year for the five-piece; there's been serious Triple J support, whirlwind Sydney/Melbourne residencies, a sellout Lansdowne headlining show, showcases at the 2012 Big Sound music conference and just-announced spot on the illustrious SXSW conference in Austin, Texas. They were also schooled in rock by masters of the art, 
The Darkness
, 
Calling All Cars
 and 
Good Charlotte
 when they opened huge venues on several Australian dates. Not bad for a band who've just celebrated their second birthday.
The Strangers live experience is one of Australia's finest. Noisy and visceral, with swagger that TheMusic.com.au insists "will hold some serious weight when they inevitably snatch Birds Of Tokyo's crown", it's also drawn its fair share of comparisons to Kyuss and The Bronx, and that's just fine with them.
'Persona Non Grata' may roughly translate to 'an unwelcome stranger', but everyone will be welcome at these rock shows that boast heart, soul and most importantly, balls. Get tickets on Thursday Dec 13!
Persona Non Grata Tour
Tickets On Sale 9am Thursday Dec 13
THU 31 JAN | THE GREAT NORTHERN, NEWCASTLE NSW
With special guests The Dead Love & Born Lion
Tickets available from 
www.oztix.com.au
 | 1300 762 545 | All Oztix outlets
FRI 01 FEB | ANNANDALE HOTEL, SYDNEY NSW
With special guests The Dead Love & Born Lion
Tickets available from 
www.oztix.com.au
 | 1300 762 545 | All Oztix outlets
SAT 02 FEB | THE PATCH, WOLLONGONG NSW
With special guests The Dead Love & Born Lion
Tickets available from 
www.oztix.com.au
 | 1300 762 545 | All Oztix outlets
THU 07 FEB | ED CASTLE, ADELAIDE SA
With special guests The Dead Love & The Pretty Littles
Tickets available from www.oztix.com.au | 1300 762 545 | All Oztix outlets
FRI 08 FEB | WORKERS CLUB, MELBOURNE VIC
With special guests The Dead Love & The Pretty Littles
Tickets available from www.theworkersclub.com.au | 1300 724 867
THU 14 FEB | NEWPORT HOTEL, FREMANTLE WA
With special guests Further Earth & Coveleski
Tickets available from www.heatseeker.com.au | 08 6210 7270 & www.oztix.com.au | 1300 762 545 | All corresponding outlets
FRI 15 FEB | PRINCE OF WALES, BUNBURY
With special guests Further Earth
Free Entry
SAT 16 FEB | AMPLIFIER, PERTH WA
With special guests Further Earth & Coveleski
Tickets available from www.heatseeker.com.au | 08 6210 7270 & www.oztix.com.au | 1300 762 545 | All corresponding outlets
SUN 17 FEB | INDI BAR, SCARBOROUGH WA
With special guests Further Earth
Tickets available from www.heatseeker.com.au | 08 6210 7270 & www.oztix.com.au | 1300 762 545 | All corresponding outlets