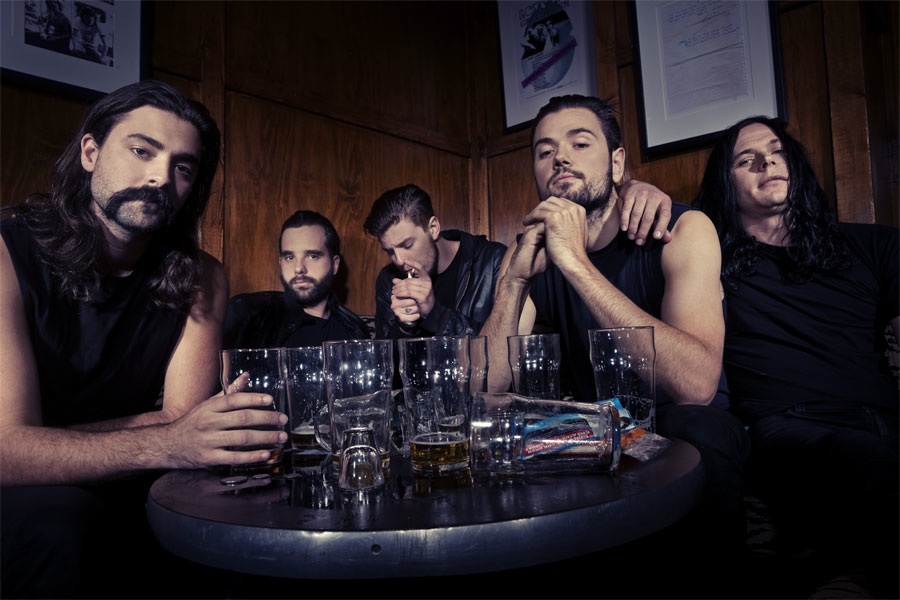 Certainly no "strangers" to us here at May The Rock Be With You, we've been patiently awaiting the full length album release Persona Non Grata from this Sydney rockers for a little while now.  Having seen them earlier this year supporting the like of The Darkness and Calling All Cars, Strangers deliver a brand of rock that is devoid of the image based hyped that is so often relied upon by new bands in this day and age.
Released last Friday, October 12th, Persona Non Grata was produced and recorded by Tom Larkin (Shihad, The Getaway Plan, Calling All Cars) and features the Triple J featured singles Red Brick and Bred For Breeding, whilst the band have also recently released a video for title track Persona Non Grata – check it out below!
But enough from us, check out our interview with the band below for an introduction and an in depth chat about their cracking debut album!
As this will be the first time our readers may have been introduced to Strangers, let's start with the basics first, how would you describe what the band is all about musically?
We're just five guys that love rock and roll and aren't really capable of anything else in life.  We really wear our emotions on our sleeves and tend to write accordingly to what's going on in our lives but we tend to try and keep it tough enough for the guys and sweet enough for the girls.
Also as a way of introductions, can you introduce each member of the band and give us a rock 'n' roll fact or myth about each?
Benny B (Vocals): Raw broccoli and hommus addict.
Benny K (Guitar): One of the largest penis' in rock n roll.
Clav (Bass): Can name over 2,500 species of tropical fish.
Mark (Guitar): Has an excessive Star Wars memorabilia collection.
Timmy (Drums): A chain smoking stenographer.
Your debut album is finally released this week (as I write these questions) and it's been an album we at May The Rock Be With You have been awaiting for a while now.  So what did you guys do to celebrate it's release – (or depending when you answer these) planning to do to celebrate?
We are currently sitting in a room with a couple of cases of beer, a playlist going and we've acquired a $700 bottle of 30 year old single malt scotch, so we're about to hook into that.
Persona Non Grata – what is the inspiration/meaning behind using that as the title?
'Persona Non Grata' (an unwelcome guest) refers us not really feeling welcome in our own town, you know we've got our mates and our family here and it's a great place to live in but musically it's a lot of pill popping dj's and sellout poppy shit that we don't want a bar of.  So I guess it's just us wanting to get out.
Tom Larkin certainly has his name behind a bunch of killer rock records – how did you enjoy the experience having Tom on board as producer for Persona Non Grata?
Tom is an absolute genius.  We learnt so much recording with him and we couldn't have got the result we did otherwise.  He's such a determined, strong willed, creative mind.  He really knows what music needs and what it doesn't, you could really trust that his suggestions were the best thing for the songs and not just for the sake of the part.  I have to give a shout out to Benny Ehrenberg (Toms assistant engineer) as well, whose work on the album was paramount to the final result.
When you think back to the recording sessions for the album, what are 3 thoughts/memories that most immediately come to mind?
I remember tracking 'Long Snake moan' because that was the only track that was recorded live, we've never done anything like that before.  I remember the very last thing recorded for the album was the solo in 'The Yearly Drag', cause we partied pretty extensively after that.  And I remember one night well we were recording Timmy, Benny K and Barnesy went to a local pub and met a post-op tranny named Mercedez and had a huge night out with her.  That was another first.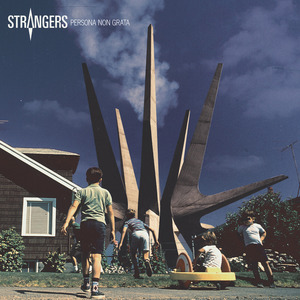 We've picked out three songs from the album for your comment/thoughts, basically whatever you care to share about each song…
Bred For Breeding – This song was about how we felt at the time when we were writing the record, we were frustrated being a rock band in a place where there are no rock bands.  The chorus "Did you notice that we all just sing along" refers to not wanting to fall into the everyday living and not being scared to follow your dreams.
Searching The Low – Very personal song lyrically. During the recording there was a death in the family and a close friend was nearly lost as well within 3 days of each other.  "We all search the low, for us please don't go". It was the type of song that helped us get through the making of the record.
Glitter Kids – This song was about the people who want nothing more than to become famous. We knew a guy who would lie, cheat and steal to get any type of limelight. It's also an overview of our generation's obsession with fame and selfishness.
In terms of song writing, what do you consider to be the most important elements that feature in a Strangers song?
We always focus heavily on Groove, melody and lyrics…..  and we're bringing the guitar solo back.
Over the course of the bands musical evolution, what and/or who have you found inspires and influences your music the most, both musically and lyrically?
As individuals we all have really different tastes and had really different upbringings, so I think realistically we all influence each other more so than any particular band.  There's always 4 other people in the room ready to do something that I never would have thought of. But if I had to name 4 bands that impacted on us the most it would be Motorhead, Fleetwood Mac, Led Zeppelin and Black Sabbath.
Speaking of our own experience in watching and listening to you guys, your brand of rock certainly could, and should appeal to a wide variety of "rock" fans…have you found your music attracting a diverse range of people thus far?
We definitely have had a versatile response to everything so far.  We have a lot of older influences so I think that some of the older crowd can hear things that are similar to what got them into music.  The majority of our shows are 18+ which makes it harder to physically connect with the younger crowd sometimes but all our all ages shows have been really good experiences so hopefully now the albums out more all ages shows will pop up.
If you were a person in the crowd at one of your gigs, what five words would you walk away using to describe the performance you just witnessed?
"I'm buying them a drink".
You hail from the southern beaches of Sydney, Australia, for the benefit of those reading in galaxies far, far, away…what do you have to say about the rock scene in Sydney and Australia at the moment and Strangers place within it?
For a rock band it's pretty hard, it's a really strange climate for rock at the moment.  I think there's just not much going on but when it comes back around we'll still be here.
October sees you alternating with residencies in both Melbourne and Sydney – what lies ahead in the coming months, more local touring action planned – or are there also plans of worldwide domination being hatched as we speak?
We'll be doing as many shows as possible.  Playing is our passion and it's kind of the light at the end of the tunnel with all the other stuff that goes on behind the scenes.  We'll definitely be heading overseas as soon as the opportunity arises, and we're doing everything we can to make that happen sooner.
Essential Information
From: Sydney, Australia
Sounds like: ROCK!
Band members: Ben Britton – Vocals, Tristan Griffiths – Bass/Vocals, Mark Barnes – Guitar/Vocals, Ben Kinsela – Guitar, Timmy Hansen – Drums
Website: www.strangers.net.au
Latest release: Persona Non Grata (October 12, 2012, Permanent Records/Shock)