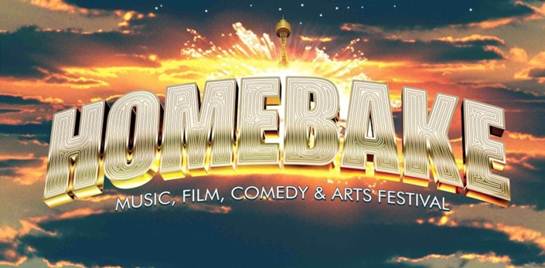 So, this is my first Homebake, and in its inception since 1996 I stand here and I'm somewhat disappointed in myself that I've taken so long to come out and support this event which over its years has featuring some of Australia's best acts. This year though is slightly different in the first International edition featuring US legends Blondie. So it will be interesting to see how the Aussie crowds take to this change.
The weather is set to be a warm one in Sydney today which will make the day even better, so I'm looking forward to not only catching some live music, but admittedly a number of bands I know of but have never heard live, so this will be interesting…
Arriving at the start of the day with a smattering of people to catch the day openers The Griswolds who did their best on the main stage to get the crowd going especially when they jumped in to a cover of Regurgitator's 'The Song Formally Known As' which drew more people to the stage but I had a plan and was headed up to catch my first full band of the day in one of our most recent Best Things You've Never Heard and Triple J Unearthed winners Battleships who over their set drew a nice little and at times vocal crowd. I have to say, regardless of my rule I learned early on in life which is 'never trust a man in a bow tie' these guys do truly have a great sound and vibe to them. Wasting no time between songs and with little banter Battleships played song after song of originals and truly gave me the feeling we'd be hearing a lot more from them in the near future. Their JJJ highly rotated song 'In Retrospect' obviously received the best reaction and you could tell the guys were loving the reception. Definitely a band to look out for.
After finding the plutopups which trust me is a festival necessity with me, I walked past as Seth Sentry graced the main stage to the Imperial March from Star Wars which rules and I headed over to The Dome to check out Hey Geronimo and I've just spotted a Steel Panther shirt, amazing. This five piece has a very quirky almost B52's type sound but rocked up type vibe and also included the first stage crasher of the day with a cheer of 'woooo Homebake' much to the pleasure of the crowd and the exit of said stage crasher. Shortly after the band is joined by a three piece horn section and has the crowd loving every second of it. As for me they just turned in to the Whitlams, well soundwise if you know what I mean, these guys sure do have a fun sound.
Ok so a stalwart of the Australian music industry is Tim Rogers of You Am I fame. So it seemed obvious that I catch Tim in his natural environment the stage. "It takes a hard man to start soft…" Rogers proclaims as he starts the set in an acoustic style to the ever growing crowd. It's a far cry from the You Am I days but Tim delivers a perfect set of an almost country style twang that has hips shaking and a vibe that makes these here to see him play very happy. I look to my left though to see thousands packed at the main stage to see San Cisco, proving that new music is alive and well in Australia. I bid adieu to Tim Rogers though as I was off to catch the band I was most intrigued by and winners of best Hard Rock/ Metal ARIA, that being DZ Deathrays. A band I have never heard anything about before. Should be interesting.
The duo of guitarist a drummer dressed in a Mötley Crüe and Dio shirt respectively sound more like the Black Keys than the metal they were awarded for. The select few here seem to enjoy what they are seeing though, but I must say, but the onset of duos these days is interesting as it seems to be the thing. I must make mention of the circle pit that has opened up in this room of maybe 500 people. It's hot, sweaty and fun to see, although somewhat unnecessary. I get the appeal but I wish more bands were bands these days, in saying that, these guys are good at what they do, but the buzz does wear a bit thin at times for mine. They do rock though, I'll give them that. In an almost psychedelic move it brings an interesting element to their sound and I must admit it is growing on me. Maybe I'll keep an ear out for what these two can do in the future.
Ok. I've been waiting most of the day to see The Saints. Now this is cool. These legends of the Australian music industry are showing they still have it as I watch people stream in to see them play. This is a very chilled out environment, the songs are great and have and keep that 70's and 80's Australian style rock alive. The Saints are a great band and this is made evident today.
Am I slightly disappointed that Last Dinosaurs are guys in a band? Yes. Is their cover of Modjo's 'Lady (Hear Me Tonight)' any good? Yes. Along with Groovejet's 'Spiller (If this ain't love) which went down a treat… Their set included today's first real Rock star moment as a bra was flung on stage. Must really suck being in a band sometimes. Their set was solid but it was the closer that got the most attention as they saved the best for last.  I dig these guys and look forward to following what they do.
Sticking to the main stage up next were Tame Impala and so far they are getting very psychedelic and although not my thing I can see and tell that people are enjoying them. Wait. I think it's a song I know! Was this on an ad? 'Elephant'… it is, I know this one, hooray! It goes without saying that it received their biggest reception. So I left Tame Impala to mixed reviews from a number of people I could hear on the way to Something For Kate.
The sun has now gone down to the relief of many as we start to draw to the pointy end of the festival. After some technical issues and some improv from Paul Dempsey and the sounds of Hilltop Hoods in the background the band got underway and did not fail to impress the eager SFK loving crowd. Through a set of a mix of old and new material, songs like 'Monster' and 'Cigarettes and Suitcases' were standouts. The ironic thing of the day is that Paul Dempsey solo on an acoustic playing 'Born To Run' by Bruce Springsteen was absolutely amazing and the highlight of my day hands down!! Mind you, in thinking about it, it is the international edition of Homebake, so that works… I could go home now and he happy, but I won't. The new stuff is going down ok but it's the songs everyone knows that gets the love. These guys are an awesome live band, and to watch Paul as a frontman is something pretty special. His voice suits the stage perfectly and his delivery is sublime. Ending their set with 'De Ja Vu' and 'Electricity' they have pencilled in their place as highlight of the day do far for mine.
I made it back up to see the end of Husky to a full room but have now settled in to see Six60 who I've been told will be good. So, Emily, let's see if they are in fact 'good'. They're running late and hopefully not too much longer as I have to head off to see Birds of Tokyos full set. Ok here we go…
Six60 start off in almost a reggae type vibe and ok, yeah, good. Seems this band is a bit more well-known that I give them credit for as the full room here are loving every second of this and it's only the first song. This is one tight band, I'm happy I chose to catch them in what they told us was their first festival show in Australia ever. This R&B style type rock is something pretty awesome to witness and I'm truly amazed at this, the crowd are insane. If I hadn't turned around at SFK to see the crowd for Hilltop Hoods I would've easily put best crowd reaction and interaction down to Six60.  I swear we just got dubstepped, I have no idea what is going on, but the blend of the sound encompassed with the amazing vocals is just mesmerising. Alas, I had to run as we'd made plans to catch one of the 3 headliners, in Birds of Tokyo. Six60 I will see you again.
As we work against the grain to make our way to The Dome for Birds Of Tokyo with others heading to catch Blondie or Kimbra who are all clashing, shame that. Annoyingly a late start which means I could've stayed for all of Six60 but these things happen. Blondie have started and the waiting crowd for BOT has started to disperse and head over to see Debbie Harry & band. Anytime now Birds…
Ok, although starting 25 mins late but worth it. Kicking off with 'Broken Bones' they were ready to rock. Playing the obligatory new stuff, I like what I'm hearing straight off with 'When The Night Falls Quiet', which to me sounds like it could've come straight off a movie soundtrack, I can't wait for the new album and curse the fact that it's not released until March. BOT classic 'The Saddest Thing I Know' got a great reaction as we're hit with another new one called 'The Others' and with each new one I get excited for what's next. What I love about this band is their vibe, Ian Kenny is such a great singer and even through stories of bat shit he manages to keep the crowd engaged and ready for more as they rock in to Murmurs' once again intertwining the old with the new is 'Lanterns' and a damn good song it is. Ahhhh this I love Silhouettic' and judging by the volume of the people singing it they do too. It is an awesome track and so good to hear in a live environment. In between songs I can hear Blondie doing 'One Way Or Another' and it sounds great but 'Wild At Heart' kicks in and drowns out Blondie in a second. This is one of my favourites of theirs, but it's got nothing on the song that I'm gathering many of those here wanted to hear. 'Plans' is up next and what a song it is, delivered perfectly and the adorning crowd lapped up every note and singing back every word. Leaving us with the title track 'This Fire' from their newest EP and forthcoming album, Birds Of Tokyo have showed us that they're more than able to hold this headlining slot on a festival, well deserved and here's to next time when they'll be on the main stage, trust me.
Walking out I got to see literally the last 30 seconds of 'Heart Of Glass' by Blondie, well at least I can say I got to see them ha ha. Tick.
I have to say, the one thing I enjoyed about Homebake today is the fact that everyone here is here to see live music and enjoy their day, I got introduced to new music I wouldn't normally have heard and that just made my day what it was, some I enjoyed, some I watched others enjoy. It's easy to get around, the vendors and staff are friendly and overall it was just a pretty cool day of live Australian (and some international) music.
Essential Information 
Location: The Domain – Sydney, Australia
Date: Saturday December 8th 2012
Red and White spotted dress count: 12.
Best Idea: The Deezer phone charging station!
Best t-shirt spotted being worn: Michael Bolton – Soul Provider (wearer was commended for his choice)
Band to definitely check out: Six60.
Cleaners: About 30,000 of them, all collecting bottles and cans to recycle and get $1 per item.
Plutopups consumed: 1.
Spotted: Chris Joannou of silverchair in the VIP tent. Could the rumours of silverchair playing Homebake next year be true?
Website: www.homebake.com.au