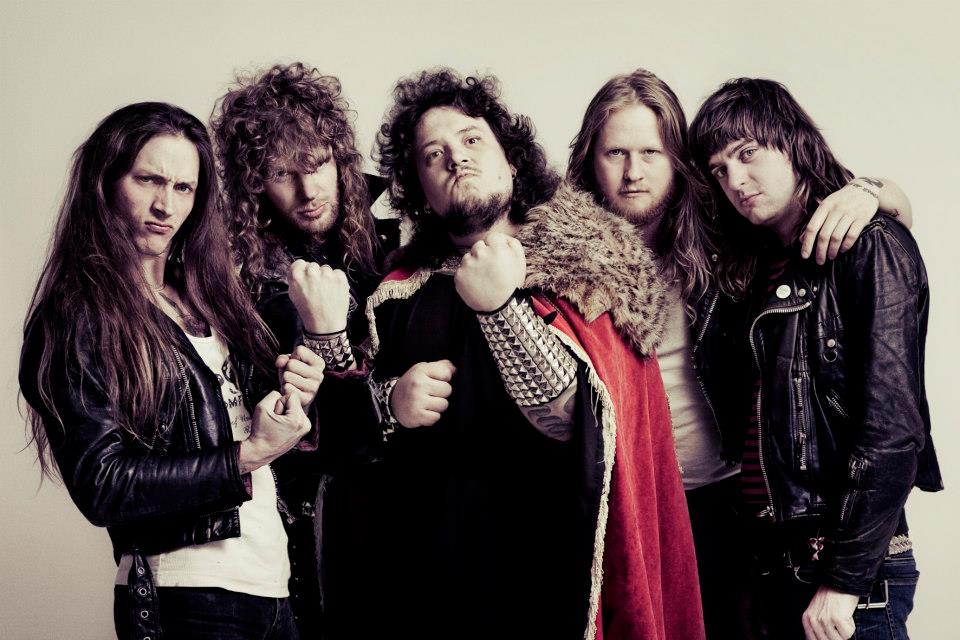 "We mix all the influences like AC/DC and Rose Tattoo and Judas Priest and Saxon and we make the music we like and all the influences should be in there.  It's not that difficult, we never talked about how we should sound like, it's just obvious.  It has to be that kind of style."
Doing the rounds of the Swedish rock scene now for the best part of ten years and with four albums now under their belt, it seems that Bullet are set with a devoted fan base and have been coined as one of Sweden's best rock live acts.  With their obvious AC/DC sound (that they never try and hide or dismiss) they love what they do and that is rock! They have recently joined Nuclear Blast records and have released their fourth album 'Full Pull' this past September.  It's a rocker indeed and one that will hopefully see Bullet get some well-deserved attention.
So in the midst of temperatures of nine below zero over in Sweden, we had a chat with Bullet guitarist Hampus about the new album, working with a big label and opening for AC/DC…
With the album out now for a couple of months, how has the reaction been to it?
Yeah it's been quite good I think, what can I say? (laughs) we're so used to it now so we just continue without thinking.  I think it has been good, absolutely.
Did you set out to do anything differently this time around?
Yeah a little bit different, we used to record in our home, but this time we wanted to do something special and we had producers Fred Estby and Nicke Andersson and we recorded for a month in Stockholm and we recorded every day, so that was a bit different for us with producers and every day recordings.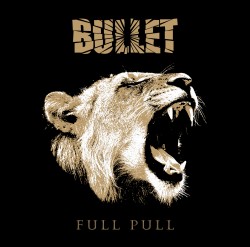 Song wise had you been constantly writing since Highway Pirates or was it a concentrated effort when you sat down to make Full Pull?
Yeah we did it for like six months before the recording; we sat in a room every day and wrote songs.  That was just after the Highway Pirates tour, some idea followed.
Was there anything that inspired the tracks?
What can I say? (laughs)  It's the same thing that it has been for fifteen years, motorcycles, women, highway, leather, studs and all that.
Highway Pirates was only released last year, what was the idea behind the quick turn around on Full Pull?
We just wanted to move on, we got a new record label and we got a new booking agent and we just wanted to get things going and basically as simple as that.
You've joined the Nuclear Blast family last year, how has this helped you be able to make the album you wanted to?
Yeah of course everything is bigger this time with money and the whole production, so it's still the same thing for us but we wanted to make it as big as possible so we went with a big label.
The Swedish metal and rock scene seems to be ever slowly growing in to the international market, how have you seen the rest of the world embrace Swedish rock?
I think it's a high standard, bands from Sweden, it's only like nine million people live here but I guess it's cold and boring so you have to sit inside and drink and play music (laughs).  When you were young it was very easy practise in school to because we have rehearsal rooms everywhere and you can play for free so I guess lots of people are good at playing here because of that.
Coming from Australia, there are the obvious AC/DC sound comparisons, which our rock music was based on, when looking to influences how do you take the best of what you love to make the sound that is Bullet?
We mix all the influences like AC/DC and Rose Tattoo and Judas Priest and Saxon and we make the music we like and all the influences should be in there.  It's not that difficult, we never talked about how we should sound like, it's just obvious.  It has to be that kind of style.
Leads me to ask, have you ever been to Australia?
I've actually been to Australia on vacation in 1998, I was at a place called Byron Bay for two months.  I really would like to come back, playing this time.
Hopefully one day we can see you here on a festival type bill like a Soundwave…
Yeah absolutely.  That would be something.
Talk me through a track like 'Rolling Home' at over six minutes long and how you fit this in the midst of the short sharp rockers on the album.
(laughs) We actually talked about that but we loved the outro and the intro so much we thought to just have the song as something special and we just recorded a video for 'Rolling Home' now and we thought this is the best song, we have to do a video and at almost seven minutes we had to shoot a lot of stuff.  It's my favourite song off the album I think.
So, in the live environment talk us through a typical Bullet show.
We used to travel with an old bus from 1964, we got lots of Marshall Cabinets and if it's possible we have lots of pyro, fire and that kind of stuff.  There's a lot of very different ages at shows, children to old people and lots of head bangers.
Back to AC/DC, you opened for them, how was that experience?
It was totally crazy, I was so nervous I thought I would die, we couldn't even find the stage, we got lost and we got there and they said the power has gone so maybe we can't perform, we were like 'Oh fuck' but then power went back and the crew was really friendly, it was totally amazing.  The crowd really liked us, it's not that far from AC/DC and I think we got a better reaction than The Answer, which was really cool.
At over ten years now in the band, is there one moment that stands out for you as the most amazing / important for the band?
Yeah probably as you said the AC/DC show, but there has been a lot of things from the booking agent Live nation after the 'Bite The Bullet' album and everything took off, so you're playing 120 shows a year and lots of things started to happen.  If I did have to say one moment I'd have to say opening for AC/DC.
How big was the crowd at that show?
I think it was 55,000 and the second biggest show we've done is like 8,000 so it's a big difference between them.
Looking ahead to 2013, if there's one goal you hope to achieve next year what would it be?
I really hope to play really big festivals and would be really cool to open for Judas Priest or Iron Maiden or The Rolling Stones or something really big.  We are happy to just continue what we do.
Is there anything you'd like to say to your Australian fans?
Don't wear short pants, wear long tight jeans and leather jackets and drink lots of beer and head bang all the time.
Essential Information
From: Sweden
Band members: Hell Hofer – Vocals, Hampus Klang – Lead Guitars, Erik Almström – Lead Guitars, Gustav Hjortsjö – Drums, Adam Hector – Bass
Website: http://www.bullet.nu
Latest release: Full Pull (Nuclear Blast) – Check out our review of 'Full Pull' here