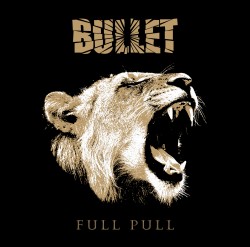 The Swedish band with one of the more delightfully named frontmen in rock 'Hell Hofer' hit us with their now fourth album and first for monster German label, Nuclear Blast.  If you are familiar with Bullet from past outputs such as previous release Highway Pirates or Bite The Bullet then I'm sure you will have already decided whether you love or hate their brand of raw, abrasive metal and rock that borrows heavily from the likes of AC/DC and Accept.  Yep, those two bands always seem to be mentioned when referring to Bullet, but facts are facts!
On Full Pull, by dropping the more fast and furious metal'esque elements found on past albums in favour of a more straight up rock approach, the AC/DC comparisons are going to be even more inevitable than ever before.  With Hell Hofer's vocals sounding even more like a cross between "Dizzy" Dean Davidson from Britny Fox and Tom Keifer from Cinderella on this album, Bullet really tap into that raw 70's and 80's rock sound, but deliver a less intense brand of rock than the past.  Without the intensity from the past that was all over a song like Highway Pirates, there are no super standout tracks this time around that leap out above the rest.  Running Away nearly got my fists pumping in the air, but just became a toe tapper instead and would be my pick of the bunch if forced to choose a favourite track.  Rolling Home is a 6-minute exception, in amongst an album full of 3-minute rockers, that mixes up the rock with an outro featuring keyboards.  High On The Hog, yep that takes the song title award and is nearly more Britny Fox than Britny Fox.
Basically when it comes down to the crunch, if you don't dig the likes of AC/DC, Airborne, Accept or Britny Fox, then it's highly unlikely you are going to find anything to draw you in on Full Pull.  But if those bands indeed tickle your fancy, then Full Pull is an album worth giving a spin or two.
Essential Information
From: Sweden
For fans of:  AC/DC
Produced/mixed by: Fred Estby (DISMEMBER) and Nicke Andersson (ENTOMBED)
Release date: 14 September 2012
Record label: Nuclear Blast/Riot! Entertainment
Website: www.bulletrock.com

Track listing:
1. Midnight Oil
2. Full Pull
3. Running Away
4. All Fired Up
5. Rolling Home
6. In The Heat
7. High On The Hog
8. Rush Hour
9. Freeriding
10. Gutterview
11. Warriors