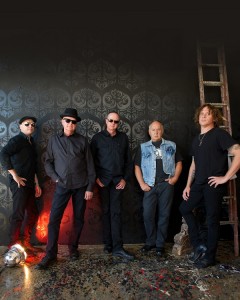 THE ANGELS – TAKE IT TO THE STREETS TOUR 2013
"I thought it'd take a lot longer for our new songs to get as big a reaction live as some of our classics," says The Angels rhythm guitarist John Brewster. "But we've got young fans at our shows now who only know The Angels from hearing new songs like Waiting For The Sun and To The Streets on radio. We didn't expect that to happen, but we hoped it would."
It's been 18 months since Dave Gleeson, from The Screaming Jets, joined The Angels, and those months have been some of the busiest, and most successful, in the band's long career.
"We must be doing something right," says Gleeson, of The Angels' recent success. "For me, I just wanted to give The Angels songs, new and old, the justice they deserve live onstage.
"We've done about 60 live shows so far, and they keep getting better, and bigger. Songs like 'Long Line', 'Marseille', 'Shadow Boxer' and 'Mr Damage' are inside me now, I feel them, and I can let them out onstage."
With Gleeson up front and the band charged with a new energy and drive, The Angels poured themselves back into their work.
They completed a new EP, the new studio album Take It The Streets, recorded 'The Angels: Live At QPAC' album, they saw the new album debut at No. 7 on the ARIA Australian Albums chart, they've undertaken national tours filled with sold-out shows, headlined the Sydney Blues and Roots Festival, brought live rock back to The Footy Show, played in Japan and recently sold-out their headlining Day On The Green show in Perth.
"The Angels are playing with as much passion and energy as we did in the late 70s or early 80s," says John Brewster, "but that also comes from doing some new songs, too. The fact the new songs get such a great live reaction only makes us pour more energy into the shows, and we get it right back again from the audience."
The Angels' Greatest Hits: Take It To The Streets tour sees Australia's most acclaimed live rock band bringing together their most famous hits with the best songs from the widely praised new album, and some blasts from The Angels' past the band hasn't played live in decades.
"Fans on our last tours told us some of the old songs they wanted to hear again," says lead guitarist Rick Brewster, "and we listened."
"The Angels have always been about giving fans the best show they've seen from us yet," says John Brewster. "Nothing's changed there. The only thing that has changed is we haven't played this well and had so much fun onstage since the 1980s. With Dave Gleeson tearing up the stage, we're having an absolute ball, and everyone in the audience can feel that. That kind of energy is always infectious."
Check out our interview with Dave Gleeson here…
The Angels: Take It To The Streets national tour begins in February 2013.
theangels.com.au | facebook.com/theangelsofficial | twitter.com/_TheAngels_
THE ANGELS- TAKE IT TO THE STREETS TOUR 2013
Tickets on sale NOW!
Friday February 22: Rooty Hill RSL, Rooty Hill, NSW
Tickets from (02) 9625 5500 or www.rootyhillrsl.com.au
Saturday February 23: The Cube @ Campbelltown, NSW
Tickets from (02) 4625 0000 or www.thecube.net.au
Friday March 8: The Auditorium @ Vikings Erindale, NSW
Tickets from (02) 6121 2131
Saturday March 9: The Palms At Crown, Melbourne, VIC
Tickets from Ticketek.com.au or 132 849
Thursday March 14: Acacia Ridge Hotel, Acacia Ridge, QLD
Tickets from (07) 3275 1444 or www.acaciaridgehotel.com.au
Friday March 15: Eatons Hill Hotel, Brisbane, QLD
Tickets from (07) 3325 6777 or www.eatonshillhotel.com.au
Saturday March 16: Southport RSL, Gold Coast, QLD
Tickets from (07) 5552 4200 or www.oztix.com.au
Thursday March 21: Annandale Hotel, Sydney, NSW
Tickets from 1300 762 545 or www.oztix.com.au
*Mr Damage presents THE TRILOGY – Featuring Face To Face
Friday March 22: Annandale Hotel, Sydney, NSW
Tickets from 1300 762 545 or www.oztix.com.au
*Mr Damage presents THE TRILOGY – Featuring No Exit
Saturday March 23: Annandale Hotel, Sydney, NSW
Tickets from 1300 762 545 or www.oztix.com.au
*Mr Damage presents THE TRILOGY – Featuring Dark Room
Friday April 12: Bankstown Sports, Bankstown, NSW
Tickets from (02) 9722 9888
Saturday April 13: Taren Point Hotel, Taren Point, NSW
Tickets from (02) 9525 2879
Friday April 19: Mittagong RSL, Mittagong, NSW
Tickets from (02) 4872 6700
Saturday April 20: Dee Why RSL, Dee Why, NSW
Tickets from (02) 9454 4000 or www.deewhyrsl.com.au