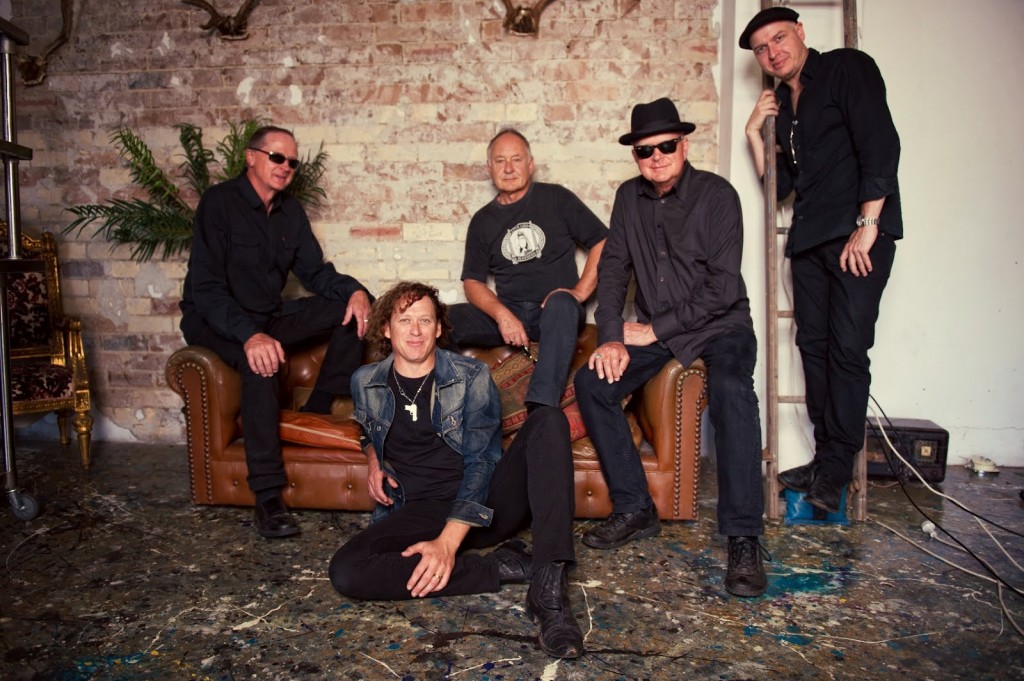 "I just love The Angels songs, I love the power of them, I love going and rocking out to them and I kind of had faith in the fact the people would feel the same way.  There's a bit of negative reaction obviously, but on the main it's been pretty well received."
When you put together the A list of Australian rock bands, 'The Angels' are always in the Top 10. They are one of the stand out names in Aussie rock culture. Their catalogue spans over 30 years, and their anthems have played a major role in shaping the Australian musical landscape. The Angels have earned their place in the ARIA Rock N Roll 'Hall Of Fame'. Loaded with an arsenal of classic rock hits, The Angels are still heard continually on commercial radio stations across the country and overseas. They have stood the test of time. Their blistering live show has all the dynamics and a loyal solid fan base.
2011 saw The Angels tour nationally with new singer Dave Gleeson and drummer Nick Norton. Gleeson, previously of rock and roll powerhouse 'The Screaming Jets', shocked long time Angels fans with how well he fits with the band and brought his own unique energy to The Angels shows. Now with a re-energized live show, likened to the unforgettable shows of The Angels in the late 70?s and early 80's, and a new album 'Take It To The Streets' just been released, the band are ready to take their audience over the top in 2012 and beyond!
We chatted to the new kid on the block, Dave Gleeson about stepping in to one of Australia's greatest rock bands, putting the new album together, live shows and maybe even a sneaky question about the future of The Screaming Jets… a great bloke is Dave so it was a pleasure to chat to him!
I guess I have to start by asking, how was it for you being in a band that at one time had opened for The Angels to now 21 years on to be singing for them?
Oh mate, it was quite surreal in the beginning, it all came about pretty off the cuff, I was at a gig for the Brewster brothers, they asked me up on stage and it kind of grew from that. So to end up singing with them a few months later was bloody unbelievable.
More so I guess I could've asked, how was stepping in to an Australian institution like The Angels?
Wow… I have absolutely adored Doc from afar and watched him play many times, so I knew I had huge shoes to fill so I was kind of worried about that, but John and Rick have kind of put my fears to rest and said to me "You're not there to fill Doc's shoes, he does it his way but we really want you to do it your way ", they just want to keep The Angels songs alive so I was happy to just get in there and give them a crack.
Was there ever any concern in your mind of doing that and how it would be received?
Oh definitely, I remember The Jets supporting The Angels in 1990, maybe even 1991 and there were some gigs we'd walk on stage and the whole front row would have their backs turned to the band for the whole support slot, so I knew how ravenous The Angels fans were.  I just love The Angels songs, I love the power of them, I love going and rocking out to them and I kind of had faith in the fact the people would feel the same way.  There's a bit of negative reaction obviously, but on the main it's been pretty well received.
I guess being a known name helps.
Yeah I think so, I mean I don't think people thought I was snaking Doc or anything like that, I think everyone had thought, well 2010 Doc said he was leaving the band and people were thinking when could they get their Angels fix again and that's where the reaction's been so positive.
How if in any way did you set out to try and differentiate yourself from Dave Gleeson of the Screaming Jets to now be Dave Gleeson of The Angels?
Well I definitely feel like the new kid in the band, I mean with the Jets, the whole persona grew up around all five of us in the band so I was kind of a part of, the mouthpiece of it perhaps you might say, and I know my place in The Angels, cause I don't know the stories about the songs, so John can tell the stories about the songs.  I just really concentrate on making sure I deliver the songs really well and don't go on too many rants or raves you know…  Sometimes with The Jets, Pauly will just start playing behind me like he's had enough "Shut up… Stop talking…" ha ha ha.
So you could say a fire has been lit under you?
Yeah definitely, I think there's a realisation in Australian audiences that there are bands out there who haven't got worse with age, they've gotten better with age, and just the fact that the market's so small and you don't see everyone in the mainstream or anything like that, it's not like you're going to flick Video Hits on and see The Angels new single perhaps, you're more likely to see Rihanna or any of those other bands.  Just the fact that there's bands like The Angels and like The Jets and there's an audience out there of people that want to see that stuff, Pauly Woseen is writing feverishly for the new album as we speak.  He's just doing a few gigs down in Melbourne at the moment and doing a bit of work down there, so we're probably doing some recording if not late this year, early next year when Scotty Kingman finishes off his studio.  I'm busier now than I've ever been and I guess I've probably got more to offer in a creative way, you know, it takes you a while in this industry to find your feet where you're doing it with five other blokes all the time and to suddenly find yourself fending for yourself and all these other opportunities come up, it's really gratifying.
You've just released 'Take It To The Streets' , the first new music from The Angels in over a decade, obviously you're the new guy with a lot of pressure, but how was it for the Brewsters?  Was there any hesitation or discussion from them at all on how it may be received?
Well you know, they've always been really positive about it, as The Angels is as much their legacy as it is Doc's and Chris Bailey as well  who's playing in The Angels currently, so it's one of those things they hold in very high regard, they definitely don't take it for granted in any way.  On the other hand they're very confident as they're guys who have written a lot of The Angels songs that people know and love and produced that stuff, so they were very confident that if they were confident in the songs that they could put them down and get it out there.  They've just always been really positive about it and just really stoked to be working.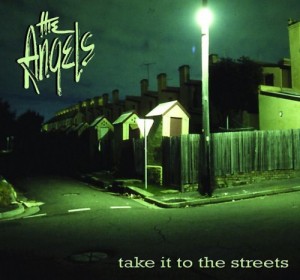 Was there a clear goal set out for how you wanted the album to sound or was it a natural flow to see what would happen?
No they were very good, we did the first EP which had 'Waiting For The Sun', 'Wounded Healer' and three previously done Angels songs so that was to kind of get the ball rolling and let people know that this is what's happening, this little experiment.  When it came time to do a full length album, John and Rick had some songs, and they'd written some songs together, and Nick Norton the young drummer who's playing with the band, he even got a Guernsey. He said I've got these songs, I've got these lyrics, and then Rick said to me do I have any lyrics and I gave him some stuff and he wrote a song with some lyrics that I gave him, so they were very open to how it was going to come out, but I guess once you've got those two guitars in there and the bass from Chris Bailey, it's always going to sound like The Angels.
You mentioned you got a co-write which was on 'Life Gets Better', so does it Dave?  Does it?
It does, and that's about the positivity of ageing, you experience more things as you get older and I've experienced loss of loved ones, but I've also experienced the joy of having a couple of beautiful kids and a wife, living in a beautiful country. So whenever there's something to try and beat you down, the dead know one thing, it's better to live.
I love the cover of Elvis Costello's 'Pump It Up' on the album, what was the idea behind doing that?
I don't even think they'd been contemplating it for a long time, someone came up with the idea, Rick loves the song, I came in as singers do, breezed in around 1:30 after they'd been in there since around 10 O'clock  and they were just really pumped and said we want to do this.  Gave me the words and I've got a sheet that I still have to go over every now and then to try and get them embedded in my head, but yeah we just whacked it down in a day and it's just one of those songs that they realised you can play that live and people are going to realise they know the song and be more receptive to it, so we just thought it'd be a fun live song to do.
It's a great song lyrically too…
It's a killer isn't it!  I love Elvis, Elvis and Billy Bragg, just the way they put words together, every time I hear them I just want to hear them again.
You're headlining the Sydney Blues & Roots festival in October as well as playing The Day On The Green gigs in November, what can we expect to hear set wise?  Will it be a mix of mostly new or mostly older stuff?
Yeah!  Well it'll be mostly older stuff obviously, you really can't expect crowds to go out and hear a whole new album, having said that we already do three or four tracks off the album already, so I guess we'll throw in three or four more of those, actually John's in the process of getting a list together of songs I've got to brush up on for the set, but what an embarrassment of riches of songs to choose from those guys and I can't wait to see what the final set list looks like.  To be able to get up there, and the last shows we did 25 / 26 songs a night and we could take every one of them out and do another 26 and people would still love and know and love every word of those songs as well, so at this rate we could probably do another 56.
So, what's your favourite Angels song to get out there and play?
'Ivory Stairs' is an absolute stand out, to kick off a show with 'Ivory Stairs' is just awesome for me.  I love 'Outcast', I reckon 'Outcast' is unreal, just the songs that have kind of got a bluesy bend in them, got the riffs, Rick Brewster is the one that kills me, I could just stand there all night in one spot and listen to him while he stands there in one spot playing ha ha.  He's a classic, I'm gonna make him move his leg one night.
I mentioned that you were playing Sydney Blues & Roots and Day On The Green with more artists than I can count, how has the acceptance by the other bands such as The Baby Animals and The Hoodoo Gurus been?  Are they cool with you now in your role?
We did a show, I'm about to big note here, we did a show in Japan last year when I'd just got on board with the guys, it was Kevin Bloody Wilson and his daughter Jenny Talia from Australia, she was on the bill as well, us and Barnesy.  At the end of the show Barnesy came up to John Brewster and said "Perfect fit mate, you couldn't have asked for a better bloke" so that was high praise indeed from Barnesy. Saw Dave Faulkner last week and he was full of praise for how it sounded, and I've spoken to Suze on the phone a couple of months ago, so everyone's really supportive and wrapped to hear that I'm giving it a go with The Angels.
How does it feel stepping back out as a headliner, you nervous?
Oh mate, I'm always nervous, I'm a very nervous kind of guy, but once I'm on there, whether it's doing live radio or a live performance or live television, once you're there I rarely remember it, once it's gone people come up and say 'How come you said that in the middle of the show?' I say 'What did I say?' so you get lost in the moment, you use those nerves to overload the brain and just get your yayas out.
I wanted to ask and you don't have to answer it if you don't want to, but have you heard from Doc at all and what he thinks?
There's been a bit of traffic on Twitter and Facebook and stuff and praise Jesus, I don't have anything to do with any of that realm and it interests me not.  I can understand Doc will have issues with the other remaining members of the band, but thankfully that's one of the great parts about being a singer, I don't even get involved in any of that stuff ha ha, I just rock up and they say, 'We had a good meeting ' or 'We had a bad meeting' oh well… good luck about that.
Is this just the beginning?  Is this incarnation of The Angels here to stay?
Well the boys are very keen to keep doing stuff, and Rick's telling me he's writing another song at the moment with some lyrics I've got, and everyone feels very productive, I'm just going to have to find out how to juggle it all you know?  I'll have to use the Tex Perkins model, Cruel Sea here, Tex Don & Charlie there, Beasts of Bourbon, Dark Horses, all that different stuff, I mean I admire Tex, he's someone is no one trick pony that's for sure and he's been able to cross the divide between being an Indie legend in to being someone that people in the mainstream know and respect as well.
He's done so much; I think he was in Indecent Obsession at one point too wasn't he?
Ha ha ha ha ha ha…
Just because I have to ask, and you mentioned before that Paul was writing, but what's the status of The Jets and when do you think we'll hear something again, or will we at all?
Yeah, I've been having a real look lately at just the way music's going, and just in the short term I can see us doing some stuff and putting it on iTunes and stuff like that just to keep The Jets flavour out there, I mean the name's never been out there more than it is now that I'm doing MMM and stuff across the country.  It's just a matter of getting an album done and stuff like that will be the next task, so finding time to fit it in and release it, God, I might have to get a clone.
So the rest of the year is pretty much touring is that correct?
Yeah, we kick off 19th September in Adelaide, just do a quick whip around, Adelaide, Melbourne and two in Sydney, and then October is when we do the Blues & Roots festival at the end of October and then November / December is when The Day on the Green is on.
I know you said the Brewster's are writing but could it be as simple as saying there might even be something out next year again if they're that keen on it?
Oh they're keen, they're really keen…
Obviously when I hear you sing I think The Screaming Jets, but when you hear the music kick in you know its The Angels and it works, so that's really cool.
Yeah man it's been a real pleasure working with it and working on it, and I haven't released an album since 2009, that was the last Jets album and that took three years prior to that to record, so it was a really slow process, so it was nice to basically record this album in nine days and six to eight months later have it out there on the streets.
Essential Information
From: Australia
Band members: Dave Gleeson – Vocals, Rick Brewster – Guitars, John Brewster – Guitars,  Chris Bailey- Bass, Nick Norton – Drums
Website: http://theangels.com.au/
Latest release: Take It To The Streets (out now – Liberation Music)
Catch The Angels on their 'Take It To The Streets' tour:
Wed Sep 19                The Norwood Hotel/Norwood SA
 Tickets on sale now: 08 8431 1822  www.thenorwood.com.au
Thu Sept 20               Corner Hotel, Richmond, VIC
Tickets on sale now: 03 9427 9198 www.cornerhotel.com.au
Fri Sept 21                 The Bridge Hotel, Rozelle, NSW
Tickets on sale now: 1300 GET TIX www.moshtix.com.au  Or phone 132 849 www.ticketek.com.au
Sat Sept 22                The Bridge Hotel, Rozelle, NSW
Tickets on sale now: 1300 GET TIX www.moshtix.com.au  Or phone 132 849 www.ticketek.com.au      
October 25th – 28th          Sydney Blues & Roots Festival 2012 – Windsor, NSW
Tickets on sale now: www.sydneybluesfestival.com.au or www.oztix.com.au or call 1300 762 545
A DAY ON THE GREEN
HOODOO GURUS/THE ANGELS/ BABY ANIMALS/  JAMES REYNE / BOOM CRASH OPERA
SUNDAY NOVEMBER 4                  SIRROMET WINES, MT COTTON QLD
SATURDAY NOVEMBER 10           BIMBADGEN WINERY, HUNTER VALLEY NSW
SATURDAY NOVEMBER 24           ROCHFORD WINES, YARRA VALLEY VIC
SATURDAY DECEMBER 1             PETER LEHMANN WINES, BAROSSA VALLEY SA
SATURDAY DECEMBER 8             JOSEF CHROMY WINES, LAUNCESTON TAS
THE ANGELS/ BABY ANIMALS/IAN MOSS/ JAMES REYNE / BOOM CRASH OPERA
SATURDAY NOVEMBER 17               KINGS PARK, PERTH WA
Tickets for all A DAY ON THE GREEN shows on sale now.
Event information: www.adayonthegreen.com.au