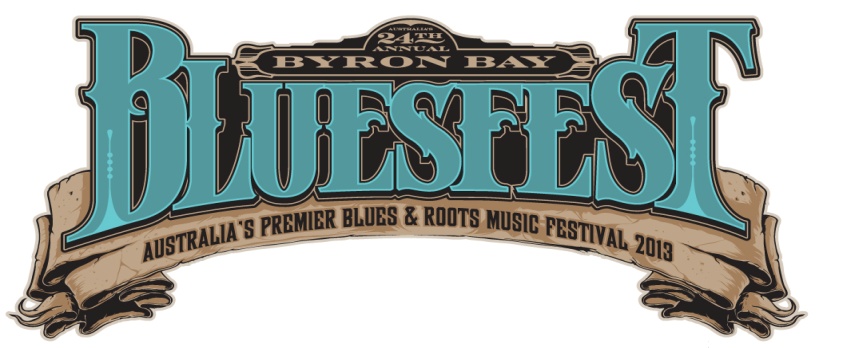 Paul Simon to headline Bluesfest on Easter Monday!
Today Bluesfest, Australia's multi award winning Festival held over the long Easter Weekend (March 28 to April 1) treats its Audience and all Music lovers across the country to a massive Easter Monday surprise.
Yes, it's time to take a breath and sit down!!
Paul Simon, multi-award and 13 time Grammy winner, has today been added to the supreme Bluesfest line-up of 2013.
Simon will be performing at Bluesfest on Easter Monday but there is more! Festival goers are in for a double treat: Taking the stage before Paul Simon will be the hugely gifted Canadian singer/songwriter & composer Rufus Wainwright.
The 2013 Bluesfest bill is truly shaping up to be the biggest one yet.
Already headlining the incredible Bluesfest 2013 bill are Robert Plant, the legendary front man of band Led Zeppelin presenting the Sensational Space Shifters, Latin Jazz Rockers Santana, Bluesfest favourite Ben Harper, ex Supertramp singer/song writer Roger Hodgson, reggae icon Jimmy Cliff, punk rock innovators Iggy & The Stooges, awe inspiring rock band Wilco, R & B star Mavis Staples, Sixto "Sugarman' Rodriguez and so many more.
For Festival line up and playing schedule go to www.bluesfest.com.au
Peter Noble, Bluesfest Director says:
"Adding Paul Simon to Bluesfest 2013 is pretty mind blowing, even for me, your Festival Director.
I knew the line-up was going to be massive, but it just keeps getting bigger. So many incredible artists are going to perform at Bluesfest, it really is every Festival Director's dream come true and I am so humbled. Announcing Robert Plant a couple of weeks ago and now adding Paul Simon, it's like: Wow…we are really doing it this time and I actually think we are breaking all previous records. This is going to be the best Bluesfest of all time and guess what? There are at least another 4 announcements to come featuring major artists."
The 24th Bluesfest will take place between Thursday 28th of March and Monday 1st of April 2013 at Bluesfest's permanent home at Tyagarah Tea Tree Farm just outside of Byron Bay.
Tickets are on sale through www.bluesfest.com.au or by phoning the Bluesfest office on 02 6685 8310
Special Announcement:
PAUL SIMON
RUFUS WAINWRIGHT
2013 Artists announced already
ROBERT PLANT
PRESENTS SENSATIONAL SPACE SHIFTERS
SANTANA
BEN HARPER
IGGY & THE STOOGES
STEVE MILLER BAND – STATUS QUO
MADNESS – CHRIS ISAAK – BONNIE RAITT
WILCO – RODRIGUEZ – ROBERT CRAY
ROGER HODGSON THE LEGENDARY VOICE OF SUPERTRAMP
JIMMY CLIFF – JOAN ARMATRADING
JON ANDERSON THE LEGENDARY VOICE OF YES
DROPKICK MURPHYS – TEDESCHI TRUCKS BAND
GLEN HANSARD WITH THE FRAMES
TROMBONE SHORTY & ORLEANS AVENUE
THE BLIND BOYS OF ALABAMA – MAVIS STAPLES
FRANK TURNER AND THE SLEEPING SOULS
ALLEN TOUSSAINT – WANDA JACKSON – GRACE POTTER
FRED WESLEY AND THE NEW JB'S – MICHAEL KIWANUKA
BETTYE LAVETTE – PLAYING FOR CHANGE – RUTHIE FOSTER
NEWTON FAULKNER – TONY JOE WHITE
SWEET HONEY IN THE ROCK – THE DUKE ROBILLARD BAND
WILLIAM ELLIOTT WHITMORE – SHAWN COLVIN
LUKA BLOOM – SETH LAKEMAN – BEN CAPLAN
with more to be announced!
PAUL SIMON
American Singer-songwriter Paul Simon has forever changed the world of music. He began his career as part of the duo Simon & Garfunkel with his friend and musical partner Art Garfunkel.
Simon and Garfunkel were among the most popular recording artists of the 1960s.
Their biggest hits include 'Bridge Over Troubled Water', 'The Sound of Silence', 'I Am a Rock', 'Homeward Bound', 'Scarborough Fair/Canticle', 'Mrs Robinson', 'The Boxer', 'Cecilia'. They have received numerous Grammys and were inducted into the Rock and Roll Hall of Fame in 1990 and the Long Island Music Hall of Fame in 2007.
In 1970 Paul Simon started his successful solo career.
Paul Simon has won 13 Grammys, including the Grammy Lifetime Achievement Award and was selected as one of the '100 People Who Shaped the World' by Time magazine in 2006. He was inducted into the Rock and Roll Hall of Fame in 2001 and became the first ever recipient of the Library of Congress's Gershwin Prize for Popular Song in 2007.
Paul Simon hits include 'The Boy in The Bubble', 'Kodachrome', 'Loves Me Like a Rock', 'Late in the Evening', 'The Only Living Boy in New York', 'Slip Slidin' Away', 'Still Crazy After All These Years', 'You Can Call Me Al', 'Graceland', 'Me And Julio Down By The Schoolyard', '50 Ways To Leave Your Lover', 'Diamonds On the Soles Of Her Shoes', 'Something So Right', 'I Know What I Know', 'Under African Skies'.
During the 1980s, Simon became fascinated by African and Brazilian music. His interests took him to South Africa in 1985, where he began recording his crowning achievement, Graceland. Combining elements of rock, zydeco, Tex-Mex, Zulu choral singing, and mbaqanga, or 'township jive', the album captured a sound that wasn't quite like anything anyone had heard before. A ground breaking and risky departure from Simon's earlier projects, Graceland proved to be one of the most important record releases of the 1980s, helping put South African music on the world stage.
Although Paul Simon's unique, carefully constructed contributions to American music could be called innovative, he insists that the process has a lot to do with discovery. "I'm more interested in what I discover than what I invent. You don't possess it. You can't control it or dictate to it. You're just waiting. Waiting… for the show to begin."
With that credo he brings his fabulous new album to showcase in Australia: 'So Beautiful or So What'. Taking more than a year to perfect Simon has revealed that 'So Beautiful or So What' reminds him of his very first solo release, his acclaimed 1972 album 'Paul Simon'. It's been getting rave reviews, not least from his contemporaries.
"This remarkable, thoughtful often joyful record deserves to be recognised as Paul Simon's very finest achievements" – Elvis Costello
Bluesfest is truly humbled to welcome Paul Simon to the stage on Easter Monday!
RUFUS WAINWRIGHT
Affectionately referred to by Elton John as "the greatest songwriter on the planet" and praised by the New York Times for his "genuine originality," Grammy nominee Rufus Wainwright has established himself as one of the great male vocalists and songwriters of his generation.  He is the son of folk singers Loudon Wainwright III and Kate McGarrigle, and brother of Martha Wainwright, but Rufus has achieved his success by carving out his own singular sound in the worlds of rock, opera, theater, dance and film.
Wainwright's catalogue includes eight albums and two DVDs to date, and he has appeared on numerous soundtracks and compilations, as well as collaborating with artists like Elton John, David Byrne, Rosanne Cash and Keane.
His latest recording, All Days Are Nights: Songs For Lulu, was released in April 2010 to critical acclaim with People Magazine dubbing the album Critic's Choice noting Wainwright "brings the album to a beautifully intimate level with just voice, piano and some deeply personal lyrics. Bravo."
And Billboard Magazine thought Rufus' "solo piano accompaniment highlights his extremely adaptable voice…a single piano is all that's needed to show off his immense vocal talent."
He has composed the music and 11 original songs for a theatrical adaptation of Shakespeare's Sonnets with noted Director Robert Wilson at the Berliner Ensemble, which premiered in April of 2009 and continues to play to sold-out houses and travelled to various festivals internationally.
Wainwright's much acclaimed first opera, titled Prima Donna, premiered at the Manchester International Festival in July 2009.  The work recently received a 2011 Dora Award for Outstanding New Musical/Opera and will make its long-awaited US debut in February 2012 at the Brooklyn Academy of Music's Howard Gilman Opera House.
Make sure you don't miss Rufus Wainwright at Bluesfest on Easter Monday. His performance will strike a chord and touch the hearts of everyone in his audience.