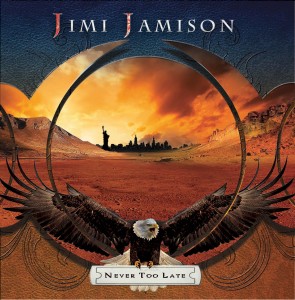 In 25 words or less: "You too may find this to be Jimi's finest moment in what has been a pretty remarkable career to begin with."
Whether it be from his time fronting Survivor across three album releases in the mid to late 80's  or releasing a bunch of solo albums in more recent years, one of which contained one of my all time favourite ever songs in I'm Always Here (Baywatch Theme), Jimi Jamison has been one of my all time favourite melodic rock solo performers.  When I got wind that producer and songwriter extraordinaire Erik Martensson (Eclipse, W.E.T, Toby Hitchcock) was going to be involved in this release, I was positively salivating.  Having given this album more than a decent amount of spins, I have to say it's without question my favourite ever Jimi Jamison solo release, appreciating the crunchier style brought in by Martensson, than the pure AOR style of Jim Peterik on previous Jamison solo material.  Every listen keeps offering up something new and there's not a single track that I don't love.
Right from the opening track Everybody's Got A Broken Heart, every single song is brimming with an infectious energy and anticipation, with each song having it's own anthemic quality, there's no better example than The Great Unknown.  Never Too Late is a track that just screams Jamison era Survivor, simply pure melodic rock perfection.  Jamison sure knows all about delivering a stunning vocal performance on a ballad and on this album there's three of them – I Can't Turn Back, Heaven Call Your Name and The Air That I Breathe with the latter being one of the albums standout tracks, if I was forced to nominate a couple.
When the chorus of Not Tonight hits, it will surely bring a smile to anyone's face who lets it into their ears and there's plenty of whoaaah whoooaaahhs to sing along with.  If blissful melodic rock and wrenching ballads weren't enough, the album has some heavier moments where Jamison hits full blown rock mode with blazing guitars and driving rhythms such as the bristling urgency of Street Survivor and the roaring Bullet In The Gun.  The quality remains right to the closing track Walk On (Wildest Dreams) with it's hard hitting verses contrasting brilliantly with one of the albums most melodic choruses.
Simply put, this album has to be an absolute must listen for anyone with a true love of melodic rock and Jimi Jamison.  If you share the same opinion as me, you too may find this to be Jimi's finest moment in what has been a pretty remarkable career to begin with.
Essential Information
For fans of: Melodic rock, Jimi Jamison, Survivor
Release date: 02 November 2012
Record label: Frontiers Records
Produced by: Erik Martensson
Website: www.jimijamison.com
Track listing:
Everybody's Got A Broken Heart
The Great Unknown
Never Too Late
I Can't Turn Back
Street Survivor
The Air I Breathe
Not Tonight
Calling The Game
Bullet In The Gun
Heaven Call Your Name
Walk On (Wildest Dreams)