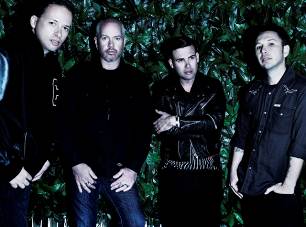 Grinspoon, one of Australia's most loved live rock bands are hitting the road and coming your way.
In September this year they released their seventh studio album, 'Black Rabbits' which made its ARIA chart debut at #8. It's only fitting that with the release of a new album and now 7 Top Ten albums under their belt that the band gets back on the road and tour.
The Lismore-born quartet – Front man Phil Jamieson, Guitarist Pat Davern, Drummer Kristian Hopes and Bassist Joe Hansen – burst onto the national music scene in 1995 via a string of hits which later appeared on their 1997 debut album, Guide To Better Living. Across their career the band have amassed album sales of 500,000 copies in Australia, including multiple platinum certifications and the ARIA award for 'Best Rock Album' in 2005 for Thrills, Kills & Sunday Pills.
Grinspoon kick off 2013 playing the Big Day Out shows across the country in January with a special 'All Hits' set with just a couple of new tracks thrown in.
In March the band embark on their National 'Black Rabbits' headline tour which will be a whole new live show for fans who've experienced the explosion of energy, sound and good time rock 'n roll that is Grinspoon. These shows will be the longest set the band have ever played, with a mix of everyone's favourites and a healthy selection of new tunes from the new album, 'Black Rabbits'
This is a series of shows not to be missed for old & new Grinspoon fans!
SPA, Fasterlouder and Channel [V] are proud to present the 'Black Rabbits' tour.
'BLACK RABBITS' TOUR 2013
Fan pre-sale tickets on sale 9am Wednesday, November 21st.
General Public tickets on sale 9am Friday, November 23rd.
Fri 15-Mar-13     Tivoli, Brisbane QLD
Sat 16-Mar-13   Metro, Sydney NSW
Thu 21-Mar-13   The Gov, Adelaide SA
Fri 22-Mar-13     The HiFi, Melbourne VIC
Fri 05-Apr-13     Prince of Wales, Bunbury WA
Sat 06-Apr-13   Capitol, Perth WA
Thu 11-Apr-13   Waves, Wollongong NSW
Fri 12-Apr-13     Capital, Wagga Wagga NSW
Sat 13-Apr-13   ANU Bar, Canberra ACT
Sun 14-Apr-13   New Albury Hotel, Albury NSW
Wed 17-Apr-13 Entrance Leagues, Entrance NSW
Thu 18-Apr-13   Panthers, Newcastle NSW
Fri 19-Apr-13     Hoey Moey, Coffs Harbour NSW
Sat 20-Apr-13   The Big Pineapple Music Festival, Woombye (Sunshine Coast) QLD
Sun 21-Apr-13   Cooly, Gold Coast QLD
Wed 24-Apr-13 Bended Elbow, Geelong VIC
Thu 25-Apr-13   Pier Live, Frankston VIC
Fri 26-Apr-13     Inferno, Traralgon VIC
Sat 27-Apr-13   Ferntree Gully Hotel, Ferntree Gully VIC
For further information on ticketing and tour details head to www.grinspoon.com
Check out our interview with Phil and Pat here