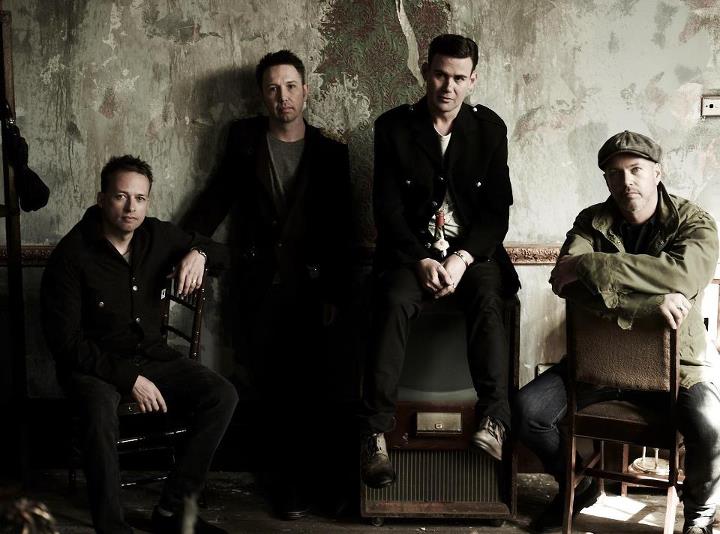 "We're trying to make our weak points stronger, so we worked harder on becoming a melodic rock band and not only a melodic rock band but a good one, even a great one as well, we wanted to make the songs really, really great as I think we've got the songs in us."
Seventeen years as a band and with six albums in that time not to mention the seventh out today, Grinspoon have been a stalwart of the Australian music industry for quite some time.  They've played countless live shows, always putting on an amazing performance which is one that should be witnessed more than once, but now it's an exciting time for 'The Grinners' as now with 'Black Rabbits' they have given us a killer slab of rock that may surprise many out there.
Full of hugs, on search of an ashtray and here to talk about their new album, we sat down with Phil Jamieson and Pat Davern of Grinspoon to talk all about it, the writing, the recording and the sound of Grinspoon.
So, it's been three years since 'Six to Midnight', that's a fair time between releases, why did it take so long for 'Black Rabbits' to emerge?
Phil:  Well it's usually about 18 months touring schedule on a record in Australia for us, cause we hit every spot possible and we did and then the record got released in the UK…
Pat:  We spent some time over there…
Phil: So we had a UK touring schedule as well, so it kind of blew out our touring for about two years and then we spent a year writing.
Pat:  Writing and recording was about twelve months.  It was a long time in the writing process, but because we live in different areas, logistically it takes a little longer now than what it did when we all lived in each other's back pockets, but I mean that's ok.  I think people probably needed a bit more of a break, you know what I mean?  Not that a lot of people heard our last record.
*laughs all round*
Phil: But actually when you look at our releases, we did 97 – 'Guide', 99 – 'Easy', 02 – 'New Detention' which was a three year break, 04 was 'Thrills', or 05, 07 was 'Alibis' and 09… so it's been two or three year breaks, this one was particularly long because of the UK touring and because we wanted to write some really good songs for this record, we wanted to concentrate on the songs.
This new album takes on much more of a melodic side compared to your previous releases, was this something that you set out to do or did it just evolve that way?
Phil:  Yeah we set out to do it.  Obviously our wheelhouse is hard rock or D-Tuned half time rock, mosh, bleed you dry, and we could write that in our sleep, I'm not being condescending to other bands but we can do that, and we've done it many times and we're just trying to expand our skillset.  Is that fair in saying?  We're trying to make our weak points stronger, so we worked harder on becoming a melodic rock band and not only a melodic rock band but a good one, even a great one as well, we wanted to make the songs really, really great as I think we've got the songs in us.  It's just one of those things, I think 'Thrills' was really heavy on melody and then 'Alibis' was just all fucked up and then 'Six to Midnight' was just really, really angry and riff based again.
Pat:  Through all those processes nothing was really satisfying us, we might have been thinking we were satisfying our fans or doing the right thing as Grinspoon should do, and we were using the same processes we did every time, but I think this time, as you asked, was it intentional to make it more melodic?  We kind of changed the way we did things…
Phil:  We changed the demo process, the recording process, totally changed the way we approached writing…
Pat:  Yeah, it's almost like we got an opportunity to start again in a way, and you have to do that if you want to keep going because I don't feel like it's all over, I still enjoy being in this band and I want to make it fun and more interesting for people who want to buy records.
Song wise for the album, was there a specific inspiration though that set the ball rolling for what ended up on the album?
Pat: 'Passerby' was one of the first songs that we wrote for the record, I guess that kind of got the ball rolling…
Phil:  Pat kind of wrote a riff of it, the Destiny's Child riff that we all know and love, and then I heard it and I was like can you write more of this as this is what I wanted to be, I wanted to be seen to be doing something different.
Pat:  It was just an out take on my demos of just some riffs that I'd put together, and it was just that riff basically, I really loved it.
Phil:  I was like let's do a chorus for this so he was down where I live and the next day we came back and pieced the song together.  The lyrics weren't finished but the melody was pretty finished and the chorus was very close, and it just sounded really different and sounded cool as well.  Different but not cool but not try hard and it sounded great and I liked that kind of brashness and also a kind of groove to it.  That was one of the first songs written for the record.
Pat:  That kind of got us motivated I guess.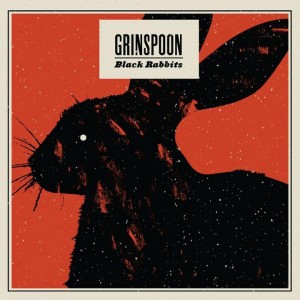 'Branded' and 'Full Moon', are my two favourites on the album, they are amazing songs…
Pat:  Cool.
Phil: Oh that's nice.
Pat:  You like 'Full Moon'? I didn't like it in the beginning, but I love it now.
Yeah, and they're much different to the Grinspoon of old, where did these songs come from, was this natural progression as you were writing as they're a bit more Classic Rock?
Pat:  'Branded' came from a riff that I was just mucking around with backstage before we used to do gigs…
Phil:  He kept playing it over and over again, I said can you stop playing that you sound like an idiot, no one knows what the song is…
Pat: ha ha ha
Phil: But it worked osmosisly when you're backstage at the Horsnby RSL and Pat's over there doing his thing, so when he finally played it to me, I already had something in mind.  I just love that whole 'Let them listen, let them gather around' it's basically, what I consider it to be is like 'Carrie' or a high school dance like someone that has been scorned and it's like fuck you… I really enjoy that song, I love listening to it and I love playing it live.  'Full Moon' was just a beast; it took so many rewrites…
Pat:  If you'd heard the first demo of that song you'd just go 'What the fuck?' ha ha it took a long time…
Phil:  Oh my fucking god dude, what the fuck? It was out of this world… but we worked really hard on that song.
Pat:  It had potential; I really liked it from the bunch of demos…
Phil:  There were lots of re-writes on that song, but it's cute, it kind of reminds me of a John Hughes film, maybe 'Pretty In Pink' it has that Synth 80's thing, the last interview said it sounded like 'Grey's Anatomy' I'm like cool, whatever, sync it, make us some money, whatever…
You recorded the album over in the States once again, what if anything did making the record over there allow you to do that you may not have done here?
Phil:  Really cheap cocaine ha ha ha ha
Pat:  From a guitar point of view I had access to all my heart's desire of guitar and amps and all that kind of stuff, that made it pretty good for me, I had everything I could possibly want and if I didn't have it there, then I could go to Hollywood studio rentals and get it.
Phil:  We did records in the States, we did 'Thrills' there, we also did 'Pushing Buttons' and there's a certain sound not disparaging Australian rock records, 'New Detention' by Phil McKeller is really great in our back catalogue.  We're talking about sonics, we're about to release in a very congested market, not that that was in our heads, there's Greenday, The Killers and Muse and we're about to go "Yeah!  We're fuckin' awesome!" So we needed something sonically that when you played them next to each other sounded pretty good, and in Australia we worked with Phil, we've basically worked with heaps of people here.
Pat:  Nothing really excited us about doing it, apart from the sonic aspect which is very true, nothing really excited us about doing a record here, and we looked at guys to do it here but there was nothing to make us say "Fuck yeah, let's do it" but when we thought about going to LA to do a record with Dave Schiffman we were like "Fuck yeah, let's do it."
Phil:  Also we saved so much money on demoing, usually our demos cost so much money, but this time we didn't have Kris do anything, we just demoed everything by finger drums.  So basically it saved us half our album budget because we all live so far away from each other that to demo costs as much as to do a record.  So for this record we didn't include Kris at all in the writing process, we just drummed everything for him and left us with more budget to go to the States and it basically worked out to be the same price really and Dave wanted to do the record and we had a great time with him.
Pat:  He was keen from the get go.
What was it about Dave Schiffman that attracted you to him to use as producer on the new album?
Phil:  Well what happened I was at the Dirty Three concert at the Glasshouse in Port Macquarie on a Monday night, there were a number of people from 301 Byron that were attending the concert and they were doing the Redcoats record, they were assistant engineers on the Recoats and they mentioned a guy named Dave Schiffman who had flown in from America under Universal's label to do this record.  At the time we were looking at Joe Baressi, Neil Avron…
Pat:  Lars Ulrich… *shakes head* Ulrich Wild ha ha
Phil: Lars Ulrich AND Ulrich Wild, but we were looking at a bunch of American producers and this guy came up and I thought 'Fuck' they were all talking him up, how good he was and Pat lives in Byron so maybe Pat can go and meet him…
Pat: So I went and had a meeting with him and he was a really cool guy.
Phil:  Played the demos and he loved the demos, and it just felt kind of a natural fit, we'd just toured with the Redcoats, and they were good guys and we were like maybe this will work.  He wasn't like ultra, ultra expensive like Neil Avron or Howard Benson, but he fit and he wanted to do it and in essence apart from his rules, he was great.
Rules?
Phil:  We couldn't do any coke…
Pat:  ha ha ha ha ha.
Phil:  Which is ridiculous, we're in LA, we fly fucking 13 hours, $50 grams, we can't do coke.  Are you kidding me? Ha ha ha ha.
Over the years your sound has changed somewhat, has there ever been a fear of 'alienating' fans by the change?
Pat:  We don't have any do we?  I think we've got to start finding some new ones really…
Phil:  It's really funny, I got asked this question by quite an aggressive journalist yesterday who said 'Has anyone ever asked you to make 'Guide to the Living' again?' well, no… but it you look at what's happened with us, with 'Guide' being a quite a successful album and 'New Detention' and then 'Thrills' being successful albums, there's all different fans, and even 'Six To Midnight' had Gen Z fans that have only ever heard 'Comeback' they don't even know about 'Champion'. So I think it's fair to say and I feel very blessed and we're lucky to have this but we've got kind of lots of generations of fans, some love 'Thrills', some love 'Guide' some even love 'Easy' some of them 'New Detention', there was four albums in the Triple J hottest 100 thing of albums, we didn't do too badly.  So for people to say 'Guide's' the best or 'New Detention's' the best, yeah they've all got their merits in my opinion, some are pretty fucked up, but fuck, listen to some Stones records ha ha, I'm not saying all The Stones, but Jesus the 80's weren't kind…  So we went through some good stuff, but in all honesty, we can't think about the fans, we've got to think about ourselves first, I think…
You've got Fat As Butter tomorrow, but then you're back playing the Big Day Out next year as you have many times before, but can we expect to see you out on the road in Australia anytime soon for headlining shows?
Pat:  We'll go out on our own tour on the album after Big Day Out.  At this kind of stage we're kind of leaving our eggs in the Big Day Out basket and I think that's kind of fair enough that they ask that you do hold off on a lot of touring before the Big Day Out.
Phil: *whispers* and everyone's seen us live, man… ha ha.  The thing was we didn't even bother paying an album launch, cause fuck man, we just had a party…
Oh I know, I was there!
Both: Oh you were there ha ha ha, holy shit, what a night.
Phil:  Touring is such a gamble as no one is buying tickets, except for Hilltop Hoods, so we've got to work out what venues we can fill, I really want to take on great supports as well, make it an event and we're trying to work out ways we can make the night bigger because after seven albums people expect you to play for half an hour, sorry, an hour and a half but our drummer refuses to play longer than an hour.
Pat:  So we're going to get the gnomes out.
Phil:  So we're just going to work that out, but there will be a national tour in March / April it'll be a forty dater, I think, it'll be a big tour.
Pat: We'll go everywhere and then hopefully we'll get to go overseas and do a bit of touring over there.
Phil:  Then headlining Soundwave the next year.
Lucky last, is there anything that you haven't achieved as a band that you want to do?
Pat:  I haven't heard any of our music on K-Rock yet and that's definitely a lifelong goal, and I'll keep trying until I do, with or without these guys.
Phil:  You idiot.  I just can't wait to go solo ha ha ha ha ha.
Essential Information
From: Lismore, NSW, Australia
Band members:  Phil Jamieson – Vocals, Pat Davern – Guitar, Joe Hansen – Bass, Kristian Hopes – Drums
Website: www.grinspoon.com
Latest release: Black Rabbits (September 28 – Universal Music Australia) Read our review HERE

Catch Grinspoon as well as a multitude of artists at Big Day Out 2013
Friday 18 Jan – SYDNEY – Showground
Sunday 20 Jan – GOLD COAST – Parklands
Friday 25 Jan – ADELAIDE – Showground
Saturday 26 Jan – MELBOURNE – Flemington Racecourse
Monday 28 Jan – PERTH