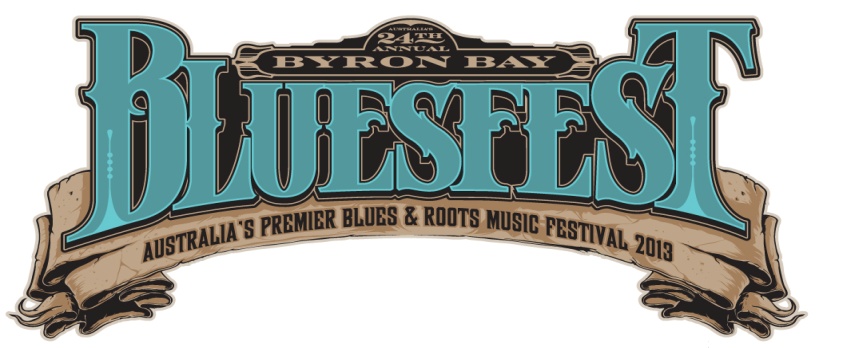 Today Bluesfest Byron Bay, Australia's Number 1 Blues & Roots Music Festival (Easter Weekend March 28 to April 1) brings to all Australian Fans an announcement very much close to their heart!
This latest Bluesfest release focuses on our remarkable Australian, as well as New Zealand Artists, and brings a perfect selection of 'well known' and 'up and coming' home grown talent to the Bluesfest stages.
This Aussie Announcement will have every Australian feeling proud to be one.
The 2013 Bluesfest Artist Program is already being hailed as one of the best line-ups in Australian Festival History but by the sounds of it, Bluesfest is not done yet. There are more announcements scheduled for the upcoming weeks.
Already headlining the Bluesfest 2013 super bill are Paul Simon, Robert Plant presents Sensational Space Shifters, Santana, Ben Harper, Iggy & The Stooges, Jimmy Cliff, Wilco, Rodriguez, Steve Miller Band, Chris Isaak, Madness, Roger Hodgson from Supertramp, and many more.
For Festival line up and the playing schedule go to www.bluesfest.com.au
Here is what Peter Noble, Festival Director, has to say:
"Yes, it's the Aussies on the forefront with this announcement. No Bluesfest bill is ever complete without its own home grown talent.
Today we are unveiling some of the crème de la crème of Australian music PLUS a couple of very special bands from across the Tasman, the dub Reggae break-through NZ band Fat Freddy's Drop, and the next big Kiwi thing – the band King Cannons. The King Cannons are not to be avoided at ANY cost –  get the vibe and make your way to the front of the stage – just do it, get it…don't miss them as this band is serious business and you can say you saw them when!
Then there is "The Cat Empire". We have watched them grow from a small band performing on the smaller Bluesfest stages to closing the entire Festival and gaining world recognition over the years. All along the guys have stayed grounded and great to work with. It will be their 7th performance at Bluesfest. Wow, that number is getting close to breaking records but the highest score in overall Bluesfest performances is held by Hat Fitz from the beautiful Queensland town of Eumundi. Bluesfest 2013 marks 20 years straight of Fitzy's playing Bluesfest – maybe we should give him a gold watch.
Festival favourites Fat Freddy's Drop, Xavier Rudd and RockWiz Live (with 4 shows), will be doing 'Welcome Back' performances, alongside newcomers Karise Eden – truly THE VOICE, The Beards, Saskwatch and Grey Ghost, who I believe is going to blow everyone away. I have presented some amazing Aussie Artists in their early years who became huge, so watch out for this performer Grey Ghost – he HAS got it in spades.
Then there is the Haight Ashbury Stage Show which features a cast of incredible Hippies and great musicians, such as former Canned Heat lead vocalist James T. This show will enthral you over four nights with their authentic 'journey back in time' to those days of peace love and bean sprouts – don't miss this one – it's a play, it's a concert, it's psychedelic, it's a light show, it's authentic and it's a knockout – Direct from Nimbin.
In short: All the Artists in this announcement are special and I am thrilled to be welcoming them to Bluesfest. It makes you proud to be an Aussie.
And we are not calling it quits yet. There are around 4 more announcements yet to come, and we will be rolling some of them out just before Christmas, so yeah, the majority of Bluesfest will be announced by then! It's never been this early and I love it!
We have been described after our last announcement as 'easily the best festival line-up in Australia's history' by well-respected music journalist, Paul Cashmere – well we are not stopping – this IS the best Bluesfest yet – and tickets are selling fast – make sure you are part of it."
Important news: Headliners Paul Simon and Robert Plant will NOT perform in Brisbane or QLD. Their Bluesfest performances are exclusive to that region and tickets to the Festival are now reported to be selling fast.
THE 1ST AUSSIE (& KIWI) ARTIST ANNOUNCEMENT
THE CAT EMPIRE
FAT FREDDY'S DROP – XAVIER RUDD
ROCKWIZ LIVE
THE BREAK FEAT. MEMBERS OF MIDNIGHT OIL, VIOLENT FEMMES, HUNTERS & COLLECTORS
BEASTS OF BOURBON – KARISE EDEN – THE BAMBOOS
THE BEARDS – MELBOURNE SKA ORCHESTRA
THE SNOWDROPPERS – KING CANNONS
GREY GHOST – BUSBY MAROU – SASKWATCH
THE WILSON PICKERS – ROUND MOUNTAIN GIRLS
HAT FITZ & CARA – MASON RACK BAND –
THE SONGS OF THE HAIGHT ASHBURY STAGE SHOW
LIL FI & THE DIRTY RASCALS – WARDS XPRESS
ARTISTS ALREADY ANNOUNCED
PAUL SIMON
ROBERT PLANT
PRESENTS SENSATIONAL SPACE SHIFTERS
SANTANA – BEN HARPER
IGGY & THE STOOGES
STEVE MILLER BAND – STATUS QUO
MADNESS – CHRIS ISAAK – BONNIE RAITT
WILCO – RODRIGUEZ – RUFUS WAINWRIGHT
ROGER HODGSON THE LEGENDARY VOICE OF SUPERTRAMP
JIMMY CLIFF – JOAN ARMATRADING – ROBERT CRAY
JON ANDERSON THE LEGENDARY VOICE OF YES – DROPKICK MURPHYS
TEDESCHI TRUCKS BAND – GLEN HANSARD WITH THE FRAMES
TROMBONE SHORTY & ORLEANS AVENUE
THE BLIND BOYS OF ALABAMA – MAVIS STAPLES
FRANK TURNER AND THE SLEEPING SOULS
ALLEN TOUSSAINT – WANDA JACKSON – GRACE POTTER
FRED WESLEY AND THE NEW JB'S – BETTYE LAVETTE
SWEET HONEY IN THE ROCK – PLAYING FOR CHANGE – RUTHIE FOSTER
NEWTON FAULKNER – TONY JOE WHITE – LUKA BLOOM
THE DUKE ROBILLARD BAND – MICHAEL KIWANUKA – WILLIAM ELLIOTT WHITMORE
SHAWN COLVIN – SETH LAKEMAN – BEN CAPLAN
THE CAT EMPIRE
Another big Bluesfest favourite The Cat Empire are back in 2013. We have followed their growing star from playing on the smaller Bluesfest stages, to closing the entire Festival and gaining world recognition over the years.
For some Bluesfest fans "The Cat Empire" is their all-time favourite band and with a 7th Bluesfest performance they undoubtedly will live up to their famous reputation. They are returning with a bunch of new music which is said to see them returning with the same spirit which caught us all off guard & blew everyone away early on in their career.
With a new album on the way we can't wait to see what's on offer, as well as hear a bunch of absolute party favourites like Two Shoes, The Chariot, The Car Song, So Many Nights and tons more.
This multi-platinum selling band have built an army of followers throughout Australia and the rest of the world with their unavoidably fun live energy, charismatic presence, and genre defying music. It will be a welcome return to form for The Cat Empire, who have become known, for a very good reason, as one of the world's best party bands.
Armed with their timber and steel weapons, plus their troupe of dancers and the Empire horns, the only guarantee this Easter is that their undeniably uplifting music will have even the rhythmically challenged dancing the night away.
FAT FREDDY'S DROP
It's been said that 'It's impossible not to love Fat Freddy's Drop.' (DJ Magazine, UK) and we couldn't agree more. Wellingtons very own seven-headed soul powerhouse has never stuck to a script, constantly evolving their sound to something that is impossibly infectious.
Fat Freddy's Drop's pirate soul train has seen them beat a resolutely independent path to the ears and feet of audiences around the globe for over a decade. Their restless creativity draws inspiration from almost every part of the black music lexicon. Soul drenched vocals and jazz harmonies collide with tape delays and echo chambers, underpinned by a rhythm section as comfortable laying down a throbbing, techy soundscape as they are a swampy blues stomp.
"…the Drop play it with such passion that people can't help but be drawn into their realm. Their rhythms are truly infectious, to the point that even the staunch UK security teams started stomping their feet…" – NZ News, UK
13 years into their career they maintain the highest selling independently released album in New Zealand's music history (9 x Platinum).  'The songs are long, spacious, jam-packed with great musical ideas, and supremely soulful. There's no category for this band; they're simply one of the finest, most original bands in the world today.' – Global A Go-Go, USA
If their last 2 legendary performances at Bluesfest and their regular sold out tours across the seven seas is anything to go by, this is going to be one hell of a party.
XAVIER RUDD
Hailing from Torquay on the southern Victorian coast of Australia, Xavier Rudd is a standout favourite of previous Bluesfest's, transfixing the crowd with his performance on his array of guitars, didgeridoo's, stomp boxes and percussion. Since his debut album To Let in 2002, Xavier has reintroduced a lot of Australians to the sounds and stories of the land's original owners, while introducing the rest of the world to an entirely new sound altogether.
As a songwriter, Xavier Rudd has always been able to place complex ideas into heartfelt words with a universal simplicity, no matter how many times you have seen him live, you always leave a Xavier Rudd performance with something to think about, or be grateful for. Which makes it no surprise that year on year Bluesfest is inundated with requests to have him on the bill.
Xavier Rudd's music continues to build an increasing swell of support thanks sell out shows across Europe, the US and Australia. He has just wrapped up an extensive Australian tour and is currently touring the US showcasing his latest effort, the number 2 Aria debut album Spirit Bird. The album has produced his highest selling single to date, Follow The Sun, which is the essence of Xavier's spiritual connection to this world: his humble understanding that everything was here before us and will remain long after we are gone, and that every day is a new gift to cherish and respect.
So whether you are one of the many avid Xavier fans who have requested his appearance at Bluesfest 2013 or just are a little curious, don't miss his unmistakeable rhythmic, energising and rootsy sounds this Easter.
RockWiz LIVE
Watch as the Jambalaya Stage transforms into the fun and frivolous music trivia show RockWiz LIVE at Bluesfest this Easter! Most will know RockWiz as the staple of the Saturday night timeslot on SBS since 2005 that is unless you caught them at Bluesfest in 2010 and 2011 or at one of their live shows across the country.
RockWiz LIVE will feature surprise musical celebrities, contestants drawn from the audience (yes ….it could be you!) and of course the sassy and simply gorgeous Julia Zemiro and the one and only Mr Brian Nankervis, who will serve as the adjudicator where necessary!
As if that all isn't entertaining enough, RocKwiz Orkestra of Peter 'Lucky' Luscombe, James 'Maestro' Black and Mark 'Felttipped' Ferrie will be performing every lick of melody, every cliché of genre, every chop of tune!
Expect a mix of music, quiz, chat, celebrities and comedy when RockWiz plays Bluesfest 2013 on Friday 29th March, Saturday 30th March and Sunday 31st March.
Don't miss this one … it might be you joining the RockWiz  cast and guests on the stage!!!!
THE BREAK   
FEATURING MEMBERS OF MIDNIGHT OIL, VIOLENT FEMMES, HUNTERS & COLLECTORS
Bluesfest audiences are in for a treat this Easter when Australia's most innovative and powerful surf rock band, The Break take to the stage.  The Break consists of Rob Hirst, Jim Moginie, Martin Rotsey – Midnight Oil, Brian Ritchie – Violent Femmes and Jack Howard – Hunters & Collectors.
THE BREAK bring a sheer raw vitality and phenomenal force to the surf rock genre. Their powerhouse sound does of course have that unmistakable whiff of Oil but unlike anything the band has done before.  THE BREAK explore new horizons and obscure influences whilst tipping the occasional nod to 60's legends such as Ennio Morricone,  Joe Meek, Link Wray and Dick Dale as well as the psychedelic musical  meanderings of San Francisco's Mermen with whom Ritchie has played on numerous occasions.
The Break will be releasing their new album "Space Farm" in early 2013, so expect to hear some new tracks along with their usual rips, swells and chants or catch them onstage at Bluesfest performing with the Sugar Man himself, Rodriguez.
BEASTS OF BOURBON 
The Beasts of Bourbon are a fusion of blues-based pub rock and punk and as their name suggests, the group has a reputation for downing a few bevies on stage.  Forming in Sydney in 1983, the original Beasts line-up comprised Tex Perkins (vocals, later of the Cruel Sea), Spencer Jones (guitar, also with the Johnnys), James Baker (drums, and a Hoodoo Guru) and a pair of Scientists in guitarist Kim Salmon and bassist Boris Sudjovic. After a few breaks and reformations and a number of band member changes over the years, the original Beasts of Bourbon are back for their Bluesfest debut in 2013.
The Beasts debut album in 1984, The Axerman's Jazz was recorded by Tony Cohen for $100 (The Birthday Party, Nick Cave and The Bad Seeds) The cover of Leon Payne's  'Psyco' that featured on the album made it to high rotation on alternative radio. The band quickly became an underground success abut despite this, The Beasts continued to be just a side project for its members.
Fast forward 23 years and their latest album, the 2007 release, Little Animals arrived.  The album was recorded and mixed over 3 days, front man Tex Perkins says of the album "If it's crap , the Beasts of Bourbon can f— Off. I'll push it aside" It turned out that the album was good enough or as the band puts it "it will kick your arse". The band toured with the album , but then decided to call it quits in 2008.
It's been a long time between drinks – and we can't wait to see what The Beasts have in store for us this Easter.
www.texperkins.net  or/and www.texperkins.com.au
KARISE EDEN    
Karise Eden, the first winner of The Voice Australia, will be wowing the Bluesfest crowd with her soulful voice that is well beyond her 19 years.
Hailing from NSW Central Cost, Karise was dubbed as Australia's new 'queen of soul' by Seal, her mentor on the blockbuster program. Karise won the heart of The Voices' millions of Australian viewers with stunning performances of Fleetwood Mac's Landslide, Leonard Cohen's, Hallelulah and fellow Bluesfest 2013 performer Jimmy Cliff's, Many Rivers to Cross. She also teamed up with her mentor Seal to perform his smash hit, Kiss From A Rose.
Before she even claimed the title, Karise catapulted into the spotlight with all of her live show performances hitting number 1 on iTunes. Her original song performance from one of the final shows I Was Your Girl also peaked at number 1 the night of its release.  She then scored 6 out of the top ten singles on the Aria Charts, a feat not achieved since The Beatles in 1964.  To add another notch to her belt, her debut album My Journey, released mid-2012, debuted at number 1 on the Aria Chart with "Stay With Me Baby" and has already been accredited double platinum. The album also features a stunning take on her musical inspiration, Janis Joplin's 1971 Move Over.
Karise is a girl, who has lived the Blues and can sing the Blues, we are sure you will be impressed with the incredible voice of Karise Eden at Bluesfest this Easter.
THE BAMBOOS
Voted as Australia's fourth Best Band in the Melbourne Age, The Bamboos have earned themselves the reputation of being Australia's greatest modern Funk & Soul band over the years. The last time they lived up to this reputation at Bluesfest in 2012 it was one hell of a party.
They emerged from the 'Deep Funk' scene of the early 2000's and have since forged a unique sound of their own, combining elements of Old-School Funk, Hip Hop, Mod Rock, Psychedelic & Northern Soul.  The Bamboos are an 8-piece line-up, led by guitarist Lance Ferguson and featuring the power-house vocals of Kylie Auldist. From critics as far afield as New Orleans, Chicago, Germany and the UK they get this kind of praise: "They've got IT…" "They are about as good as it gets… " "Tightest funk act in the world…they keep pushing the bar higher"  "The Bamboos are bad mother-****ers!".
The latest album 'Medicine Man' shows The Bamboos changing things up again and re-inventing their sound, a risk that seems to be paying off with the wide acclaim surrounding the album. Australia's masters of Deep Funk and Super-Heavy Soul are primed to deliver their blistering, ridiculously enjoyable live set back to Byron this Easter and will have you dancing in no time at all.
THE BEARDS
The concept of The Beards is simple – A folk rock band that exclusively perform songs about just one subject: Beards. With a three-album back catalogue of crowd favourites like If Your Dad Doesn't Have a Beard, You've Got Two Mums, You Should Consider Sex with a Bearded Man and No Beard, No Good, The Beards continue in their ceaseless journey to make the world a more beard-friendly place.
The Beards have gained a cult following in Australia after touring the nation relentlessly over the last few years. Notable performances include the Falls Festival, The Big Day Out, Woodford Folk Festival and of course their visit to Alaska to perform at the World Beard and Moustache
Championship's opening ceremony.
The Beards have always combined the brilliant and the comedic in creating online content and the success of this is evident. Their YouTube channel has received over two million views and their clips have received national attention on Australian television.
The Beards recently released their third album Having a Beard is the New Not Having a Beard. The album's first single You Should Consider Having Sex With a Bearded Man came in at 99 in Triple J's Hottest 100 and was nominated for the 2012 APRA Song of the Year. Their album launch tour sold out nationally and received rave reviews.
The Beards are currently embarking on their biggest Australian tour to date, in an attempt to convince as many cleanchins as possible to repent before it's too late.
You guys still have time to grow a beard before their Bluesfest performance, so put those trimmers down and get ready for the fun and furriness of The Beards.
MELBOURNE SKA ORCHESTRA
Due to countless requests and their epic performance every time they make an appearance at BLUESFEST we had to ask MELBOURNE SKA ORCHESTRA (MSO) back again. Don't take our word for it; the tent is always packed with BLUESFEST aficionados, staff and most of the artists who are not playing elsewhere each year. (Which has included Elvis Costello, Los Lobos, Tim Robbins, Raul Malo, Derek Trucks & Susan Tedeschi just to name a few).
MSO is a fun loving big band experience made up on more than a dozen horn players, a mean rhythm section, percussionist, 2 organists and 3 singers, which may give you an idea of the skankin powerhouse that MSO is.
To date their music has covered the golden ska period of 1963 (Skatalites/Wailers) through to the British Two Tone craze (Madness , Specials, etc) and anything positive and significant in between. But this Easter, they will be playing not only all time favourites but also songs from their long awaited – highly anticipated debut album which is due out March 2013.
The other "MSO" provides an uplifting experience with audience participation big on the agenda. In recent years Jamaican legends Owen Gray, Carlos Malcolm, The Caribs, Dawn Penn and Stranger Cole have all been guests of the orchestra – it's your guess who will take the stage with them this festival.
Never far from front and centre, the highly charismatic, front man & co-founder, Nicky Bomba will have the entire audience captivated throughout and the endless fun that ensues at any MSO performance makes dancing absolutely compulsory this March.
THE SNOWDROPPERS
You may remember The Snowdroppers from previous Bluesfest's, the gutter Americana blues-rock showmen with a reputation of singing about fornication and intoxication. These days the band are sounding a little more  rock and a little more Australian, with their new material drawing comparisons to classic Midnight Oil, INXS and The Johnnys.  Front Man , Johnny Wishbone says of their new direction, " We've hit the road pretty hard in the last year or two….I've started feeling a real kinship with a lot of classic pub bands , from AC/DC to the Hoodoo Gurus, Sports, Skyhooks…no-bullshit bands. Bands that just write great songs and play". 
The origins of The Snowdroppers are steeped in the seedy burlesque underworld of Sydney.   Singer Johnny and guitarist Pauly K have known bassist London since their uni days. Somewhere in between the tits and feathers on the Hume Highway haul from Melbourne to Brisbane, swing dancer Cougar Jones made the fateful move to drums.
The band debut album Too Late to Pray was released in 2007. The new album Moving Out Of Eden set for release March 2013, features the single "Do The Stomp" which made it into soundtrack to the hit movie Red Dog.  But alas, these guys haven't gone mainstream… there is still the same black humour, the strum of the banjo, the billowing blues harp and that rockabilly sound.
So forget what you know about The Snowdroppers and prepare yourself for no bullshit, good old Aussie rock – blues show this Easter.
KING CANNONS
"…rootsy brand of rock 'n'roll that lands somewhere between Bruce Springsteen and Joe Strummer." The Daily Telegraph
Some bands talk their way into opportunities or use algorithms to feign blog hype. Others drag themselves up by the teeth. All six members of the King Cannons have fought poverty and hardship to stay together.
To find the real beginnings of the electrified soul –n-roll gang, King Cannons, is to go back to the street corner where a ten-year-old Luke Yeoward struggled to wield the acoustic guitar handed down to him by his mother. With a hat at his feet, Yeoward played covers he'd picked up at home and school: Creedence Clearwater Revival, Neil Young and Cat Stevens, as well as primitive songs he'd written from the chords he knew. He started his first band at 13 and learned to write songs with the punks he was hanging out with.
It wasn't until 2007, at a Joe Strummer documentary, that Yeoward realized the musical path he wanted to take, it was also that night he met his soon to be band mates, guitarist Rob Ting and bass player Jonno Smith.
The bands first self-titled EP was released in 2010 and featured the track 'Take The Rock', which two years later still, can be heard regularly on Triple J.  King Cannons released their debut album The Brightest Light mid 2012 with Tom Larkin, drummer for the internationally known rock force Shihad producing most of the album. The album has since been making a stir across the Country;
"This is what rock n roll is all about." TIME OFF

"KING CANNONS are one shake rock, two parts retro soul and 100 per cent proof that they are the real deal." The West Australian
"…The Brightest Light is a sturdy thing indeed" Mess and Noise
"Scorching rock 'n' soul with a punk attitude "4/5 Stars, NZ Herald
Have a listen to King Cannons before you watch their Bluesfest performance, as one thing is for sure, the tangled crowds will be shouting their blistering choruses back to them, make sure you know the lyrics too.
GREY GHOST
"I got the same buzz seeing Grey Ghost as I did when I first walked into a bar and saw The Cat Empire unsigned and for the most part unknown- This is IT" Peter Noble, Festival Director.
Grey Ghost is not your average rapper / hip -hop artist.  Arising from the death of Melbourne beat experimentalists The Melodics; Grey Ghost is a one-man journey through time, space and sound. From the natural poetry of Jeremedy's urban parlance, to the kind of universal rhythms that awaken our inner primate; this is music, however technological, that remains unmistakably and beautifully human.
Debuting with a handful of songs that reiterate a definitive post-rap sound and ideology, Grey Ghost is a collision of the real world and the imagination – where opposing laws of musical physics are defied and then redefined. Grey Ghost's social conscience and unique turn-of-phrase bring depth and reality to a musical realm that can often be fantastical and bordering on the strange. His ability to communicate, however using this unbeaten path, is always crystal clear. There is an essential sense of adventure to Grey Ghost, but it connects.
Having already collaborated with producers Jan Skubiszeweski and Matik, plus an impeccable production team that includes the likes of Forrester Savell, Scott Horscroft and Don Bartley; the first-generation of Grey Ghost's songs are enriched by the chemistry of like minds. The artistic vision of one man, shared and realised by the most esteemed of his peers.
Hook-driven and hypnotic, the spine-tingling chorus of Grey Ghost's debut single, Space Ambassador, paints an incredibly telling picture of its creator. This is a man, looking out at the stars, waiting for the time to make his mark.
Futuristic, retro and retro-futuristic all in one; Grey Ghost is rock music you can dance to, mixed with dance music that rocks, find out what Grey Ghost is all about this Easter.
BUSBY MAROU
"Glorious and genuinely original – amalgams of the very best that folk inspired pop can offer.  The end result is compelling and beautiful."
 4/5 stars – Sydney Morning Herald
Rockhampton boys 's Tom Busby and Jeremy Marou's unique blend of folk soaked pop that is Busby Marou is back for Bluesfest. The duo left everyone grinning from ear to year in 2012 as the crowd left knowing they had seen something special; a shining example of the talent emerging in Australia right now.
With rave reviews from media and industry heavyweights alike the pair have worked hard to earn themselves a reputation for their soaring harmonies and beautiful catchy songs. This brilliant combination landed them a record deal with Warner 's indie imprint Footstomp Records on which they produced their first album that debuted at #24 on the Aria Album Charts and went gold within the first month.
The 2009 Deadly winners are hard at work on their next album and will be joined on the road with their band this time around, giving this unique, intimate duo another layer to build into their signature sound.
"The overwhelming feeling that emanates from BUSBY MAROU is joy.  The voices and close harmonies are as clear as Queensland sunshine, and the acoustic guitar playing of both men is both accomplished and expressive."  4/5 stars – The Australian
Grab the chance to hear their joyous summer songs this Bluesfest. Welcome back guys!
SASKWATCH
"….nine-piece soul-revivalists Saskwatch are one of the most electrifying outfits to emerge onto the Australian musical landscape in recent memory" Lachlan Kanoniuk, Beat Magazine
We are certain Melbourne's Saskwatch will have the crowd enchanted and grooving to their infectious blend of soul, rhythm and blues at their Bluesfest debut this Easter. 2012 has been a huge year for the impressive nine-piece band with the release of their debut LP; Leave It All Behind (August 2012), and a massive launch tour that followed. The group also appeared as support for the Hypnotic Brass Ensemble as well as for R&B and Funk legends, Earth Wind & Fire and Maceo Parker, all the while creating quite the stir along the way;
"Glorious" – Gabriel Hubert (Hypnotic Brass Ensemble)
"Brilliant" – Daniel Merriweather
"Wow, this girl can wail. And I say that with the utmost respect. This is good
time sunny soul, the kind made famous by Motown acts like The Supremes…." –
Dan Buhagiar (triple j)
The groups LP channels the likes of James Brown and Aretha Franklin, as well as New York's bangin' modern soul scene (Sharon Jones, Charles Bradley et al) throughout the album, all whilst adding their own love,  grit and sweat to the fore.
Saskwatch are in high demand. Make sure you don't miss your chance to see them up close and personal at Bluesfest this Easter. We assure you, they will have even the most tired festival legs dancing!
THE WILSON PICKERS     
The Wilson Pickers are the coming together of some of the country's finest songwriters, to make music best played around kitchen table, on back porches and FESTIVALS.
Featuring Queenslanders Danny Widdicombe and Andrew Morris, and Victorians Sime Nugent and John Bedggood, The Wilson Pickers combine classic songwriting with a musical mix of 4 harmonious voices, acoustic guitar, resonator, harp, fiddle and mandolin.
We say it's hard to beat a happy sing along at Bluesfest.
With 2 albums to their name and Aria nominations for both in the Best Blues & Roots category in 2009 and 2010 it's a big 'Welcome back to Bluesfest' The Wilson Pickers.
ROUND MOUNTAIN GIRLS
"A night out with Round Mountain Girls is like a good night in with your partner. They'll leave you hot and sweaty, exhausted but exhilarated, sonically bruised, maybe even a little tender… and yet you'll still end up begging for more".
From humble beginnings in a shed atop an isolated outcrop, to the main stage at this year's Bluesfest – the phenomenon of the Round Mountain Girls has etched itself into the 'strange but true' annals of Australian musicology.
Five 'non-round', 'non-girls' were brought together in that shed for mutual musical gratification. Playing only the music they adore – and carrying that attitude into every performance, they have carved out the reputation as one of the most thrilling live bands in Australia.
These five disparates who – legend has it – escaped from the clutches of an ancient tribe of virgins who lived on Round Mountain in Northern NSW – already have a couple of albums and an EP of 'covers' to their name.
They aim to launch their third album at Bluesfest 2013. Make it a date to watch it go off like a rocket because ……one thing is certain – all who have witnessed Round Mountain Girls at full bore have felt an unquenchable desire to repeat the dose.
HAT FITZ & CARA
Perennial BLUESFEST favourite and dynamic duo HAT FITZ & CARA ROBINSON are bringing their truly unique old times Blues and Celtic sound back to the BLUESFEST stage. Each of these artists is in their own amazing musicians but together they have carved out their own style that combines trans-continental delta Blues with an Irish Folk twist.
Hailing from Queensland, the 'wild man' of Australian blues, HAT FITZ plays guitar, stomps his foot and sings the blues with a physical presence and power that reminds listeners  of past Blues greats like Son House and Charley Patton. Alongside him on stage is Belfast's very own CARA ROBINSON on drums, vocals, washboard, flute and tin whistle. She is one of Ireland's foremost vocalists and has graced stages all throughout the UK and Europe.
The blending of pre-war hill country and delta blues with traditional Celtic and early Australian folk has had audiences dancing each time they play all over the world.
Often referred to as ' Queensland blooze with a twist' you're sure to appreciate what all the fuss in about…It's raw, its raucous and full of frenzied, almost-out-of-control crescendos that you cant help but dance along to;
"They pack more energy, emotion and sheer musical exuberance into one song than most manage in a whole career" – Spiral Earth, UK.
"Hat Fitz and Cara make beautiful, raw, exciting music that never fails to grab me" – Jeff Lang, singer/ songwriter, guitarist, Australia.
Their latest release Beauty and the Beast is filled with ample reasons to give these guys a listen and it has enhanced their reputation as one of the most interesting and musically appealing combinations.
"ROBINSON has not tried to tame the savage beast. He still roars like a lion and is the perfect foil for her Bonnie Raitt-like vocal tones. The duo's shared lead vocals and rich harmonies transcend the boundaries of blues, rags, folk and bluegrass. FITZY would have to be Australia's foremost purveyor of authentic pre war blues." – Blues Matters Magazine, UK
Come and see what all the fuss is about. Sonically rich, engaging and very very cool, you will leave drenched in sweat and covered in smiles.
MASON RACK BAND
After their high impact, 'exposing' performance at Bluesfest 2012 (those who were lucky enough to be in the crowd will know exactly what we mean) we couldn't wait to welcome back the Mason Rack Band.
They recently returned from their sixth Canadian tour which was sold out again. Festival favourites THE MASON RACK BAND have also been added to Europe/UK touring artists alongside of ''Pink, Metallica, Deep purple & Van Morrison. In May 2012 ''SHOOTER Promotions" witnessed their set at the Grolsh blues festival in Germany and signed them to their touring stable.
No surprise really, as far as live performance "MRB" are entertainment GODS. Their drum duels, onstage antics signature movements set them apart from everything & everyone else and we can't wait to have them back at Bluesfest.
THE SONGS OF THE HAIGHT ASHBURY STAGE SHOW
The crowds attending the Haight Ashbury Stage Show are leaving in ecstatic raptures, roaring for a revolution and embracing this feel good "Smash Hit ". This exciting local Northern Rivers production transports you back to 1967's San Francisco to celebrate some of the best music the 20th century ever produced. This is a world class production on a mission to spread the power of Music and Love.
For four nights at Bluesfest you will believe that music can change the world.
The Songs of the Haight Ashbury Stage Show celebrates the musical legacy of the artists who transformed the social fabric of America in a spontaneous cultural explosion that became known as '"The Summer of Love". It was in the Haight Ashbury district of San Francisco that this extraordinary event took place.
The Music spread the message, "make love not war" and a wave of social and political change swept from San Francisco, across America and from there around the World.
James T from Canned Heat will perform the songs with which he toured the world for 10 years as the singer and instrumentalist with Canned Heat.
Multi award winning Lil'Fi will sing Janis Joplin with an unique authority that comes from living the life of a true believer on the path of the blues.
You will be rocking out of your seats and yelling for more when musicians Conner Cleary, Bill Jacobi, Andrea Soler, Diana Anaid will be performing songs by Jimmy Hendrix, Joni Mitchell and Jefferson Airplane whilst being backed by the All-Star-Full-Tilt-Band all along the way.
No doubt about this one folks: If you want to be captivated with this authentic 'journey back in time' to the days of peace love and bean sprouts – don't miss this one – it's a play, it's a concert, it's psychedelic, it's a light show, it's authentic and it's a knockout – Direct from Nimbin to Bluesfest.
LIL FI & THE DIRTY RASCALS
Lil' Fi is one of Australia's most original roots music blues divas. She is a brassy entertainer with a unique song writing style,a retro-punk visionary belting out the blues with a heart too big not to be shared.
Lucky Ocean described her as "an uncommonly convincing Blues-Mama…as good as it gets" and Blues legend BB King compared her to Bonnie Raitt when she received a standing ovation after she warmed the stage for him.
Lil' Fi translates the Blues, that gritty cry of the oppressed and abused, into a uniquely Australian hybrid. She has won Best Vocalist five times at the Australian Blues Music Awards, released 12 independent albums and has been the backbone of many festivals over the years. Welcome to Bluesfest Lil Fi & The Dirty Rascals
WARD XPRESS
Ross Ward first appeared at Bluesfest back in '95 with the late Wiley Reed, where the idea for the band Wards Xpress was originally conceived. Since that time he has appeared at 9 Bluesfest's in and has enjoyed a long career in the industry with musical origins tracing back to 1969.
After appearing at every major blues festival in the country, founding member and front-man Ross Ward relocated to Sydney in 2010 after 16 years on the far North Coast of NSW, but not before releasing four CD's and picking up several music industry awards.
Landing back in Sydney, Ross instantly teamed up with old friends and musical cohorts Al Britton on bass, drummer Bruce Stephens and noted saxophonist Martin Davison.
The band maintains a busy schedule of residencies and gig's and is one of Australia's hardest working bands.
In March 2012, 'Wards Xpress' released the 'Five Lanes' CD, which went straight to number 1 on the 'Australian Blues & Roots Most Played' charts and has been well received by blues radio presenters and podcasters nationally.
'Wards Xpress' plays an original and organic mix of blues, rock, funk and soul, with a tinge of jazz and world music styles in the mix. These guys are a vibrant and dynamic outfit, and their upcoming shows at Bluesfest are cause for a celebration, as it's a fitting "Welcome Home to Byron" for singer/songwriter and guitarist Ross Ward.