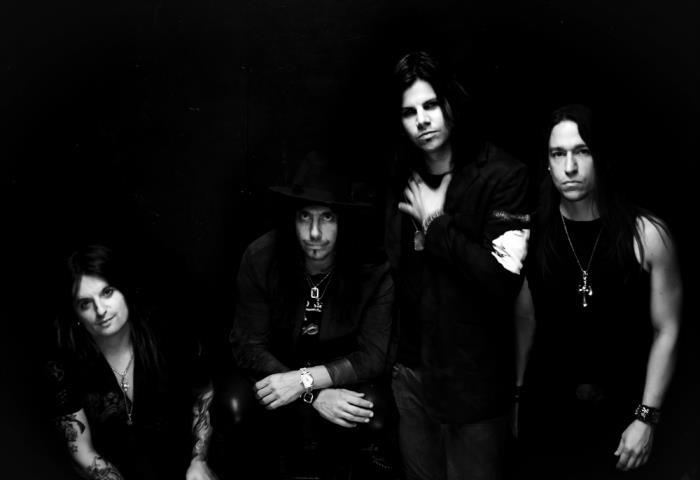 Well f$%k me swinging, if you will pardon my French, where the friggin' hell did these guys come from?  Ok, matter of factly Hotel Diablo are from Hollywood, but hitting you smack between the eyes with a blazing red album cover, these guys have delivered one hell of a killer hard rock record from seemingly out of nowhere.  But if you are familiar with the Los Angeles scene, then the names of Rick Stitch (Adlers Appetite), Alex Grossi (Adlers Appetite, Quiet Riot, Bang Tango, Jani Lane), Mike Duda (W.A.S.P) and Mike Dupke (W.A.S.P) will already be well familiar with you.
Produced by Gilby Clarke (Guns N' Roses) Return To, Psycho California is a gritty, grimy, collection of hard rock, jam packed with razor sharp riffs and a sordid collection of lyrical tales.
We check ourselves into Hotel Diablo for a chat with Alex Grossi…
Hey Alex, thanks for giving us the opportunity to have a chat with you about Hotel Diablo.  So first things first, with each of you being well and truly busy with other bands – what led to the formation of Hotel Diablo?
Rick Stitch (vocals) and I met while playing in Steven Adler's band (Adler's Appetite) in 2009.  We did a solid year of touring worldwide as well as releasing some new music with him to help promote his tell-all biography, it was a good run but it had really gotten to the point where we needed something fresh, so we both left in early 2011.  I ended up booking a one-off show in Hollywood with Mike Duda and Mike Dupke as the rhythm section and it just clicked, within a week we were writing and recording.
I am personally always intrigued by the stories behind the choice of a bands name, so what is the story behind the name Hotel Diablo?
The name is something Mike Duda had kicking around for a long time, we always liked it as something that could be more than just a "band", it's more of a place and a state of mind.
For me personally, in a musical sense, there's a real intriguing dynamic going on with Hotel Diablo and that's the balance of heaviness & darkness with a sense of melody & traditional rock song structures.  Is this something you were specifically intending with the Hotel Diablo sound, or is it more just a product of the individual musical influences and backgrounds of each of you within the band?
We are all influenced by different things, but obviously there is a common thread as well.  It was never a conscious choice to make the band sound a certain way, a lot of it just sort of happened.  We did make a point of putting the "song" first and making sure all of the parts compliment the story and the vibe of the song.
With lyrics that certainly have dark overtones, combined with the blood red album cover and artwork, there's more going on with The Return To Psycho California than simply some kick ass music.  So what are some of the underlying themes you guys have covered across the songs on the album?
I would say that Rick Stitch (vocals) put it best when he said – "The Return to Psycho, California" is "a collection of stories, true stories, experienced during a time when our lives were filled with mind-altering shots of wretched adrenaline. Strings got bent, knobs were turned and an uncontrolled visceral energy screamed life" into what has become "Psycho, California".
We have all had similar experiences out here in LA, as it can be a pretty crazy place – I have seen people come here and within a few months have this city chew them up and spit them out, some of the tracks on the record are certainly reflections of that.
Taking that question one step further, who came up with the idea for the blood red album cover and the imagery?
That was all Rick. He does all of our artwork, we had a few different ideas, but once that came across the desk – we all said. "That is the one!".
As far as the songwriting within Hotel Diablo, is there a typical process with how songs are constructed, walk us through the songwriting within the band?
It really depends on the song. For example, a track like "Bury You" started off with a couple of acoustic guitars and was built from there, a song like "Taken" however came from us going for it at full-volume in the rehearsal studio.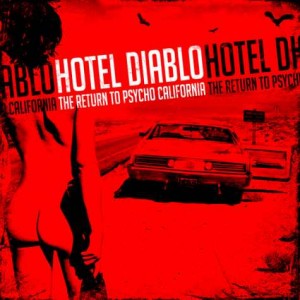 One of my personal favourite tracks is What You Do To Me, what can you share about how that song evolved from the initial writing, through to the end recording?
Thanks, that is a lot of people's favourite.  The initial riff written by Mike Duda, then Rick and I built the song structure and chord changes from there, which was the easy part.  The song really took a turn however, when we got the news that Jani Lane had passed away.  I got a call from our agent and it really put me into a funk when I heard the news, as we had been through a lot together in the past few years and a lot of people were really pulling for him to beat his demons.  I distinctly remember driving through the streets of Hollywood and up into Laurel Canyon talking about the whole thing with Rick, which ended up being the inspiration to the lyrics.  It's not just about that particular situation, but really anyone who has been through that, which sadly is very prevalent out here in LA…
You had Gilby Clarke lend his production talents on the album and legend has it that he actually sought you guys out to be involved in working on the album.  So how did you find the experience working with Gilby and how do you think he enjoyed working with Hotel Diablo on the album?
Gilby is really like the 5th member of the band, when he contacted us to demo some stuff it was really a big part of bringing this whole thing together.  Working with him was great – he has a very relaxed, cool vibe and has great guitar instincts and ideas, which is perfect for us as we are a big guitar band.  I can't even begin to try and list all of the vintage guitar/amp combos we used, but I am pretty sure it would make even the biggest vintage gear snob raise an eyebrow…lol.
LA producer Matt Starr also came in and did a couple tracks with us as well and for the songs we decided to use him for (Wicked Lines and Bury You) he did a fantastic job.
Maybe this question is a little premature given you have only just released the album a matter of weeks ago, but are there plans at this point to release a follow up Hotel Diablo album, or is that yet to even be discussed?
We have actually been working on the next record already, we have about 6 tracks with working titles demoed already.  I think it shows that you are actually a real band if you can put out a full length record every year, it's also more gratifying as an artist to constantly be evolving, rather than just trying to milk the same record forever.
I understand you guys haven't yet undertaken extensive gigging (but we can't ignore having shared a stage with Marilyn Manson recently!!)  How would you describe the chemistry within the band from a live/gig point of view?
Yeah, we have really only done a handful of shows, one of which was the 2012 Sunset Strip Music Festival with Marilyn Manson, Black Label Society and the Offspring, it was a pretty crazy night as they shut down the strip and make it into a big rock festival for a day.  Even though we haven't played that much as Hotel Diablo, our chemistry is still very tight given that Rick and I did over 200 shows together in the last band and Mike and Mike are very locked in as unit too.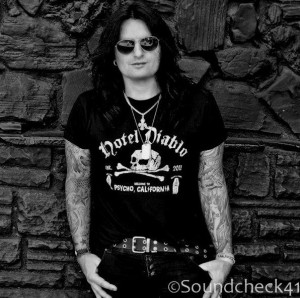 For you personally, what does Hotel Diablo allow you to explore from a guitar playing point of view, that perhaps you haven't had a chance to do so over your career previously?
Well, this is the first band in a long time that I have built from the ground up, so there are no set parameters as far as what it has to sound like since it is a brand new thing…  So there is less pressure there, however there is more pressure in that if it ends up being crap, you have no one to blame but yourself!
Whilst you have been getting great reviews from all over the world – let's focus more locally.  For the benefit of us in galaxies far away like here in Australia, tell us about how Hotel Diablo fits into the L.A music scene and with what's happening in the wider USA rock stratosphere?
It's hard to say, as we aren't actively "playing the strip" and in a lot of ways it is working to our advantage.  One thing about LA, New York and most big cities is that as far as the music scene goes, there is usually something to do every night – so when you do play, you had better make it an "event".  The US rock scene is alive and well, there are a lot of big festivals every year that have 2 or 3 days of hard rock – a lot like the big Euro ones actually, we have already been approached to do some of them next year.
You have recently launched a new range of Hotel Diablo merchandise in conjunction with Forgotten Saints on Melrose Avenue in L.A, here's some free advertising space, so fire away, tell us all we need to know about this line of merch.
If you aren't familiar with Forgotten Saints, they are a very cool rock boutique here in Hollywood.  Cody Varona (the owner) makes a lot of our stage clothes as well as stuff for everyone from Motley Crue and Guns N' Roses to Rihanna, Buckcherry, Black Eyed Peas, Marilyn Manson, Rob Zombie etc…. She is the real deal and has a very distinct style that we all thought would work perfectly in bringing "Hotel Diablo" into the clothing world.  We are going to be offering "Psycho, California" inspired pieces. Here is a link to the store – http://forgottensaintsla.com/fs/hotel-diablo/
So with the album now released and out and about around the world, what's on the horizon for Hotel Diablo in the coming months…
We just recently tapped nine-time Emmy Award-winning and MTV Video Music Award-nominated director Fabio Jafet (PITBULL, ENRIQUE IGLESIAS, CHILDREN OF BODOM) to direct the video for the song "Psycho, California". Fabio edited PITBULL's "I Know You Want Me", which ended up being the No. 1 music video of 2009 on YouTube, with over a 190 million views to date, making it one of the most-watched YouTube video of all time. He is also currently managing the band COYOTE THEORY.
We are shooting next month out here in LA, I think it is going to turn out great!
As far as everything else, just stay tuned at: www.thehoteldiablo.com and http://www.facebook.com/#!/hoteldiablo?fref=ts
Check out our review of the album right here… 
Essential Information
From: Los Angeles, USA
Band members: Rick Stitch (Vocals), Alex Grossi (Guitar), Mike Duda (Bass), Mike Dupke (Drums)
Website: www.thehoteldiablo.com
Latest release: Return To Psycho California (2012, Scarlet Records)
Hotel Diablo – Custom Forgotten Saints Vest and Hoodie (bottom) available at: http://forgottensaintsla.com/fs/hotel-diablo/