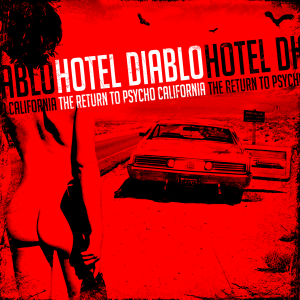 Well f$%k me swinging, if you will pardon my French, where the friggin' hell did these guys come from?  Ok, matter of factly Hotel Diablo are from Hollywood, but hitting you smack between the eyes with a blazing red album cover, these guys have delivered one hell of a killer hard rock record from seemingly out of nowhere.  But if you are familiar with the Los Angeles scene, then the names of Rick Stitch (Adlers Appetite), Alex Grossi (Adlers Appetite, Quiet Riot, Bang Tango, Jani Lane), Mike Duda (W.A.S.P) and Mike Dupke (W.A.S.P) will already be well familiar with you.
Produced by Gilby Clarke (Guns N' Roses) this is a gritty, grimy, collection of hard rock, jam packed with razor sharp riffs and a sordid collection of lyrical tales.  Opening track Taken is a perfect example of Hotel Diablo's blending of raw hard rock, with elements of 90's grunge and alternative rock, the breakdown in this song sees Stitch eerily channelling Dirt era Alice In Chains/ Layne Stayley.  Track 3, What You Do To Me delivers what you could term to be a "ballad" and blimey if this isn't one of the albums best tracks, closely followed by the equally soaring Bury Me.  Hotel Diablo deliver mostly a rambunctious brand of raw rock, but at each songs heart there's still plenty of hooks and melody.  The inclusion of an Oasis cover, Wonderwall is a bit of a headscratching moment as I'm sure I speak for many who would equally love to have heard another original track – but in saying that, I've always loved this song and a souped up hard rock version straight from Los Angeles, USA rather than Manchester, UK, works well.
If you have a love for the grittier and grungier side of hard rock, then don't let Hotel Diablo slip you by for there's much to be enjoyed on The Return To Psycho California.
Essential Information
For fans of: Gritty and grimy hard rock such as Velvet Revolver, The Last Vegas, Charm City Devils.
Release date: September 25th, 2012
Label: Scarlet Records
Produced by: Gilby Clarke
Website: http://www.thehoteldiablo.com
Track listing:
Taken
All These Years
What You Do To Me
Psycho California
Bury You
Set It Off
Wicked Lines
Wonderwall
Trigger
What You Do To Me (ALTERNATE VERSION)
Bury You (ALTERNATE VERSION)