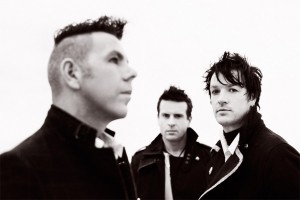 It's just over a month until 
THE LIVING END 
kick off their massive
 39 DATE RETROSPECTIVE TOUR 
and the band are now ready to reveal the huge list of special guest bands and DJs who be joining them on the road. In all, 
18 BANDS & 7 SPECIAL GUEST DJs
 ranging from Australian Rock Royalty, iconic 90s punk legends and the next crop of Australian music upstarts will join 
TLE 
on their historic and record breaking 
RETROSPECTIVE TOUR
.
With a list as long and illustrious as this one it's best that we start from the top. JoiningTHE LIVING END on their run of Retrospective Tour shows in PERTH will be three of WA's finest up and coming bands. SONS OF RICO, THE GROWL & THE NOVOCAINS will share the opening duties at the Rosemount Hotel in the first week of November. Also joining the bill for all shows on the Perth leg will be special guest DJs Brad & Zok from GYROSCOPE. 
In ADELAIDE The Living End will be joined by Australian punk/ska legends and old school touring buddies AREA 7 for three shows and Adelaide locals and all round good guys CITY RIOTS will fill the support slot on all remaining shows. DJ duties for the SA jaunt will be split up between hairy-faced locals THE BEARDS and young South Australian upstarts DANGEROUS! 
When The Retrospective Tour rolls into Sydney in the last week of November the band will be joined by Melbourne indie rock stalwarts EVEN for three consecutive nights, Sydney locals CABINS will take support duties for two shows and AREA 7 will once again join TLE for both performances of their debut self titled album. Spinning tunes each night during the Sydney stint will be 2manyPJs more commonly known as PHIL JAMIESON from GRINSPOON.
Brisbane locals will be treated to four different bands over TLE's seven-night stay at the Zoo in the first week of December. Sunshine Coasters BAND OF FREQUENCIES, Brisbane boys THE MEDICS and Melbourne's KINGSWOOD will all fill support spots in Brisbane as well as two very special guest appearances by ASH GRUNWALD. The DJ shoes for these shows will be filled by HAMISH ROSSER (WOLFMOTHER, EX- VINES). 
When THE LIVING END return to their hometown MELBOURNE, they will share the stage with a total of EIGHT bands during their record breaking run of 11 SHOWS at the Corner Hotel. Firstly, TLE are honoured to have Melbourne favourite and national treasure SOMETHING FOR KATE join them for their performance of MODERN ARTillery. The extremely mysterious and endearing IVY AND THE BIG APPLES will join TLE for two of their hometown show dates and 90s favorites AREA 7 & THE MEANIES will also step up to fill support spots.
Opening duties for the newly announced under 18s daytime show will be filled by young Melbourne punks THE SMITH STREET BAND, who will also join TLE for their performance of their most recent release The Ending is just the Beginning Repeating.The remainder of the Retrospective Melbourne dates will see up and coming local bandsKINGSWOOD, DAVE LARKIN BAND & MONEY FOR ROPE take to the stage for support duties. And finally, the DJ decks for all 11 Melbourne dates will be manned by the enigmatic COSMIC DOLPHIN (Johnny Mackay from CHILDREN COLLIDE).
**Limited tickets for The Retrospective Tour are ON SALE NOW! Full tour dates, support details and ticketing information can be found below**
THE LIVING END
THE RETROSPECTIVE TOUR
SEVEN SHOWS IN A ROW / ONE ALBUM IN FULL PER NIGHT
TICKETS ON SALE NOW!
THE ROSEMOUNT HOTEL – PERTH WA
with support from 
SONS OF RICO
, 
THE GROWL & THE NOVOCAINS
PLUS special DJs 
Brad and Zok from Gyroscope
Tickets via Oztix: thelivingend.oztix.com.au / 1300 762 545 / Oztix Outlets
Thu Nov 01 – State of Emergency (Sons of Rico & Gyroscope DJs)
Fri Nov 02 – MODERN ARTillery (Sons of Rico & Gyroscope DJs)
Sat Nov 03 – TEIJTBR (Sons of Rico & Gyroscope DJs)
Sun Nov 04 – Roll On (The Growl & Gyroscope DJs)
Mon Nov 05 – The Living End – SOLD OUT (The Growl & Gyroscope DJs)
Tue Nov 06 – The Living End (The Novocains & Gyroscope DJs)
Wed Nov 07 – White Noise (The Novocains & Gyroscope DJs)
THE GOV – ADELAIDE SA
with support from AREA 7 & CITY RIOTS
PLUS special guest DJs The Beards & DANGEROUS!
Tickets via Oztix: thelivingend.oztix.com.au / 1300 762 545 / Oztix Outlets
Moshtix: moshtix.com.au / 1300 GET TIX / Moshtix Outlets
Venuetix: venuetix.com.au / 08 8225 8888
Sun Nov 11 – Roll On (Area 7 & The Beards DJs)
Mon Nov 12 – The Living End (Area 7 & The Beards DJs)
Tue Nov 13 – The Living End (Area 7 & The Beards DJs)
Wed Nov 14 – White Noise (City Riots & DANGEROUS! DJs)
Thu Nov 15 – State of Emergency (City Riots & DANGEROUS! DJs)
Fri Nov 16 – MODERN ARTillery (City Riots & DANGEROUS! DJs)
Sat Nov 17 – TEIJTBR (City Riots & DANGEROUS! DJs)
THE HI FI – SYDNEY NSW
with support from AREA 7, EVEN & CABINS
PLUS special guest DJ 2manyPJs (Phil Jamison from Grinspoon)
Tickets via Oztix: thelivingend.oztix.com.au / 1300 762 545 / Oztix Outlets
The HIFI Box Office / thehifi.com.au / 1300 843 443
Wed Nov 21 – White Noise (Even & 2manyPJs)
Thu Nov 22 – State of Emergency (Even & 2manyPJs)
Fri Nov 23 – MODERN ARTillery (Even & 2manyPJs)
Sat Nov 24 – TEIJTBR (Cabins & 2manyPJs)
Sun Nov 25 – Roll On (Cabins & 2manyPJs)
Mon Nov 26 – The Living End (Area 7 & 2manyPJs)
Tue Nov 27 – The Living End (Area 7 & 2manyPJs)
THE ZOO – BRISBANE QLD
with support from Ash Grunwald, The Medics,
Kingswood & Band of Frequencies
PLUS special guest DJ Hamish Rosser (Wolfmother, Ex-Vines)
Tickets via Oztix: thelivingend.oztix.com.au / 1300 762 545 / Oztix Outlets
Sat Dec 01 – TEIJTBR (Band of Frequencies & DJ Hamish Rosser)
Sun Dec 02 – Roll On (The Medics & DJ Hamish Rosser)
Mon Dec 03 – The Living End – SOLD OUT (The Medics & DJ Hamish Rosser)
Tue Dec 04 – The Living End – SOLD OUT (Ash Grunwald & DJ Hamish Rosser)
Wed Dec 05 – White Noise (Ash Grunwald & DJ Hamish Rosser)
Thu Dec 06 – State of Emergency (Ash Grunwald & DJ Hamish Rosser)
Fri Dec 07 – MODERN ARTillery (Kingswood & DJ Hamish Rosser)
THE CORNER HOTEL – MELBOURNE VIC
with support from Something for Kate, Ivy and The Big Apples, Area 7, The Meanies,
The Smith Street Band, Kingswood, Dave Larkin Band & Money for Rope
PLUS special guest DJ Cosmic Dolphin (Johnny from Children Collide)
Tickets via Oztix: thelivingend.oztix.com.au / 1300 762 545 / Oztix Outlets
The Corner Box Office / cornerhotel.com / 03 9427 9198
Tue Dec 11 – The Living End – SOLD OUT (The Meanies & Cosmic Dolphin)
Wed Dec 12 – White Noise – SOLD OUT (Kingswood & Cosmic Dolphin)
Thu Dec 13 – State of Emergency – SOLD OUT (Dave Larkin Band & Cosmic Dolphin)
Fri Dec 14 – MODERN ARTillery – SOLD OUT (Something for Kate & Cosmic Dolphin)
Sat Dec 15 – TEIJTBR – SOLD OUT (The Smith Street Band & Cosmic Dolphin)
Sun Dec 16 – Roll On – SOLD OUT (Money for Rope & Cosmic Dolphin)
Mon Dec 17 – The Living End – SOLD OUT (Area 7 & Cosmic Dolphin)
Thu Dec 20 – Roll On – EXTRA SHOW JUST ADDED (Area 7 & Cosmic Dolphin)
Fri Dec 21 – The Living End – SOLD OUT (Ivy and The Big Apples & Cosmic Dolphin)
Sat Dec 22 – The Living End – U18 DAYTIME SHOW JUST ADDED (The Smith Street Band & Cosmic Dolphin)
Sat Dec 22 – The Living End – SOLD OUT (Ivy and The Big Apples & Cosmic Dolphin)
thelivingend.com / facebook.com/thelivingend / twitter.com/thelivingendaus