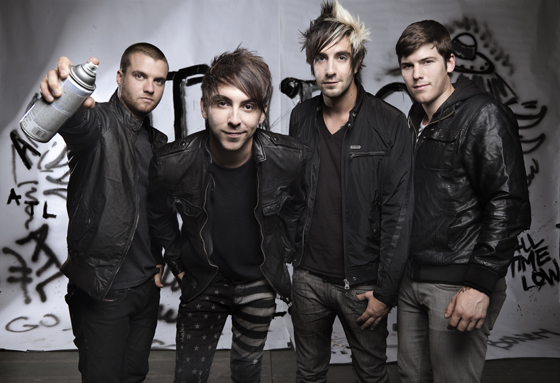 "So how would you describe 'Don't Panic' using just 5 words? – Best Record We've Made…ever."
Where I liken to where All Time Low are at here in 2012 is very similar to where a couple of my all time favourite three word pop punk bands have recently been at…those being New Found Glory and Bowling For Soup.  You see sometimes these bands are damned if they do and damned if they don't.  Feel compelled to try something a little different on an album because "critics" accuse for you being musically one dimensional, even though being just that has built you a massive following.  So you give the critics and labels what they want – an album which signifies "growth and diversity".  This then conversely annoys fans…and said critics and labels then abandon you and leave you high and dry.  Well, that pretty much sums up the last few years for All Time Low and after flirting with a more pop and dance oriented sound on their previous major label album Dirty Work, the guys have returned to a straight ahead, classic pop punk sound and delivered one absolute monster of an album with more hooks than a pirate ship and chorus's with more twists and turns than a rollercoaster.
Having the opportunity to interview the guys via email, of course I grabbed it, drummer Rian Dawson was the lucky person to answer the following hard hitting questions!
Hey guys, thanks for taking the time to do this interview for May The Rock Be With You!  So anticipating that you are completing this prior to October 12th when your new album Don't Panic is unleashed on the world, what have you guys got planned at this stage to celebrate it's release?
We have what most people would call a "stupid idea" planned for the release.  A few years ago when we released Nothing Personal, we decided to do three shows in three different states all within 24 hours.  So this time around, we decided to sort of play up that idea a little more and do three shows on three different continents in three days.  Like I said, some might call this idea "stupid".  We'll get through it though, hopefully still walking, because soon after we start our fall US tour.
So how would you describe 'Don't Panic' using just 5 words?
Best Record We've Made…ever.
You've got some bitchin' cover art to tie in with the album title Don't Panic, what's the background behind the Don't Panic title and art concept?
The album artwork was tied in completely with the title of the record.  After the (semi-botched) release of Dirty Work, critics/fans/cynics/most people seemed to be predicting the demise of the band.  Meanwhile, we were enjoying our most successful touring year we had ever had and having a great time while doing so.  All around us people seemed to be panicking about the imminent fate of our band, in fact it seemed to be everyone except for us.  The artwork is a play on that.  The world is ending around us in varying degrees of horror/awesomeness, and we are sort of blind to it all, enjoying ourselves while it happens.
How did the song writing take place for this album, was that something significantly different to the approach you have taken in the past?
The writing process of this record was more akin to what we did with our earlier releases such as Put Up or Shut Up and So Wrong, It's Right.  Instead of bouncing around the country over the course of a year, writing and recording with handfuls of producers and touring in between, we buckled down for a few months in L.A and completed the whole process with one producer.  This allowed us to focus all of our energy completely on the record, not thinking about setlists or what sort of production we would use on our upcoming tour.
We've picked out a few tracks – at the time of writing, we haven't heard the album yet, so we're going by the most awesome sounding songs by song title haha! Can you give us any comments and thoughts on these songs:
If These Sheets Were States – Very reminiscent of So Wrong, and a lot of our earlier music.  Fast tempo, catchy lyrics, fun as hell to play.
The Irony of Choking on a Lifesaver – Snarky commentary on longtime critics of our band, pop gem!
So Long, And Thanks For All The Booze – Perfect closeout for the record, filled with some angst that you can hear perfectly in Alex's vocal performance.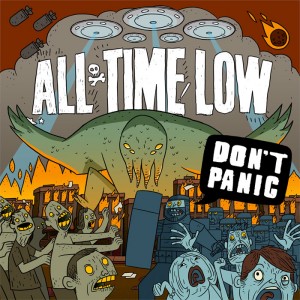 When you think back to the recording sessions for the album, what are some of the memories that most immediately come to mind?
We were convinced that For Baltimore was going to be a B-Side to the record. Alex and I went in to the studio to put some finishing touches on a few songs and he wanted to try a new melody for the chorus of Baltimore.  He recorded it, we moved on, and sort of forgot about it.  When we got the mixes back, we were floored by the new version of the chorus, and instantly fell in love.  Turned out not to be a B-Side, but instead one of the records singles.
You have a few people that make guest appearances – Jason Vena from Acceptance, Cassadee Pope from Hey Monday and Anthony Raneri of Bayside, where these people you specifically sought out, or more a case of being at the right place at the right time?
We sought out all of them, and are extremely thankful that they lent their talents for the record.  Lyrically speaking, Outlines is about leaving your mark on the music scene while you have the chance.  Jason was in an incredible band that permanently left their footprint on the genre while only releasing one record.  His voice was perfect for the song, and it was amazing to hear him recorded again.
Cassadee had always sung with us live whenever we toured with Hey Monday, and her voice meshes absolutely perfectly with Alex's.  So for the higher harmonies on this record, she was our first pick and it turned out amazing.
Anthony has one of the most recognizable voices I have ever heard and there is a certain rasp that belongs in a song like So Long Solider.  It is an unusual feature in that instead of singing a verse or a bridge like most featured artists, he sings the entire song with Alex.
What do you feel are the key elements of the All Time Low sound/songs that really connects with people – without necessarily revealing your secret herbs and spices of course haha?
I think we have become a band that people can relate to on all levels.  We are four normal dudes that have been fortunate enough to live our dream and people see that.  We aren't some rockstar gods that are untouchable by our fans, and we are very proud of that.  People tell us often that we have helped them through their darkest times, and made their best days even better.  This sort of connection is so important, and can never be taken for granted.
In 2011, Kerrang Magazine crowned you 'Best Live Band' – when crafting your live show and stage presence over the years, who or what have been some of the greatest influences?
That was a very proud moment for us. Although we don't take ourselves seriously what so ever, we take our live show seriously (the performance aspect, not the dick jokes.) We started a band largely influenced by The Mark Tom and Travis show, we loved that they had such a good time on stage, and why shouldn't they? We took this mentality to heart, knowing that we are unbelievably lucky to be in this position, so why not have fun with it? It makes it so easy for our fans to have a great time, knowing full well that we are having the time of our lives up on that stage.
Coming up in early 2013, you will be headed back to Australia, this time around to play Soundwave Festival.  It might be a bit premature to ask, but what can we maybe expect as part of your live show production this time around?  Is there a strong likelihood of you guys playing your own headline sideshows whilst you are out here?
It's too far out to know exactly what sort of production we will have on Soundwave, being that it's mostly provided by the festival itself.  We will almost certainly be playing some sort of sideshows while visiting you all down there!
Ok, so here's some unlimited space for any last words about Don't Panic or Soundwave 2013, maybe plug an endorsement, or share a little known fact or myth about a fellow band member..the choice is yours!
Thank you thank you thank you for listening for all of these years.  As long as you listen, we will keep writing and playing…and telling dick jokes.
Check out our review of Don't Panic…
Essential Information
From: Baltimore, USA
Band members: Alex Gaskarth, Jack Barakat, Rian Dawson, Zack Merrick
Website: www.alltimelow.com
Latest release: Don't Panic (October 12, 2012, Hopeless Records/We Are Unified).
Catch All Time Low at Soundwave Festival 2013…assuming you already have tickets, as it's sold out!
SATURDAY 23 FEBRUARY – BRISBANE – SOLD OUT
SUNDAY 24 FEBRUARY – SYDNEY – SOLD OUT
FRIDAY 1 MARCH – MELBOURNE – SOLD OUT
SATURDAY 2 MARCH – ADELAIDE 
– SOLD OUT
MONDAY 4 MARCH – PERTH – SOLD OUT