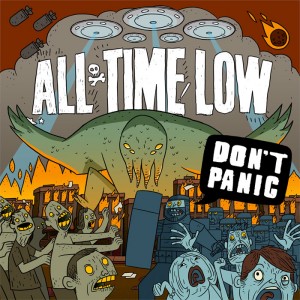 Where I liken to where All Time Low are at here in 2012 is very similar to where a couple of my all time favourite three word pop punk bands have recently been at…those being New Found Glory and Bowling For Soup.  You see sometimes these bands are damned if they do and damned if they don't.  Feel compelled to try something a little different on an album because "critics" accuse for you being musically one dimensional, even though being just that has built you a massive following.  So you give the critics and labels what they want – an album which signifies "growth and diversity".  This then conversely annoys fans…and said critics and labels then abandon you and leave you high and dry.  Well, that pretty much sums up the last few years for All Time Low and after flirting with a more pop and dance oriented sound on their previous major label album Dirty Work, the guys have returned to a straight ahead, classic pop punk sound and delivered one absolute monster of an album with more hooks than a pirate ship and chorus's with more twists and turns than a rollercoaster.
More focussed than past releases, you can attribute this to the band working with one producer, Mike Green, rather than multiple producers as they did on Dirty Work.  Likewise the song writing this time around is almost entirely handled by Alex Gaskarth, save for contributions from Mike Green and Fall Out Boy's Patrick Stump on Outlines – which I've gotta say really reminds me of that great Aussie pop rock band Taxiride.  Returning to label Hopeless Records is also significant and the experiences around the Dirty Work release have provided lyrical fuel on tracks such as So Long And Thanks For All The Booze "you gotta tear me down to set me free, gimme gimme my revelation, gimme back my scene, you've gotta let me be me".  Well don't panic fans, because Don't Panic sees All Time Low well and truly being themselves.
The album comes with a massive guitar crunch which definitely sees All Time Low at their musically heaviest – give So Long Soldier a listen and tell me that ain't god damn heavy.  Anthems, they deliver them in spades, I mean every single track is an anthem and a memorable one at that, there's no "every song sounding the same" syndrome on this album.  For those heading along to Soundwave 2013, learn the words to the likes of first single For Baltimore and The Reckless And The Brave both with their tinges of Green Day moments as I've, got a feeling these songs will go off like a bottlerocket at Festivals.  Elsewhere, Backseat Serenade has gotta be one of the best pop punk songs released this year…it's just that damn good and features backing vocals from Hey Monday's Cassadee Pope.  Somewhere In Neverland isn't far behind, which pretty much sounds like Hanson on steroids with its massive pop hooks, I love Hanson, so this is a good thing – just in case you were wondering?  All Time Low are certainly known for their song titles and the song title awards on this album go to If These Sheets Were States and The Irony Of Choking On A Lifesaver, the latter an ode to the "snakes hidden in my daffodils when I'm picking flowers…".  Haters, I think that means YOU!
Of course every album release is a band's greatest release ever and in our All Time Low interview which you can read by clicking right here….Rian Dawson will tell you exactly that about Don't Panic.  But you know what, I'll happily testify in a court of law that Don't Panic is indeed the greatest album that All Time Low have ever made.  Really, is there anything more left that I need to say?
Check out our interview with Rian Dawson….
Essential Information
For fans of: Pop punk at it's crunchiest and hookiest!
Release date: October 12th, 2012
Record label: Hopeless Records/We Are Unified
Website: www.alltimelow.com
Track listing:
1.            The Reckless and the Brave
2.            Backseat Serenade (featuring Cassadee Pope)
3.            If These Sheets Were States
4.            Somewhere in Neverland
5.            So Long, Soldier" (featuring Anthony Raneri and Cassadee Pope)
6.            The Irony of Choking on a Lifesaver
7.            To Live and Let Go
8.            Outlines" (featuring Jason Vena)
9.            Thanks to You
10.           For Baltimore
11.           Paint Your Wings
12.           So Long, and Thanks for All the Booze