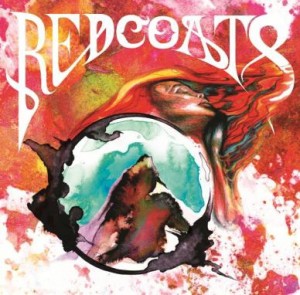 In 25 words or less: To me this is a fresh but classic rock sounding album and I dig it.
It is so awesome to hear this kind of sound coming from Australia, to me this is a fresh but classic rock sounding album and I dig it.  Redcoats out of Melbourne have released this, their debut self-titled album today and it's going to surprise some people given the chance…
From the opener 'Raven' I am hooked, musically this is exactly how this record should sound, it has that 70's style rock to it, but with singer Emilio's voice cutting through these grooves it suits the songs perfectly as he hits the higher register and if this opener is anything to go by, this will be a treat to listen to. The album has the ability to showcase the bands talents, case and point on 'Mr Young' which takes us through so many feels from a groove to a build and all out rocker.  These guys know how to put a song together, and with the assistance of producer extraordinaire Dave Schiffman, they have pretty much nailed it.
It's a song like 'House of Luna' though that realty stands out for me, this has that huge rock ballad feel and hits a stride that makes me want to turn out the lights, like a candle, burn some incense and enjoy it on repeat a few times, the general vibe of it just makes it one of the best tracks on the album. Newest single 'Evergreen' is as rock as Gibraltar and slays, I mean slays, this is a song that live would blow the roof off the place and for mine, I can't wait to hear it on their tour next month, at just under three minutes it packs a punch in the chorus that will have you pumping your fist in the air in no time.
Continuing on with 'One Hundred Seasons' and its kick ass outro and 'Serpent Charmer' with its slowed down mellow opening and smooth verses, we get to hear what this band is about, great grooves with some amazing sonic experiences.  Musically this band is on the money and as I mentioned before vocally, Emilio's voice couldn't suit this sound any better.
The closer on the album 'Mean Money' is to me what I think this band is all about, this is essentially an eight minute jam session, and what a jam it builds to, listening to it this track actually got me more pumped than pretty much the rest of the album, just to hear them play like this and not worry about having a track this long on an album is great.  Obviously the live environment will be the best place to hear these songs, so I'll make sure I'll be there to see them played and you should too if you get the chance.
There really is so much diversity on this album, there are shades of rock all over the place but the balances they have with the track arrangements, lyrics and even the placement of tracks on the album make it all fit into what you get, a damn good album.  I can't wait to hear more from Redcoats in the future.  Get into them now Australia as I have the feeling we may lose them overseas one day in the not so distant future…
Check out our Interview with Emilio Mercuri from Redcoats here…
Essential Information
From: Australia
For fans of: Classic Rock
Release date: 19 October 2012
Record label: Universal Music Australia
Producer: Dave Schiffman
Website: http://www.redcoatsmusic.com
Track listing:
Raven
Death of Ecstasy
Mr Young
House of Luna
Evergreen
One Hundred Seasons
Serpent Charmer
Running Games
Worlds Between
Mean Money