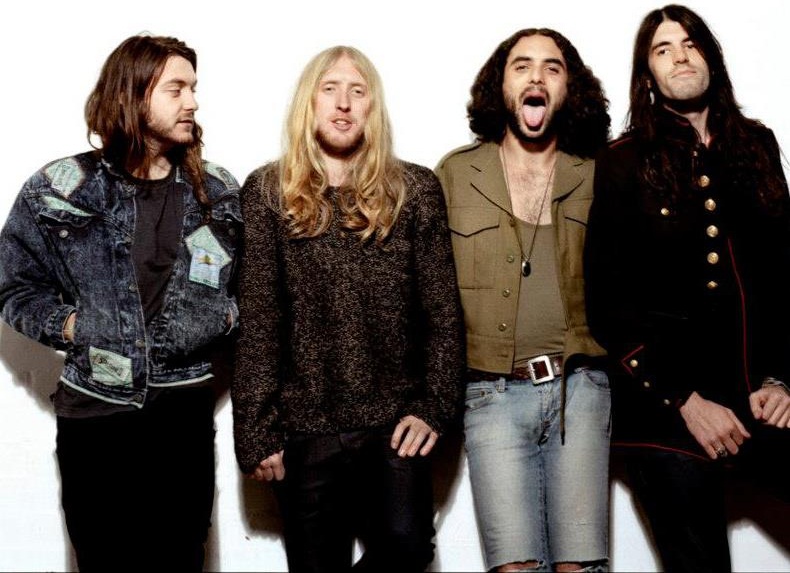 "I guess we really just want to achieve a strong bond with our crowd; we're going with the kind of means of slowly blowing air into a balloon and not having it pop too quickly and just letting it float up in the air for a while."
Having already played countless shows over the last few years building a now loyal fan base and having released an EP in 2011 when we then deemed Redcoats as one of our 'Best Things You've Never Heard', we now have their debut full length album being released today and it is a rocker! Armed with a completely modern yet classic rock sound, this self-titled album will most definitely open some ears and plenty of ears. This is rock and roll!
We chatted to Redcoats vocalist Emilio Mercuri about the creation of their debut album released today, the bands live show and their plans for the future…
The album drops today, for those that have never heard of you give us a little mini review here of what people can expect to hear.
Absolutely, its big classic guitar riffs, a very talented rhythm section who have been friends for a very long time and have a jerking synchronicity with one another I guess, and just stories about real life events that we've all gone through together and I guess our journey to this point anyway.
Song wise you talk about journeys but was there a specific inspiration behind what has ended up on the album?
There wasn't really a specific inspiration as such, it was more so I guess just gathering certain sparks from day to day life and finding inspiration in anything you can find really.  Anything that pops its head up and that we find interesting we usually take as a new muse.
How were the songs crafted for the album, was it a gradual period of writing since the EP release or was it more a case of let's head to the studio and see what happens?
No, we spent quite a while writing together, the four of us we write together and we tend to go away and just kind of isolate ourselves, and jam on an idea and a certain tangent and let it expand and then we just break it down in to smaller little pieces we enjoy and mould a song out of it.  It took us about a year and a half, two years to build up 30, 40 songs that we were really happy with, then a few weeks before we went into the actual studio we started culling down songs and figured out which 10 we wanted to give away with the LP.
How did you go in to the recording process of this record compared to your EP from last year?
I guess so, it was a bit more of a bigger ballgame this time around for us, with the EP we did it in a much smaller environment, with someone that had worked a lot of amazing artists, but I guess within a different kind of realm to the producer we had this time who was Dave Schiffman from LA, he came down and we really operated well together and he kind of just bought the best out of us.  We lived on the campus where the studio was this time and we spent a little bit more time and we just had a bit more freedom in experimenting.
Was Dave Schiffman able to bring something to the table that you may not have considered doing?
Definitely he did, he brought a knowledge that has obviously spanned across 30 – 40 years in the industry and we're all in our early twenties and we would've been naïve to not listen to the things he had to say and we definitely worked as sponges in trying to comprehend some of the different perceptions of things that he had.  In saying that I think his role was just to nourish our ideas and bring them a certain level that we knew we could achieve but we just needed that sort of boost in moral and just boost in general knowledge on the way things can work.  It was a great experience.
What I love about the album is the fact that it sounds like updated classic rock if you get my drift, it's a massive wall of sound, was it an exercise to get the band to exactly how you sonically wanted it to sound?
We play a lot together, this is our day to day life and we just wanted to try and replicate a live show, get it as live as possible so the listener was almost feeling as though they were in the room with us.  It was in the front of our mind to try and engage the listener like that and have a big wall of sound like they're watching us live but obviously embellish in part that we could, so I guess so, yes.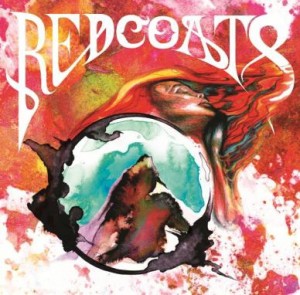 Did you record in the studio live?
We did, we did as much of it live as we could and obviously we were up there for about three weeks and there were a lot of parts that stayed within the recording live and then Neil and I, Neil who plays guitar, we went over there and overdubbed a whole bunch on things we wanted to I guess perfect in a different kind of sense, same as Rhys, we just had a little more time to not polish things up but get them the way we had them in our heads.
So, what was the most rewarding aspect of putting the album together, just finally having it done?
Absolutely man, we like the theory of constantly moving forward to bigger and better things and its always a case that the next thing we write together and the next thing we record together is better than the last, so we didn't want to dwell on it for too long and I guess become too involved with it this time around in the sense that we probably spent too much time on it, so there's always that risk that we found anyway, recording like that, you get 'demoitis' and just want to repair things that don't need repairing.  I guess the most rewarding part of it all was getting it finished but also absorbing a whole new spectrum of knowledge that we were never privy before.
You're heading out for some shows in November, for those that haven't seen you perform live before, run us through what a typical Redcoats gig is like…
Well this is the first time we'll be doing our own headlining gigs I guess, more than a couple of gigs around Australia so we're pretty excited to be able to indulge in our live set and not try an, not that we consciously do, but not try and mould it for a support slot and try and capture a crowd that's not necessarily there to see you.  So we're really looking forward to playing to people who are coming to see us and offering them things we wouldn't normally get the opportunity to in other forms, so just a big live cohesive set with the raw energy we've tried to generate the whole time we've been performing, that's our playground I guess, the live stage that's where we really get to let out everything and let out every sort of emotion we've got and try and connect with the crowd.
One of my favourite tracks from the album 'Mean Money' which is the one with the approximately 48 minute instrumental break, yeah?  Can you give us a story behind that one?
(laughs) Yeah, Mean Money, like we've always said, we mould songs from jams, they all go for anywhere between ten minutes and an hour at their most primitive point and we felt as though it was necessary to let people hear that part of us and just obtain that knowledge through the album and a necessary part of our process.  Lyrically it's about getting a little aggravated consciously in the way people take from the Earth and the way in which people perceive wealth and success and something tangible and golden that they can hold in their hands and put on their mantle pieces, but to us it's something a little more internal and something a little bit more lucid in which its more so the connections in your natural environment and connections with people around you that are what really weigh up to be actual success and actual wealth.  I guess it was just a note to leave people on at the end of the album and open new doors as to what's coming in the next releases.
When will that be do you think?
We are working on it at the moment actually, we've been in the studio getting the set ready for the tour and a whole bunch of songs have just come up naturally that we're really excited about, it's really taking shape.
Any plans to take this internationally?
Absolutely, there's always plans but as you know things change along the way on a day to day kind of reality, so I guess we really take pride in offering our stuff to our home country and earning our stripes I guess and not going over anywhere prematurely.  We're pretty happy bunkering down here for another six months, twelve months to offer it to anyone who's watched us for the past five years and then we'll definitely take it over to new territories.
Let's look ahead to 2013 – what would you love achieve in the next year?
I guess we really just want to achieve a strong bond with our crowd; we're going with the kind of means of slowly blowing air into a balloon and not having it pop too quickly and just letting it float up in the air for a while, we really want the people that come to our shows to enjoy it and come again with their friends and get to know them on a deeper level than just floating through every twelve months and playing their biggest venue in their city and then pissing off again.  I guess it's something that we're trying to focus which is actually getting to know the people who are trying to get to know us.
CATCH THE REDCOATS WHO'S ROLLIN' ALBUM LAUNCH TOUR
Presented by Street Press Australian and Faster Louder
8 November             Karova Lounge – Ballarat, VIC
9 November             The Bended Elbow – Geelong, VIC
10 November           Ding Dong Lounge – Melbourne, VIC
15 November           Star Bar – Bendigo, VIC
16 November           Whalers Hotel – Warrnambool, VIC
17 November           Jive Bar – Adelaide, SA
22 November           Alhambra Lounge – Brisbane, QLD
23 November           Great Northern Hotel – Byron Bay, NSW
24 November           Spotted Cow – Toowoomba, QLD
29 November           Great Northern Hotel – Newcastle, NSW
30 November           Annandale Hotel – Sydney, NSW
1 December             Transit Bar – Canberra, ACT
Essential Information
From: Melbourne, Victoria, Australia
Band members: Emilio Mercuri – Vocals, Andrew Braidner – Drums, Rhys Kelly – Bass, Neil Wilkinson – Guitars
Website: http://www.redcoatsmusic.com
Latest release: Redcoats (Universal Music Australia)
Check out our review of Recoats' debut album here…
Check out our original chat with Redcoats here…