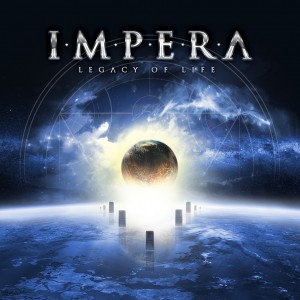 Calling Impera a "supergroup" may be taking things just a little too far, but for those with their ears and eyes firmly entrenched in the European hard rock scene, that you can rightfully dispute.  Impera is the brainchild of drummer J.K Impera (Bruce Kulick, Graham Bonnet and John Corabi), on vocals there's Matti Alfonzetti (Jagged Edge, solo), guitarist Tommy Denander is basically the Steve Lukather of Sweden and on bass, Mats Vassfjord may be known to some of you with Grand Design and Laneys Legion.
Ok, so introductions out of the way, musically, what is Impera all about?  Well straight up, it's crunchy European styled melodic hard rock.  There's no ballads, nor any keyboards to be heard, just a concoction of hard edged rock.  Impera don't exactly deliver anything you haven't heard before, if you love something like the first Hardline album, then that's a good reference point for the song style Impera are shooting for.  Turn My Heart To Stone and Kiss Of Death open up the album in cracking style and set the scene for the 10 tracks.  Impera border on heavier moments on tracks like More Than Meets The Eye and Shoot Me Down, with Tommy Denander well and truly unleashing with a bucketload of guitar fury.  The performance of Matti Alfonzetti is by far the highlight of Legacy Of Life, I could listen to his vocals all day, every day.  Interestingly, JK Impera indicated that the vocalist of choice originally for this release was John Corabi, which certainly would have brought an intriguing, grittier sound to the songs – but for mine, the songs work just fine with Alfonzetti.
Given the background of those involved, Legacy Of Life is an album that is bound to get some decent exposure in the melodic rock world.  Whilst the album doesn't deliver anything particularly awe-inspiring, anyone with a love for European styled crunchy melodic rock should lap this up.
Essential Information
For fans of: Crunchy melodic hard rock
Release date: October 19th, 2012
Label: Escape Music
Website: www.escape-music.com
Track listing:
01.            Turn My Heart To Stone
02.            Kiss Of Death
03.            Break The Law
04.            Shoot Me Down
05.            Sunset Rider
06.            Tell Me
07.            More Than Meets The Eye
08.            Is This Love
09.            Show Me The Money
10.            Deadend Street