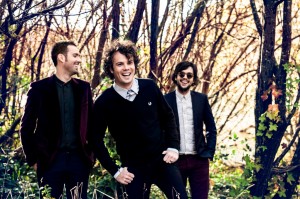 WEDNESDAY OCTOBER 10, 2012 – On the eve of the release of the band's fourth album 'Follow The Sun', EVERMORE are thrilled to be joining MATCHBOX TWENTY, and very special guests INXS, on their national tour of Australia*.
Evermore's journey from three home-schooled brothers in country New Zealand to Australian chart toppers is the stuff of indierock folklore. The band have released a string of anthems about youth, love and lament from 'It's Too Late' to 'Lights Surrounding You' and the mega hit 'Hey Boys and Girls'.
Their new album 'Follow The Sun' – home to the single of the same name – is self-recorded, produced, mixed and released, and in-stores this Friday. It is the band's most accomplished effort to date – sitting somewhere between early U2 and Simple Minds expansiveness, bluesy late Beatles jams and driving 70's folk, all connected by a mesh of hopeful, engaging lyrics. It evokes a sense of grandeur: youthful energy, indomitable spirit and a constant yearning for human connection.
There is something kinetic about the brothers Hume, and their songs reflect just that, heart-stopping velocity captured in a freeze frame. A packed arena with the volume up high is the ideal environment to see and hear Evermore.
October 2012 marks the highly anticipated return of MATCHBOX TWENTY, heading south for their first Australian dates since 2008, following the release of their fourth full-length studio album 'North'.
In their sixth Australian tour, Matchbox Twenty headline arenas around the country, as well as playing a special open air show at Hope Estate in the Hunter Valley.
Matchbox Twenty will be joined on tour by great friends and Aussie legends INXS, touring with their new lead vocalist Ciaran Gribbin and performing their own greatest hits heavy hour long set, as they celebrate the 25th anniversary of the release of their classic 'KICK' album.
Expect to hear all the hits, classics and more when Matchbox Twenty, with special guests INXS, and guests Evermore, take to the stage this October.
MELBOURNE ROD LAVER ARENA SATURDAY OCTOBER 20
MELBOURNE ROD LAVER ARENA SUNDAY OCTOBER 21 2nd & final show!
CANBERRA AIS ARENA THURSDAY OCTOBER 25
BRISBANE ENTERTAINMENT CENTRE SATURDAY OCTOBER 27
BRISBANE ENTERTAINMENT CENTRE SUNDAY OCTOBER 28 2nd & final show!
SYDNEY ENTERTAINMENT CENTRE TUESDAY OCTOBER 30
SYDNEY ENTERTAINMENT CENTRE WEDNESDAY OCTOBER 31 2nd & final show!
HUNTER VALLEY HOPE ESTATE SATURDAY NOVEMBER 3
WOLLONGONG* WIN ENTERTAINMENT CENTRE TUESDAY NOVEMBER 6 *Evermore not performing
ADELAIDE ENTERTAINMENT CENTRE THURSDAY NOVEMBER 8
PERTH PERTH ARENA SUNDAY NOVEMBER 11
TICKETS ON SALE NOW
For complete tour and ticket information, visit:
www.matchboxtwenty.com, www.inxs.com, www.evermoreband.com or www.livenation.com.au