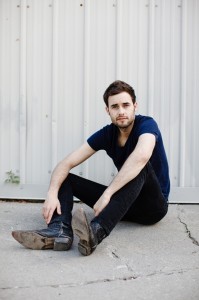 TIM CHAISSON DELIVERS NEW ALBUM 'THE OTHER SIDE' – Australian release via ABC Music, 21st September
Fans of golden-voiced Canadian singer-songwriter Tim Chaisson will be happy to hear that the young performer is releasing a brand new album (his fifth) onSeptember 21st.  Following up 2009's Broken HeartedBeat, Chaisson's new album The Other Side, promises to deliver an intimate and heartfelt listeningexperience, one that Chaisson has already become well known for in his homeland.
Recorded at Woodshed Studio under the guidance of producer Colin Linden (Bruce Cockburn, Blackie& the Rodeo Kings, Lucinda Williams), The Other Side blends Maritime roots and folk music with a lush yet minimal arrangement. Holding the albumtogether is Tim Chaisson's warm, welcoming vocals and beautiful guitar melodies.
The album's lead single, 'Beat This Heart', a duet with the critically acclaimed singer-songwriter Serena Ryder, impacts media this week, with the video scheduled for 17th September.  A further treat for local fans is the addition of the track 'Too High', a collaboration with Sydney-based blues singer, songwriter and guitarist Ray Beadle, a gentle, melodic journey perfectly blending the different styles of the two artists.
Chaisson's star is on the rise.  Strong performances at Canadian Music Week 2012, a slew of tour dates across Canada and two highlyregarded Australian tours in the last 10 months, have had fans coming in droves, and a return to our shores late this year in support of The Other Side will ensure Tim Chaisson continues to win new Aussie fans.
WATCH Tim Chaisson perform 2 new songs from 'The Other Side'
http://www.southernsouls.ca/tim-chaisson/
New single 'Beat This Heart' at radio NOW
Album 'The Other Side' released 21st September via ABC Music