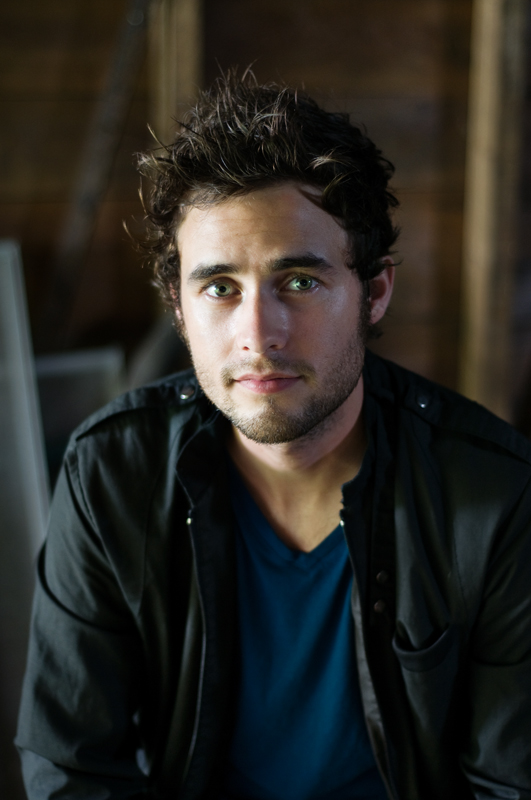 From Bio:  With three solo albums under his belt and the independent musical gem 'Broken Hearted Beat' with his band Morning Fold, Chaisson is on a fast rise to dominating his genre. A quick glimpse of his achievements over the past two years reveals an enviable onslaught of accolades: a performance at the 2010 Winter Olympics, awards for Songwriter of the Year, Entertainer of the Year, Pop Recording of the Year and Group of the Year and a nomination for the East Coast Music Awards' 2010 Pop Recording of the Year.
In Australia on his first trip here, minus his band Morning Fold, Tim Chaisson is here to showcase songs from his awesome new album 'Broken Hearted Beat' which has just been released here in Australia, while here he has been playing solo acoustic shows with Shannon Noll and The Trews and will also step out and play some of his own shows including the Sydney Blues & Roots Festival where he is sure to blow the crowd away.  At 25 years old and with close to 10 years in the business, he is one of the Best Things We've Never Heard so we wanted to share his music with you all.  Tim took the chance to talk to us about his music and future plans, his musical upringing and how much he already loves Australia.
We give you Tim Chaisson…
You're in Australia to release your newest album, with it already being out for quite some time in Canada why was now the right time to bring it to us in Australia?
Well I think the timing just kind of matched up well and I honestly didn't think I'd be here as soon as I came because I met Geoff Trio and Josh Daly of the Harbour Agency just a few months ago at a conference and festival in Canada and they just saw me play with my band and thought that it'd be kind of a cool fit to come to Australia, so we just decided to get it going as quick as we could and a few months later I'm down here, so it just worked out well.  And releasing the album as well through ABC Music and Universal came about in the last few months so yeah, I guess that's the story.
You've been here supporting Shannon Noll as well as doing some shows with The Trews, how has the reaction been so far?
Pretty good I think, there's been a lot of people at the shows and a lot of music lovers.  The shows with Shannon have been awesome, he has a lot of big fans here in Australia I see and tend to be pretty fair and playing for them they seem to appreciate what I do and especially doing all the shows solo, it's a little bit different to playing with the band, so yeah, it's ben great.  A lot of cool people here and music lovers.
How different is it playing as a solo artist than having your band there behind you?
Yeah its way different, it's kind of funny, you know you have to pick up your socks a bit whenever you go out there for a month by yourself and when you're used to playing with one other guy or three other guys so it's definitely a different dynamic on stage and I do enjoy it.  That's how I started off, just playing up on stage by myself, but yeah, you don't get to play off anybody on stage which is kind of somewhat of a downfall I find, you know, having fun up there with somebody else, but just more interaction with the crowd and stuff like that but it's been going great so far.
I notice you had John Angus from The Trews get up with you at the Basement in Sydney the other night which was great
That's right, yeah, I'm sad, they just left yesterday, I wish he could've stuck around and played all the shows with me.
Your music you could say is based on very traditional music, is that something you grew up on or did that just develop as you grew into your musical body so to speak?
No I definitely grew up on the Celtic music, it goes back many generations in my family, my Grandfather was a fiddler and my Dad and my Uncles, and I have a really large family so the music was really strong, with the folk and the traditional music and as we kind of grew up we listened to different styles of music as well.  You know you listen to what's on the radio and you listen to what your peers are listening to and whatever music your parents listen to, it was really broad growing up as well too so I think and a transition into song writing was, I didn't really think about it, it just kind of happened, you know keeping the traditional roots and also doing the song writing, maybe in little more of a contemporary style seemed to fit I guess. Yeah so just kind of keeping up both of them.
Who would you sight as some of your major influences?
I don't know, I'm not really sure about any one in particular, I listen to so many different things and so many different artists, in any genre of music I think I have somebody that stands out or a few bands that stand out, but I think on the East Coast growing up there and almost being secluded to being on the East Coast, I listened to a lot of acts from there.  A lot of folk acts and a lot of rock acts from there, so, just a lot of different bands I guess you could say, you know, like Tom Petty is one of my biggest influences for sure and I don't know if you've heard of Stan Rogers, or The Rankin Family, or any East Coast artists, they're definitely a huge influence on me as well.
Was music always what you were destined to do?
I think, it was the only think that I was kind of good at so I loved it and to go out in to a career with it over the last few years has been pretty cool.
This being your first time to Australia, were you given any pointers by anyone of what to expect?
Well, I talked to The Trews guys a little bit because they had been here before, but not really, they just said the people are cool and very laid back and the weather is beautiful.  Yeah I had friends that were here before too and they didn't want to go home, they loved it here, so I definitely was  excited to come.  But as far as the music and the venues and stuff like that go it was just a matter of going in to it and taking it all as it comes.
Have you hit up any other territories or do you have plans to?
Yeah I've done in and around the Sydney area and I went to Cessnock the other night, this week I'm going to Adelaide and Melbourne and Brisbane, so I'm excited to travel a little around the country and then I'll be back in Sydney for the Blues & Roots festival and another show at the Brass Monkey.
What about outside of Canada, have you done the States at all?
Yeah I've done a little bit of stuff in the States but not a whole lot, I've been travelling mostly back and forth across Canada the last little bit, so it is nice to be able to travel to another country to see how it goes here and hopefully I'll be back again.
You should go Nashville, they would love you…
Yeah I went to Nashville just two months ago to write with some people down there and I loved it, I absolutely loved it.
What I noticed is that you have somewhat of a Keith Urban sound as well, which relates to us here…
Yeah I hear that quite a bit and I know that he's from Australia and it's funny because I think Keith Urban is really talented but I never really listen to his music until someone had mentioned to me that I sound like him, so I don't know where that came from I'm not sure but he's very talented he's awesome, he's really good and I do get that quite often actually ha ha.
You mentioned before that you're also part of the Sydney Blues & Roots festival at the end of this month, for those that haven't had a chance to catch you yet, what can people expect from a Tim Chaisson show?
Well since I'm here solo, I have an acoustic guitar and a mandolin and a fiddle, so I'll be playing my original songs, they're more acoustic based and I'm also going to play a few fiddle tunes to just kind of show Australia what the East Coast of Canada is like, so yeah that's what you can kind of expect.
You've already released 3 solo albums before and this newest with your band Morning Fold, how do you go into a band album compared to a solo record?
Well for the last record that I made before this Morning Fold record, I played all the instruments on it and I produced it and wrote everything myself, and with this one I co-wrote and I had my band play the instruments on it and I also hired a producer for it too so it was just more of a sharing process and it was really a learning process too cause whenever you make a record by yourself you're kind of like straight ahead in what you're doing but to have all these influences that are going on around you and having all these other people's input really takes songs in a different direction that you never would've done by yourself.  It was awesome, it was really cool and I plan on doing the next record like that as well.
Have you been working on new material and can we expect a new album soon?
Yeah I have a bunch of new stuff and we're going to record in the new year, so in the next few months we're going to get back in the studio and have something released for the Summer of 2012.
And are you planning to bring the band back with you next time?
I hope so, that's my goal.
In Canada though, you're quite the celebrity, with awards left, right and centre as well as appearances at places like the Winter Olympics, do you have a highlight over your career so far that you can share with us?
Well there's a few different things that stand out.  I know that playing in Canada and going on tour with The Trews, because The Trews are one of the biggest bands in Canada right now and playing for their sold out crowds every night was definitely a highlight.  Then playing at the Olympics as well was awesome because all those shows were sold out too and people from all around the world were there.  Those two kind of stick out to me, but all of the shows that we've been doing lately, everyone is setting a new bar for the level that we'd like to get to, it's been great in Canada and I'm going on tour as soon as I get back home.
Lastly, what does 2012 hold for you do you have any big plans?
Yeah well making a new record is high on the list and releasing it before the Summer, and just more touring and as soon as I get home I'm touring the Western part of Canada and in the New Year we'll be doing probably in between the record we'll be doing more shows in Central Canada and Eastern Canada as well too and then hopefully another trip to Australia before too long.
Essential Information
From: Prince Edward Island, Canada
Sounds like: Acoustic Folk Rock
Website: www.timchaisson.com
Latest release: Broken Hearted Beat (2011 – ABC Music / Universal Music Australia)
Check him out if you like: A Tom Petty, Keith Urban kind of vibe
Catch Tim Chaisson on his remaining Australian tour dates
Wednesday 19th October: Wheatsheaf Hotel – Adelaide (SA) – Solo
Ph: (08) 8443 4546 www.wheatsheafhotel.com.au Tickets: www.oztix.com.au

Thursday 20th October: The Governor Hindmarsh, Adelaide – With Shannon Noll
Tickets: www.thegov.com.au / 03 8340 0744
Friday 21st October: Castle Hill RSL, Castle Hill – With Shannon Noll
Charity event – Lyceum Room – special 20 minute acoustic set
Booking & Information: datscakes@netspace.net.au or russell@pes.com.au
Saturday 22nd October: The Tempo Hotel, Brisbane – With Shannon Noll
Tickets:  www.oztix.com.au or 1300 762 545 – *Venue: 07 3252 4344
Tuesday 25th October: The Brass Monkey – Cronulla (NSW) – Solo
(02) 9544 3844 or www.oztix.com.au or www.brassmonkey.com.au
Friday 28th October: Trak, Melbourne – With Shannon Noll
Tickets: www.ticketmaster.com.au / 136 100
Saturday 29th October: Sydney Blues & Roots Festival – Windsor (NSW) – Solo
www.sydneybluesfestival.com.au
Sunday 30th October: Sydney Blues & Roots Festival – Windsor (NSW) – Solo
www.sydneybluesfestival.com.au