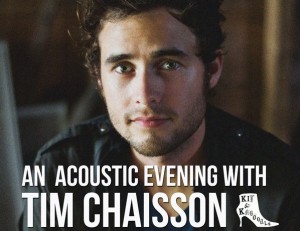 Sydney music fans, we know it's only a few days away but we've just been given 3 double passes to see a showcase by Tim Chaisson in Sydney on Wednesday night at Kit & Kaboodle in Kings Cross.  This will be a very special, rare opportunity to see Tim showcase music from his newest album 'Broken Hearted Beat' to a select few in this small Sydney venue.
All you have to do is send us an email with your details and the subject line of 'Tim Chaisson Giveaway', simple as that, click here to do so mtrbwy@maytherockbewithyou.com and we will notify you via email if you are one of our winners.
It begins at 6:30pm so please only enter if you can attend.
Entries Open: Sunday 23rd Rocktober
Entries Close: Tuesday 25th Rocktober
Check out our interview with Tim here…