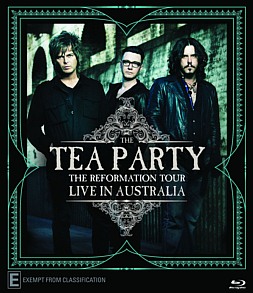 From November 7 The Tea Party: Live in Australia will be available for lovers of epic rock on Blu-ray and DVD.
Since the Canadian three piece exploded onto the scene in the early-'90s the Tea Party has pursued a singular epic sound melding middle-eastern influences with cacophonous power for what has become widely dubbed as Moroccan Roll. After a brief breakup in 2005 the band has reformed for an historic tour of Australia which culminates in this supreme two hour set.
The Tea Party: Live in Australia comprises the band's greatest hits including "The River, "Sister Awake," "The Bazaar," "Save Me", "Temptation," "Fire in the Head," "The Requiem," "Winter Solstice," "Psychopomp," "Shadows of Mountainside," "Lullaby" and "The Messenger."
The original members Jeff Martin, Stuart Chatwood and Jeff Burrows have an expansive and diehard fanbase here in Australia having played several sold out tours across the country.
The Tea Party: Live in Australia
Synopsis: The Canadian powerhouse return to our shores for this blistering reunion show recording in front of their adoring fans.
Rating: E
Running time: 140 mins
Aspect ratio: 16:9
Sound: 5.1 DTS
DVD available to buy for $24.94.  BLU RAY for $29.95
Check out our recent interview with Jeff Martin and Stuart Chatwood right here…