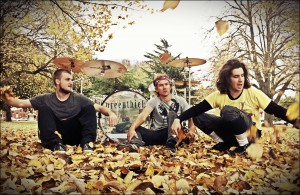 GREENTHIEF ANNOUNCE FIRST NATIONAL HEADLINE TOUR
In support of releasing their new single, 'Mr Number 1' , hard-hi t t ing Br isbane rockers Greenthief will be bringing their unique blend of psychedelic audio mayhem to all corners of the country with their first national headline tour. The track is the first taste of their debut album to be released in 2013, which sees Greenthief back in the studio with aria winning producer Steve James (Sex Pistols, The Jam) Previous EP 'Retribution' was received graciously across the country last year, earning the band a finalist spot in the Queensland Music Awards and an inclusion in Rage's Top 50 video clips of the year. Youth radio broadcasters triple j showed strong support for standout tracks 'Vultures' and 'Salad Days' before showcasing Greenthief as a featured artist on Unearthed.
So far 2012 has been a massive year for the band, with them recently completing a 23-date national tour in support of Australian rock legends 'The Butterfly Effect' playing to sold out venues across the country (April/May/June). With a swag of definitive tour and release plans lined-up for the remainder of the year, now is the time to become acquainted with one of Australia's most engaging alt-rock bands. 'Mr Number 1' will be released 10th August.
"If big riffing acts like Muse and Silversun Pickups appeal, check these guys out." – Richard Kingsmill, Triple J
"'Retribution' has the power to make lesser bands just give up for good, believe it." – Uber Rock (United Kingdom)
"Without doubt a band that I think we shall be hearing a lot more of in 2012…." – May The Rock Be With You (Hey that's us!)
Check out our 'Best Thing You've Never Heard' feature on Greenthief here…
'MR NUMBER 1' NATIONAL AUSTRALIAN TOUR 2012
5th September 2012
NEWCASTLE, Cambridge Hotel – NSW
6th September 2012
WOLLONGONG, Yours & Owls – NSW
7th September 2012
SYDNEY, Lansdowne Hotel – NSW
8th September 2012
SYDNEY, Bald Faced Stag – NSW
21st September 2012
ADELAIDE, Ed Castle – SA
22nd September 2012
MELBOURNE, Pony Bar – VIC
28th September 2012
BRISBANE, Tempo Hotel – QLD
29th September 2012
TOOWOOMBA, Irish Club – QLD
26th October 2012
PERTH, The Rocketroom – WA
27th October 2012
BUNBURY, Prince of Wales – WA
28th October 2012
FREMANTLE, The Newport – WA