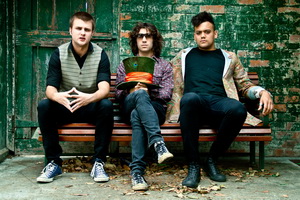 If big riffing acts like Muse and Silversun Pickups appeal, check these guys out. – Richard Kingsmill (Triple J)
Greenthief is a 3-piece alternative rock band hailing from Brisbane and only 3 years young, the band have not wasted any time spreading their word and music up and down the East coast of Australia crashing the indie scene with a unique blend of psychedelic rock. Through constantly playing live shows, the band has broken sound barriers and state lines while enchanting audiences with a sound akin to a lovechild of Jeff Buckley and Trent Reznor.
In early 2011, Greenthief went into world renowned Rockinghorse Studio (Byron Bay) and recorded their brand spanking new EP with aria winning British producer Steve James (Sex Pistols, The Jam). The EP was mastered by Tim Young of the Metropolis Mastering Group (Bjork, Placebo).
The new EP has already resulted in Greenthief being selected as the Triple J unearthed featured artists with single Vultures being selected as a finalist in the Queensland Music Awards.
There is no slowing down for the band which sees them embarking on their third east coast of Australia for 2011 in support of their new film clip for single: Vultures.
We got Julian from Greenthief to introduce the band and chat about the bands new EP…
Let's start with the basics first – what brought the band together and what is the inspiration behind the band name?
I was originally a drummer in several bands. After years of bringing songs to the table that consistently got rejected I began Greenthief (playing guitar and singing).
I've collected band names for many years and Greenthief just stood out.
You have twenty seconds in an elevator to try and convince someone to listen to your music, what do you tell them?
First I ask them their influences and then describe Greenthief to them as being a mixture of the bands they mentioned…
Can you introduce each member of your band and give us a rock "n" roll fact or myth about each of them?
Tom Abbott (bass) – For some reason Newcastle is a lucky city for Mr Tom Abbott…
Steve Tyssen (drums) – Steve has a YouTube video of him covering Immigrant Song by Led Zeppelin on YouTube with over 50 000 views – fact.
You recently completed recording your EP, how would you describe both the experience of recording and musically what we can expect to hear on the EP?
Myself and the old bass player (Gwen Warnick) recorded the EP with Steve James down in Byron Bay (Rocking Horse Studios). The recording process went great and we managed to smash it out over a weekend in the lush surroundings of northern NSW. There wasn't too much space for experimenting (due to budget constraints) but we had a clear idea of what we wanted prior to recording was I think delivered great results.
Steve did an awesome job pulling massive tones and as a result the EP is quite a heavy one. There is also a psychedelic aspect to the EP which can be heard on our last track on the EP – Mayan Dawn which goes for around 9 minutes. I guess you could describe the sound as Tool meets Radiohead. The EP was mixed by Steve and Sam Hannan in Melbourne and then mastered in London by Tim Young
In terms of your songwriting, what do you consider to be the most important ingredients that make up a Greenthief song?
Can I say everything? I definitely think every part goes through a big scrutiny process to make the song something we are really proud of. I take a long time with structures as I really try experiment with every possibility in the pre production stage. I like to think there isn't really one element that makes up a Greenthief song as we are always trying to make the next song different to the last one, but we do like a massive drum sound!
Is the process of songwriting a whole of band affair, or do you have a few key contributors?
I do most of the writing myself then bring the ideas to the jam room either completed or semi completed. In the case of the last EP I played all the instruments minus the bass.
What or who inspires/influences your music the most?
This would be bands that have created their own sound/world through their music and imagery. These would also be our favourite bands including: Tool, RATM, The Mars Volta, Radiohead, Jeff Buckley, QOTSA, Nine Inch Nails, Pink Floyd and Led Zeppelin.
What bands did you grow up listening to and how did they help create the style of music that can now be heard throughout your music?
(bands above + The Beatles).  I would like to think that seeing Greenthief live takes you on a journey rather than hearing a collection of songs. This would definitely be influenced from what was going on in England during the 70's with bands such as Led Zeppelin and Pink Floyd. The music can be really intense but at the same time there is a sense of fragility to the sound.
What kind of movie do you think your music would be best suited to and why?
The Lion King. Epic, tough and nurturing.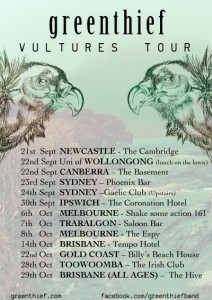 You are about to embark on your Vultures Tour which is taking you around the country. What can we expect from one of your live shows on this tour?
We like to get the audience together before the show and conduct a large group therapy hug before commencing into a loud energetic set. You have been warned…
For those reading this in galaxies far, far away, what do you have to say about the Brisbane rock music scene at the moment?
The Brisbane rock scene is rocking like the death star at the moment. There are so many great bands including the new outfit with Princess Leia and Chewbacca's new band as well as Han's solo band doing quite well. In saying this, we're planning on hopping onto the Mon Calamari cruiser and moving to Melbourne at the end of the year. Sorry, I couldn't resist!
With 2011 already over half over, but still plenty of time to be conquered…here's a chance to gaze into your crystal ball. In 2011, Greenthief will have:
1. Many new songs.
2. A new single.
3. Another run of dates.
We hope!
Essential Information
From: Brisbane, Australia
Sounds like: Alternative rock
Band members: Julian Schweitzer, Tom Abbott, Steve Tyssen *Jaryd Miles – live sound
Website: www.greenthief.com
Latest release: Vultures EP (2011)
"Vulture" Tour dates:
21st Sept NEWCASTLE – The Cambridge
22nd Sept Uni of WOLLONGONG (lunchtime show)
22nd Sept CANBERRA – The Basement
23rd Sept SYDNEY – Phoenix Bar
24th Sept SYDNEY –Gaelic Club (Upstairs)
30th Sept IPSWICH – The Coronation Hotel
6th Oct MELBOURNE – Shake some action at 161
7th Oct TRARALGON – Saloon Bar
8th Oct MELBOURNE – The Espy (The Basement)
14th Oct BRISBANE – Tempo Hotel
28th Oct GOLD COAST – Billy's Beach House
28th Oct TOOWOOMBA – The Irish Club
29th Oct BRISBANE ALL AGES – The Hive (valley PCYC)