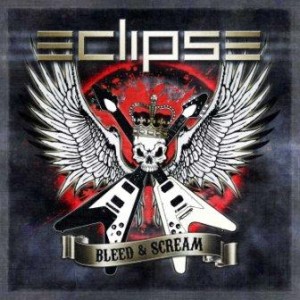 In 25 words or less: "A Top 10 album of the year…yep, I think this one will make the list without question!"
Swedish hard rockers Eclipse are set to unleash upon the world today (August 24th which is when I write this) their highly anticipated new album Bleed and Scream, which follows on from their killer 2008 release Are You Ready To Rock.  Bleed and Scream sees the band build upon the bombastic'ness of Are You Ready To Rock to deliver an even more in your face and gargantuan assault of rock.  Whilst it's been about 4 years since releases, individually the guys in Eclipse have been anything but quiet.  Most notably, singer Erik Mårtensson has been producing and writing and playing with/for artists such as: W.E.T, Toby Hitchcock, Giant, Jimi Jamison to name but a few.
Along with what has clearly been my top 2012 release so far, H.E.A.T's Address The Nation, Bleed and Scream, has been one of the albums that I have been most anxiously awaiting.  Upon the first few listens and I do emphasise first few listens, my immediate reaction was that Bleed and Scream is MASSIVE, much more MASSIVE than previous album Are You Ready To Rock (AYRTR) in almost every way possible – all the way from the sound, heaviness of the guitar riffs, the image that adourns the cover art, through to the thunderous drumming of Robban Baack .  But the thing that was notably missing on these first few listens was a MASSIVE couple of songs that stood out above the rest, a song such as To Mend A Broken Heart or Breaking My Heart Again that were on AYRTR, which without doubt are 2 of my top 10 hard rock songs released in the last 5 years.  But with each repeated listen of Bleed and Scream,  and as the charms of each song really infiltrate the senses, the thing that became apparent is that there is not a single song on this album that I don't like, not a track that even comes close to being a potential "skip" track.  Whilst Are You Ready To Rock might have had those 2 standout tracks, this time around, Bleed and Scream without question blitzes Are You Ready To Rock when comparing both albums holistically from the opening second, to the closing second.
Opening track Wake Me Up typifies what Eclipse deliver across this album, a track that lyrically challenges those who do stupid acts in the name of god, it's a more "mature" Eclipse in a lyrical sense, but musically, whilst everything sounds more MASSIVE and song structures are complex, everything has still got that trademark Eclipse guitar crunch.  Choruses such as on first single Bleed & Scream might be more understated than what I was first expecting, but there are just so many hooks and melodies and guitar intricacies that reveal themselves in these songs that each repeated listen is a new experience in itself.
I have always likened the guitar crunch of Eclipse to 1987 era of Whitesnake and that is definitely once again a strong element to this album, look no further than Battlegrounds, Falling Down and the massive anthem of The Unspoken Heroes.  Speaking of guitars, the band definitely aren't afraid of delivering lots of shredding courtesy of Magnus Henriksson and on the crushing riffs that dominate Take Back The Fear he really cuts loose.  Erik Martensson really showcases what he is capable of vocally with the moody, epic and powerful A Bitter Taste and then there's the ballad About To Break, which in a perfect world would be all over radio.
With Bleed and Scream, I hope that Eclipse get the worldwide attention that they truly deserve and also allow themselves the opportunity to establish their name as a touring band.  When it comes to melodic hard rock, you aren't going to find an album delivered with a much higher quality than this.  A Top 10 album of the year…yep, I think this one will make the list without question!
Check out our interview with Magnus Henriksson right here…
Essential Information 
For fans of: Melodic hard rock,
Release date: August 24th 2012
Record label: Frontiers Records/Riot! Entertainment
Website: www.eclipsemania.com
Track listing
1. Wake Me Up
2. Bleed And Scream
3. Ain't Dead Yet
4. Battlegrounds
5. A Bitter Taste
6. Falling Down
7. S.O.S.
8. Take Back The Fear
9. The Unspoken Heroes
10. About To Break
11. After The End Of The World