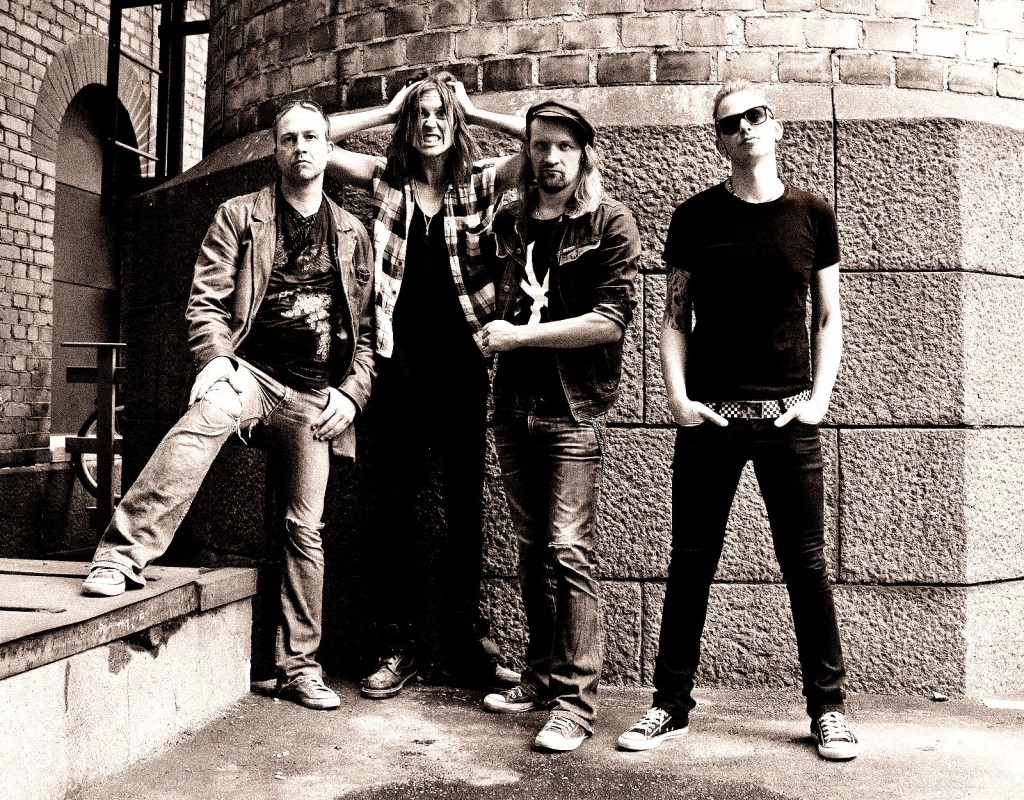 Swedish hard rockers Eclipse are set to unleash upon the world this week their highly anticipated new album Bleed and Scream, which follows on from their killer 2008 release Are You Ready To Rock.  Bleed & Scream sees the band build upon the bombastic'ness of Are You Ready To Rock to deliver an even more in your face and gargantuan assault of hard rock.  Whilst it's been 4 years since releases, individually the guys in Eclipse have been anything but quiet.  Most notably, singer Erik Mårtensson has been producing and writing for artists such as: W.E.T, Toby Hitchcock, Giant, Jimi Jamison to name but a few.
But with Bleed & Scream, the attention is set to once again return back to Eclipse.  We checked in with guitarist Magnus Henriksson to get the inside word on the new album ahead of if it's release this Friday, August 24th.
Whilst band has existed since 1999, there will be a bunch of our readers over here in Australia who are not yet familiar with ECLIPSE.  How would you describe the style of music that ECLIPSE delivers?
Eclipse is a modern melodic hard rock band who has fused their influences to make it their own unique sound.  The vocals and the melodies are rooted in pop, blues and AOR, whilst the guitar riffs and the drumming bear significant marks of the 80´s metal and trash metal!  Without sounding "retro" we gladly embrace all the clichés from these genres and mould them into our own sound.
You are just about to release your new album 'Bleed & Scream' which follows on from your last album 'Are You Ready To Rock' which was released in 2008.  In what ways do you feel the new album is better than AYRTR?
It´s for others to really decide which one is better.  But I can say that we've improved a bunch of things for this album.  First of all the sound is way better and more in our face.  Better guitar sound, we found some new guitar amps that we are using now and also tried out some new guitar speakers that worked a bit better.  The drum sound also just explodes this time.
Besides that we have worked more on the songs this time.  The previous album was put together very fast and that's why it's got that kick ass/party-attitude.
This one is more refined and diverse.  We went for that real album experience where you can listen to it all the way through without being bored.  Plus Erik's vocals are way better now!  Boy did we make him suffer in studio! But it turned out awesome!
When you think back to the recording sessions for 'Bleed & Scream', what are 3 thoughts/memories that most immediately come to mind?
1. Lots of coffee and Indian food. (Erik's studio is next to an Indian restaurant).
2. Feeling happiness after having written a great song.  Best feeling ever!
3. Feeling sad realising that the song you've been working on for 3 days didn't cut it.  Erase and improve.
We've picked out 3 of our favourite tracks from the album and would love you to share your own thoughts/comments/background on each:
Wake Me Up – That is actually 2 songs built into one. Erik had this catchy chorus, nothing else and we just couldn't complete the song.  I on the other had an Ozzy'esque riff which was an entirely different song idea.  We tried fusing them together and at first it didn't sound good at all.  We worked on it for like maybe 10 times and finally we came up with "Wake Me Up".  The lyrics are about the pointlessness of fundamentalist suicide-bombers or people in general who do stupid things in the name of god.
After The End Of The World – Same thing here. Erik asked me:" Got any cool riffs?" and I had this riff sounding like "Ninja" (Europe) or like "Eternal Flame" by John Norum.  It sounded a bit old, so we worked on it for several hours until we came up with the final riff.  During this time, Erik's friend named Johan Becker came into the studio and helped us with some of the vocal melodies because he just had nothing else to do that day.  That's why he's credited on this song.  The verse riff on this song was extremely hard to play accurate, so we had to come up with a special tuning for this one to be able to execute it.
About To Break – We wanted to have a song that stood out completely from the rest, so we said "hey, why not try to make a classic power ballad this time?".  We aimed for a song that possibly could get on any radio playlist anywhere. Thinking: just IF there might be a commercial pop station that might consider playing this. One more door open to commercial success so to speak, but still not too cheesy to offend the hard rock audience.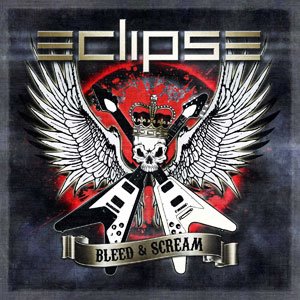 'Bleed and Scream' is a single and video that's been getting a huge response so far.  What was it about that song that you felt it "screamed" being released as the first single?  And in the making of the video clip, exactly how many guitars and other musical instruments were damaged during the filming haha?
We just felt it was the best song to represent ECLIPSE how we sound here and today.  You have to be careful when you pick a single, on one hand we want to please the hard rock crowd, but on the other we wish that we can attract a wider audience and our record label felt the same.  This song just seemed to be the best for that purpose.
We smashed and burned 2 electric guitars, an entire drum-kit and an old big acoustic organ. We had lots of fun doing that!  At first, we thought we were going to put fire on the instruments, shoot it with the camera and then put out the flames. (to possibly "save" and keep the instruments.).  But we actually burned them using real napalm and napalm is not so easy to put out.  Once we lit the damn thing, it was burning like the fucking purgatory! Ha ha!!
In terms of the Eclipse song writing, what do you consider to be the most important things that need to feature in an Eclipse song?
First we need that original spark that gets us wanna write at all.  It can be a riff, melody, drumbeat or whatever.  Just something interesting enough to get our creative juices flowing.  Having that, the songs almost write themselves. But I'd say that melody, beat and riff is the most important and it also has to have something new and fresh to offer.
If you look at the way you write a song now, compared to the early days of the band, in what ways do you think your writing style has changed?
Back then, we didn't really know what to aim for.  We just wrote and settled for whatever came out.  Just thinking it would be cool to release an album, now we know how we want it to sound like and we won't give up until we are 100% satisfied with the result.  The vision is clearer now. Plus, we have improved our writing skills a lot, our reference library is bigger so to speak.
Who and/or what are some of the greatest influences on the music and lyrics of Eclipse?
If we are talking bands/artists there are many.  I would say the biggest are: Europe, Malmsteen, AC/DC, Whitesnake, Slayer, Testament, Megadeth, King Diamond, Talisman, Dio, Ozzy, Gary Moore, Thin Lizzy, and the classic new wave of British heavy metal.  I think Erik was into some pop music in his youth also and I was and still am a fan of 50´s Rockabilly music.
A key feature of the Eclipse sound is obviously the blistering lead guitar work and this album features some killer work, such as on the song 'Take Back The Fear'.  Did you have a favourite song to record from this album?
Not really. While I'm in the process of recording guitar solos, is when my self-confidence is at its bottom level.  You feel like you're the worst guitarist on the planet and I know that I have that in common with many of my peers.  I might think I'm a decent guitarist when I'm playing live and at home, but when it comes to recording in a studio situation I feel like a beginner.  That's simply because you raise your quality bar and start to nitpick even on the smallest of details.  When you are in the process of recording you simply cannot enjoy what you are doing at the moment and that's a good thing because you shouldn't settle for anything that's just ok.  This is the time when I have proved me better than myself!  If I give it a rest a couple of days and go back and listen to it I might think it's ok, but not while recording.  Maybe I need a psychiatrist! Ha ha
Another question regarding your guitar work on the album, did you get the opportunity to try anything new as far as the way you went about recording and arranging the guitar tracks/songs?
We tried out a shit-load of guitar equipment to get the tone right this time. And this time we recorded the guitars through Erik's home-built "Black-Box" which basically is a smaller room within the studio room, where we put the speaker cabinet just to prevent us from growing deaf while recording.  That thing actually worked out beautifully! Sounds awesome!  Other than that, it's just basic setup.  Guitar to overdrive-pedal to amplifier. Works like a charm!  We used a Marshall SL-X on the left channel and a Marshall 6100 on the right.
For those of us with a close eye on the melodic rock and AOR world, we all know that Erik Martensson is a very busy man songwriting and producing with many others.  Are you involved in any other musical projects outside of Eclipse that you might want to mention?
I work full-time as a live/session musician.  Other than Eclipse, I´ve helped Erik write and record for the upcoming W.E.T. and Jimi Jamison album.  I also play guitar with a Swedish Euro-techno artist called "E-TYPE" live.  I have a metal cover band along with Jamie Borger (Treat, Talisman) and Nalle Pålsson (ex-Treat, Therion).  Other than that I play with numerous other artists and cover bands. too many to mention!
With yet another killer Eclipse album about to be released, the demand from Eclipse fans worldwide for the band to tour will be as strong as ever.  Are there any strong plans for the band to tour in the near future?
Yes. We are actually in the process of booking some gigs/tour right now!  Nothing confirmed yet, but we'll let you know as soon as possible.  Can't wait to see you guys out there!
Here's a chance to gaze into your crystal ball, over the next 12 months, Eclipse will have:
1. A new album out, called "Bleed and Scream". (That was easy 🙂
2. Hopefully begun writing for next album.
3. Embarked on a tour heading for world domination.
Thanks for talking to us Scott!  I have a feeling I'll be seeing you on Firefest or somewhere else in the future!  All the best, Magnus
Essential Information
From: Sweden
Band members: Erik Mårtensson, Magnus Henriksson, Robban Bäck, Johan Berlin
Website: www.eclipsemania.com
Latest release: Bleed & Scream (August 24th, Frontiers Records/Riot Entertainment!)